There's nothing quite like attending a major industry conference as news of one of the biggest tech mergers ever is breaking. This week VMworld Europe 2015 in Barcelona was abuzz with chatter about Dell's plans to acquire EMC and what this means for VMware, its channel partners, and its enterprise customers.
I spoke about the deal with VMware executives during media events, talked with tech vendors on the expo floor, and interviewed channel partners and enterprise IT professionals in the solution center and training labs during the event.
When I arrived at a VMworld Europe media event on Monday evening (Barcelona time) the official announcement had recently been made: Dell, the largest private computer company in the world, was planning to buy EMC Corporation, the world's largest storage company, for $67 billion. EMC, which owns about 80% of VMware (the other 20% is publicly traded), will become a private company under Dell's umbrella.
Rumors of the deal had been circulating for weeks, and Tuesday's press conference at VMworld Europe was full of anticipation for the first official reaction to the deal from VMware execs.
Jean-Pierre Brulard, VP and GM of VMware EMEA, was quick to point out that most of its business goes through channel partners (over 95% in Europe), and it would be foolish for Dell to try to change that. If regulators approve the Dell-EMC deal, Brulard said Dell will pay a big chunk of change for EMC, and it will want VMware to be more successful to reduce Dell's financial obligations.
[Where will VMware fit after Dell merges with EMC? Read VMware's Value Lies in Modern Data Center Management.]
Other VMware execs, including Carl Eschenbach, the company's COO, said they see many advantages once the deal is finalized, especially the idea of having VMware's products added to Dell's strong sales operations. When asked if they see any possible conflict between Dell and other hardware partners, Eschenbach and other VMware executives we spoke with emphasized that VMware products require a large degree of support and customization, which is generally provided by the company's channel partners, and every customer is different.
Later, in a Q&A session, VMware's CEO Pat Gelsinger expressed his commitment to the company's customers and channel partners to continue to work together to make VMware stronger in every market. Gelsinger, who was president and COO of EMC's Information Infrastructure Products business before joining VMware three years ago, was directly involved in negotiating the Dell/EMC deal.
Dell founder and CEO Michael Dell appeared via video during Tuesday morning's keynote, apologizing to the 10,500 VMworld Europe attendees that he couldn't make it to Barcelona. He assured them the Dell/EMC deal would create big opportunities in virtualization and software-defined data centers (SDDC).
I spoke with a number of technology company executives and VMware partners during the event, including HP, Huawei, and NetApp, during the conference. While all of the executives agreed to talk about the deal only on the condition of anonymity because of their existing business relationships, most said they did not foresee any significant change to their relationships with VMware.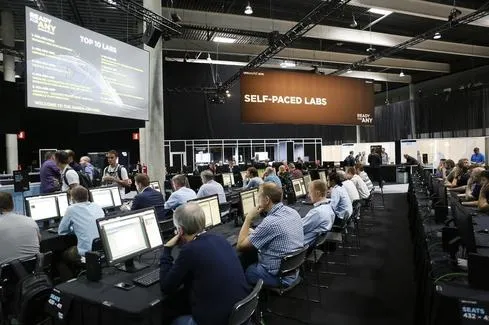 An HP executive from Madrid told me that his company has many important customers using VMware solutions in the private sector and in government and that he didn't see any substantial changes for those customers in the near future.
A senior executive from NetApp EMEA said he sees Dell as a potential new partner. "If Dell is going to focus more on selling VMware, it is a great opportunity for us. If they sell virtualization, they need our technology."
I also spoke briefly with developers and service providers in the solutions center and training areas at VMworld. None of them was concerned that the Dell/EMC deal would negatively impact their businesses.
The general consensus was that time will tell, and that we'll have to wait several months before any indication of change will become evident -- assuming the deal is approved by regulators.