In an effort to attract more corporate customers, Dropbox on Wednesday introduced Dropbox Enterprise, a version of its cloud storage service for large organizations. It also announced Dropbox Partner Network to support resellers and strengthen ties to other technology providers, and it expanded the capabilities of the Dropbox Platform.
Corporate customers are prized because they pay, unlike many of the consumers who signed up for Dropbox to take advantage of the company's free storage tier.
As Dropbox and its peers have tried to figure out ways to earn money from customers interested in paying nothing, they have had to contend with industry giants such as Amazon Web Services (AWS) and Google, which can afford to offer cloud storage at or below cost.
Such generosity is not a sustainable business model. Microsoft on Monday ended its "unlimited" OneDrive storage plans, citing abuse by a few customers. Nonetheless, Dropbox and rival Box offer unlimited storage to business-tier accounts, on the assumption that corporate users aren't as likely to have 75TB of media files to store online, like Microsoft's most committed freeloaders.
Cloud storage providers, which now tend to describe themselves as enablers of sharing and collaboration, brought this problem on themselves by using the term "unlimited" when it cannot possibly be true. Regardless of who is to blame, the path to revenue leads invariably to businesses.
Box understood this early on, and has made headway in the enterprise market. Dropbox focused on growth before revenue, then launched Dropbox for Business in 2013. Now, it finds itself trying to bring more paying customers to its expansive, under-monetized user base of 400 million individuals and 8 million businesses.
Dropbox said on Wednesday there are 150,000 companies using Dropbox Business. Box claims it has 50,000 corporate clients, but those figures don't indicate the significance of each account. IDC said Dropbox last year had a greater percentage of the business file-sharing market (24%) than Box (21%). It's a close race, which explains why the CEOs of the two companies, Drew Houston and Aaron Levie, respectively, have been trading barbs with one another.
Houston dismissed Box for its lack of broad adoption. Levie in a tweet quipped, "Any time you ever want to see what Dropbox will do next, look for what we did 3-5 years ago."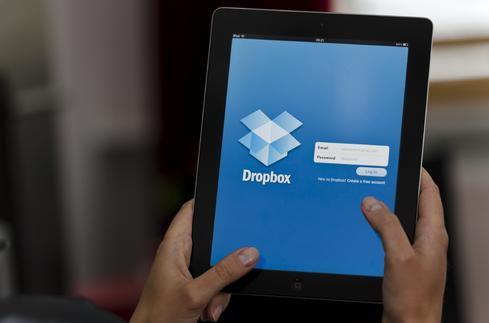 Dropbox Enterprise represents a new tier in the Dropbox Business offering. It adds deployment tools to help IT administrators rapidly migrate and create accounts. It offers domain controls to give administrators insight into personal Dropbox usage on corporate domains. It allows for collaboration visibility to provide IT with oversight of Dropbox files shared with external personnel. It also provides unrestricted access to the Dropbox API for integrating the service with existing IT systems, as well as access to a customer manager for assistance.
[Read Adobe, Dropbox Ease Access to PDFs, E-Signatures in the Cloud.]
With Dropbox Enterprise comes an effort to make the service viable for companies in regulated industries. Dropbox said that it will sign Business Associate Agreements with Dropbox for Business and Dropbox Enterprise customers in order to fulfill compliance requirements for laws such as the Health Insurance Portability and Accountability Act (HIPAA) and the Health Information Technology for Economic and Clinical Health Act (HITECH).
Dropbox also added three security features to Dropbox Business and Dropbox Enterprise:
A suspended user state, to provide administrators with a way to lock user accounts without deleting them
A way for a team administrator to sign in as a team user, to ensure business continuity should the user be unavailable
A way to add custom branding to shared link pages, to reassure and inform users
Box may be further along in its platform ambitions than Dropbox, but Box has the disadvantage of being a public company, one that hasn't convinced investors its path leads to profit. Each company has further work to do to make itself indispensable to businesses.