Microsoft and Box are teaming up to deliver an application for the Windows 10 operating system that will make file sharing across different Windows devices a lot easier.
With the new app -- currently available in the Windows store for PCs and tablets and available soon for phones running Windows 10 -- users can access, manage, and collaborate on their Box content across their Windows 10 PCs and tablets.
Microsoft made it possible for developers to build only one app for Windows 10 versus individual apps for each platform. That approach enables developers to build scalable apps across a variety of devices.
In addition, users can work on Microsoft Office files directly from the app and get updates on changes with the recently updated Windows notification center.
"With 50,000 paying businesses, including 52% of the Fortune 500 and more than 40 million users, it's critical for Box to ensure that customers can work on their content across a wide variety of devices and platforms," Duncan Fisher who works on the mobile applications product management team at Box, wrote in a Nov. 11 blog post.
Users can send shared links for a specific file or folder from the app without having to deal with large attachments or preview different file types, including Office files, PDFs, images, and more in the app without having to download the content.
Other features include integration with the Windows file picker, which means users can create and edit Office files such as Word, PowerPoint, or Excel, and have those changes saved directly back to Box.
Users will also have the ability to pin certain Box files and favorites to the Start screen using Windows 10 Live Tiles so they can access them immediately. Users can also work on Box and other apps side-by-side with the Windows 10 multitasking feature. They have the ability to resize Box to make it as big or small as needed.
The news follows an announcement by rival Dropbox earlier this month, which introduced Dropbox Enterprise, a version of its cloud storage service for large organizations.
The company also announced Dropbox Partner Network to support resellers and strengthen ties to other technology providers. It also expanded the capabilities of the Dropbox Platform.
Dropbox and Box both offer unlimited storage to business-tier accounts, on the assumption that corporate users aren't as likely to have 75TB of media files to store online, like Microsoft's most committed freeloaders. Microsoft recently ended its "unlimited" OneDrive storage plans, citing abuse by a few customers.
[Surface Pro 4 or Surface Pro 3? Check out InformationWeek's side-by-side comparison.]
An October report conducted by IDG Research indicated businesses are still struggling with decisions regarding the adoption of on-premises, hybrid, or cloud-based file transfer technologies.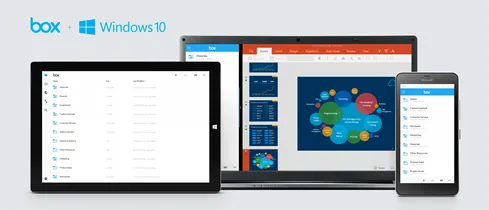 While 45% of respondents said they allow their users to store sensitive data in the cloud, 43% still do not and will not allow the use of cloud-based applications, an almost even split.
There remains some apprehension around deploying file transfer solutions in the cloud center in regards to compliance, reliability, and control, with 82% of those surveyed noting confidence in meeting compliance mandates, 73% citing reliability at scale, and 67% concerned about the ability to track file movement.
**New deadline of Dec. 18, 2015** Be a part of the prestigious InformationWeek Elite 100! Time is running out to submit your company's application by Dec. 18, 2015. Go to our 2016 registration page: InformationWeek's Elite 100 list for 2016.