5 Things You Should Know About Hybrid Cloud
Many enterprises are adopting hybrid cloud strategies, but in doing so, they face significant challenges.
Enterprise IT leaders say that they are embracing hybrid cloud and multicloud strategies — but they don't always agree on what those terms mean. That leads to complexity and confusion.
In the RightScale 2018 State of the Cloud report, 81% of the 997 technology professionals surveyed said that they have a multi-cloud strategy, and 51% said that they have a hybrid strategy. However, a separate Hybrid Cloud Survey from vendor Stratoscale, got a wide range of answers to the question "What does 'hybrid cloud' mean to you?" The two most popular answers were that different workloads belong in different environments (39%) and the ability to move workloads between private and public clouds (38%).
Similarly, in a recent Forrester Research report titled "Top 10 Facts Every Tech Leader Should Know about Hybrid Cloud," lead author Lauren E. Nelson pointed out that 74% of North American and European enterprise IT infrastructure decision makers surveyed by her firm described their cloud strategy as hybrid. But when Forrester asked what "hybrid cloud" means, answers varied widely. The most popular answer, selected by 25% of respondents was "multiple public and private clouds," followed by "integrating public cloud with our non-cloud on-premises infrastructure and data" (23%).
"Hybrid cloud means very little," Nelson concluded. "Hybrid cloud, as the market defines it, is the use of cloud in parallel with other technologies — cloud or non-cloud. It's cloud plus anything. Essentially, it describes every organization, but with absolutely no specificity."
Because the definition of what constitutes hybrid cloud is both so murky and so all-encompassing, IT leaders understandably have a difficult time figuring out how to prepare for and manage these new environments. They often lack visibility into what their counterparts at other companies are doing or how best practices are evolving.
Nelson's report offered up 10 observations that could help enterprises craft their hybrid and multicloud strategies. The following slideshow summarizes five of those findings.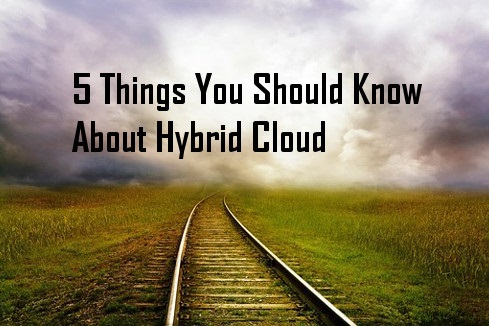 Many organizations create hybrid clouds by accident.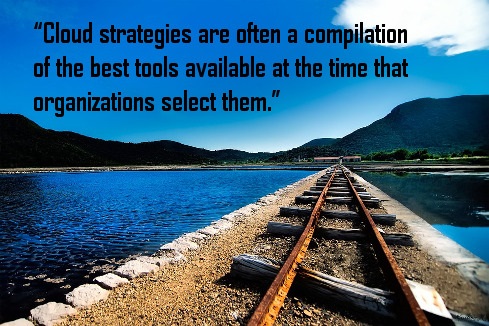 While some companies intentionally set out to create hybrid or multi-cloud environments, that isn't the norm. Instead, many enterprises end up with a mishmash of cloud-based tools and services as disparate groups within the organization independently select cloud services to meet their needs. As Nelson wrote, "Cloud strategies are often a compilation of the best tools available at the time that organizations select them."
She noted that while this approach can be chaotic and can lead to governance problems, it also has some advantages. Hybrid-by-accident approaches can increase speed and agility, as well as improving worker productivity. The challenge for IT is to gain visibility into and management of these disorganized environments in a way that allows them to ensure security and control costs without impeding the pace of innovation.
Hybrid applications are common.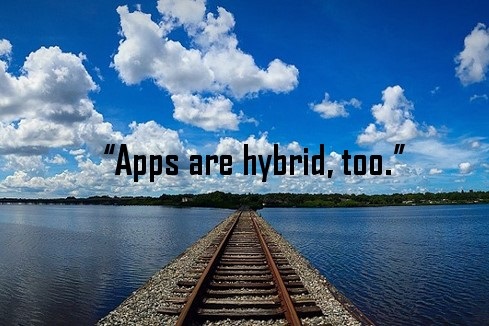 It isn't just infrastructure that is hybrid. "Apps are hybrid, too," Nelson wrote. By that she means that a single app might rely on multiple programming languages, platform frameworks and, of course, cloud computing environments.
As organizations migrate to the public cloud, they sometimes find themselves with applications that rely on multiple platforms within their own data centers or on multiple platforms spread across different data centers. And app modernization efforts may lead to situations where an app is based partially on legacy code and partially on new cloud-native elements. These situations add to the overall complexity of the IT environment and make management more difficult.
Cloud bursting is experiencing a renaissance.
In the early days of cloud computing, many pundits talked up the possibility of "cloud bursting," that is, using public cloud services to augment the computing resources available in an organization's own private cloud. For example, an online retailer might rely on web servers in its own data centers for 11 months of the year but failover to web servers running in a public cloud to meet peak demand during the holiday shopping season. In fact, the NIST standard definition of cloud computing specifically mentions bursting as a key use case for hybrid cloud.
However, actual use of cloud bursting has been slow to materialize. Nelson noted, "Facilitating bursting is hard, complicated by latency between sites; cost of data movement; and lack of consistency between public and private cloud environments."
Despite that difficulty, Nelson noted that bursting seems to be growing in popularity. A few leading companies have publicized their own successes with bursting, and that could lead to greater adoption.

You shouldn't create a hybrid cloud because of vendor lock-in fears.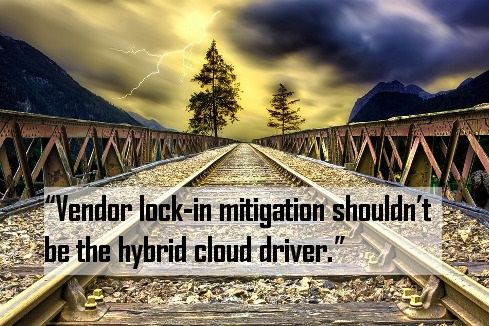 Enterprise IT leaders have a lot of worries about becoming overly reliant on a single cloud vendor. In fact, in the Stratoscale survey mentioned earlier, 52% of those surveyed were very or somewhat concerned about vendor lock-in, while only 7% weren't concerned at all. And CIOs and IT executives were much more concerned about the possibility than other IT professionals were.
However, Nelson cautioned, "Vendor lock-in mitigation shouldn't be the hybrid cloud driver." She said that it is fairly easy to migrate from one infrastructure as a service provider to another, although enterprises might run into more problems related to platform as a service offerings, which tend to be unique to the various vendors. She said that the various alternatives to avoid this possibility have costs that outweigh the benefits, so she advised against adopting hybrid exclusively as a way to avoid lock-in, even when using platform as a service.
Connecting tools in a hybrid cloud environment isn't easy.
Developers often have very specific preferences when it comes to the tools and platforms that they prefer for building applications. But in the cloud, they can't always use exactly what they want to use, particularly if they are utilizing a platform as a service. Developers can be very creative in coming up with workarounds, but these workarounds often have flaws of their own.
Unfortunately, this issue isn't going away. "If you're struggling with this connectivity, you're not alone," wrote Nelson. "In fact, tool connectivity has been a major issue of technology since long before the cloud arrived — and there's little hope on the horizon."

Cynthia Harvey is a freelance writer and editor based in the Detroit area. She has been covering the technology industry for more than fifteen years. View Full Bio
We welcome your comments on this topic on our social media channels, or
[contact us directly]
with questions about the site.