Amazon CTO Werner Vogel showed off the Amazon API Gateway, a series of screen inputs that developers can use to craft APIs, at the Amazon Web Services (AWS) Summit at the Jacob K. Javits Center in New York today.
"More apps are being built and they are more sophisticated than ever before," Vogel told a crowd of several thousand developers at the AWS Summit. Sharing those apps has always been a major pain point for developers, he said. "We're taking that pain point away."
Vogel's announcement of the API Gateway was the only AWS service announcement that drew enthusiastic applause from the crowd.
The API Gateway allows developers to create and track versions of their APIs, also allowing them to be tested in a variety of environments. A developer can create a resource, assign an http method to it, and assign an end-point. "It's as easy as clicking on a console," said Matt Wood, Amazon Web Services general manager for product services.
[ How green is your data center? Read 7 Ways To Kill Data Center Efficiency. ]
The API Gateway is available now. "Start using it today," Vogel said. "Go build."
This year's AWS Summit saw a barrage of service releases, all aimed at developers. AWS made more than 500 product and service releases last year. "This year, we are going to beat that number," Vogel said.
Among the plethora of service announcements: Amazon Elastic File System (EFS). Amazon already sells various storage packages, but shared file services did not work very well with these because of the difficulty estimating demand. EFS automates that process, Vogel explained. "It can go to petabytes in scale, and you only have to pay for what you use."
Amazon Code Pipeline is an integrated set of development tools for the Amazon Web Services platform. Developers can also store their projects in Amazon's cloud for later use. "Your code is safe with us," Vogel said.
The AWS Device Farm is another screen-based point-and-click console that gives developers the ability to test mobile versions of their apps across various mobile platforms. The Device Farm has an automated reporting feature that can identify and collect test failures, presenting concise feedback identifying the type of failure that occurred. The Device Farm will be available to users on Monday, July 13.
The Amazon Machine Language Service makes public Amazon's own in-house tool that is the foundation of its product recommendation feature. Developers can use the ML Service to build models, validate and optimize them, and run "predictive" analysis based on past data.
Vogel put the whole mass of announcements into context by matching them with six basic needs all companies share: They need to develop apps quickly, focus on the app and not the infrastructure, do it in a "no server" environment, make sure the app is secure and compliant with any industry/government rules, go mobile, and put data to work.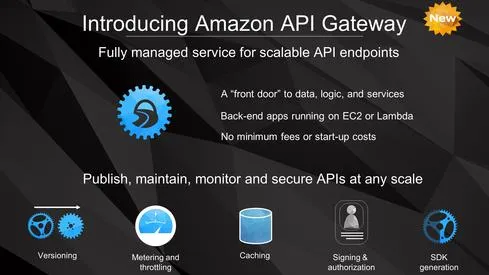 Working capital is scarce, Vogel noted. Going to the CFO and asking for $500,000 to $1 million to finance a project is "a hard conversation to have." Getting rid of the need for a data center cuts costs and creates agility, Vogel explained. No surprise, this is the raison d'être for Amazon Web Services to begin with. But Vogel pitched this idealistically: "Now we can build the systems we always wanted to build."
All told, Amazon AWS remains the 800-pound gorilla in the Infrastructure-as-a-Service/Platform-as-a-Service marketplace. Today's service announcements added another 100 pounds of substance to the beast.
Alongside AWS Summit attendees, thousands of Tibetans also gathered at the Javits Center to wish the Dalai Lama a happy 80th Birthday. But that is another story.