Box
cloud-based file collaboration service has become a campus standard at more than 100 universities and hundreds of K-12 schools. Now, the company hopes to become even better established with the help of an additional cloud service that can be used for grading student work submitted online.
In May, Box acquired Crocodoc, a cloud-based document viewing and annotation utility that has been gaining traction in the education market. It's been integrated with both Blackboard, one of the industry's leading learning management systems (LMS), and Edmodo, a popular tool for teacher and student collaboration at the K-12 level.
On Thursday, Box announced an integration with Canvas, the cloud-based LMS from Instructure, which will be available in early 2014. Canvas will allow Box customers to embed the full file sharing and collaboration experience in the LMS so that, for example, folders of files managed through Box and associated with a specific course can be displayed within the page for that course. Canvas will also take advantage of Crocodoc for file viewing and annotation.
"Certainly, we're talking with other leading LMS vendors out there, but right now Canvas is the deepest integration we have, where they're embedding the entire Box experience so you can do anything in Canvas that you can do in Box," said Robin Daniels, head of enterprise product marketing at Box. "That makes it much more useful for all students."
Independent of these new developments, universities have been embracing Box partly because it is available as part of a catalog of cloud apps offered on standardized terms negotiated through Internet2, the higher education association that provides high speed connectivity and other network services.
[ Optimized for education: Microsoft Cloud Gets Internet2 Expressway To Universities. ]
University customers include Georgetown, University of Mississippi, Notre Dame, Stanford, Temple and Tufts. Most of these are enterprise agreements, which make the service available to all faculty, students and staff, Daniels said. "They want to standardize on one system. It's just like you don't want to give email to half your students; you want to give it to all students." According to Box's research, 50% of college students are doing school work on smartphones and tablets on a daily basis, making Box's support for mobile users important, he said.
At Indiana University (IU), the cloud service is available to a campus community of 130,000, and 37,000 accounts are currently active, said Bob Flynn, special project manager for the central IT organization. "So we still have some work to do," getting everyone to take advantage of it, he said. "At the guerilla level, we have signs up at lost and found saying, 'Lost your USB key? Use Box.'"
The service went live at IU in April 2012, followed by a bigger kick-off promotion in the fall semester.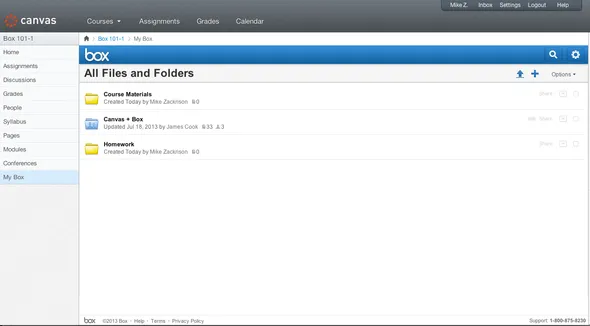 Box file sharing embedded in the Canvas LMS
Like many businesses, universities are realizing that a lot of data is already being managed in the cloud using consumer services, Flynn said. "Other products like Dropbox are very individual-based, whereas Box is attractive because it's targeted at the enterprise." In addition to having more enterprise-friendly security and administration, Box features for sharing and collaborating on documents are turning out to be the real selling point, he said. "As our implementation goes on, I'm playing down the storage component and playing up the collaboration."
Flynn said he was not talking about the features Box is adapting from Crocodoc, which he hasn't seen yet. The Canvas integration is not immediately relevant because IU uses the Sakai Project open source LMS, to which it is a major contributor, he said. However, IU is planning to do a review of its LMS infrastructure, which will include taking a look at next-generation products like Canvas, for which Box integration could be a selling point, he said.
Meanwhile, some early applications of Box at IU include:
-- Attendees at sporting events can email photos, using Box's email-to-folder feature, and the athletics department will pick the best ones to post to Facebook.
-- Business students doing field work consulting with local businesses have set up client folders for collaboration with those businesses.
-- When a colleague at Notre Dame asked for a copy of a video produced by the IT department, IU couldn't give it to him because of a copyright issue regarding distribution rights to some of the audio on the soundtrack. However, Flynn was able to post it to a Box folder as "preview only," allowing the Notre Dame user to show it but not keep it.
"These are things that are not conceivable with a normal storage or collaboration technology," Flynn said. Students can also use Box for routine tasks like submitting papers, although currently there's a stumbling block in the way of instructors using Box to send it back. Graded work is considered sensitive private information under the Family Educational Rights and Privacy Act (FERPA), a federal educational privacy law.
"We do not yet have approval to use Box for what we term restricted data," Flynn said. Once that approval is granted, Box ought to see more extensive use by faculty, he said. Box is also gaining ground in K-12 education. For example, at the Gideon Hausner Jewish Day School in Palo Alto, Calif., all students have an individual iPad and a Box account for exchanging work with their teachers. Across the U.S., Atlas Preparatory School, KIPP D.C., St. David's School, The Whitby School and West Lafayette Community School are also adopting Box, often in conjunction with tablet use.
Box also announced a series of partnerships in its Box OneCloud mobile apps program:
-- Engrade: a grading app that allows teachers to share with parents and students.
-- Nearpod: enables teachers to easily create and share interactive lessons.
-- Celly: a group texting service for schools and universities.
-- Fluid Notes: a simple note taking and handwriting app.
-- UX Write: a word processor for the iPad for large documents like theses.
-- 9Slides: lets educators build presentations with video for the classroom.
Education software that works with Crocodoc includes:
-- Blackboard: Learning management system that enables higher education and K-12 organizations to extend teaching and learning online. Crocodoc supports a feature for inline grading of work (i.e., markup within the Web browser, rather than a downloaded document).
-- Deltak: online learning tools and administration from a subsidiary of publisher John Wiley & Sons.
-- Edmodo: a K-12 social learning platform that allows teachers and students to collaborate, share content and use educational apps.
-- Haiku Learning: a suite of cloud-based tools designed to get students and educators up and running with digital learning in minutes.
-- MediaCore: a cloud based video education platform used by schools to transform their use of online video in teaching and learning.
-- ShowMyHomework: a U.K.-based service for tracking and monitoring homework.
Follow David F. Carr at @davidfcarr or Google+, along with @IWKEducation.