Nextbit Robin Smartphone Sports Cloud-Based Storage
Nextbit's Robin smartphone uses the cloud to provide extra storage for users. It also offers a Qualcomm processor and the Android operating system.
Another low-cost, cloud-supported smartphone is about to hit the market, thanks to Nextbit. The company is putting out a smartphone called the Robin, which taps into the flexibility of cloud-based operating systems and storage.
For the budget-conscious, every Kickstarter backer of the company, which was founded in 2012, will get Robin for $50 off the retail price, while the first thousand backers will get $100 off the retail price.
As of now, the company has raised over $1 million for its project.
Robin intelligently adapts to the user's storage needs, and automatically optimizes the space on the smartphone when it sees the user needs storage. By learning which apps are used and how the space is used on the device, Robin offloads the data users don't need to the cloud, which frees up space on the phone for apps and features that the owner actually needs.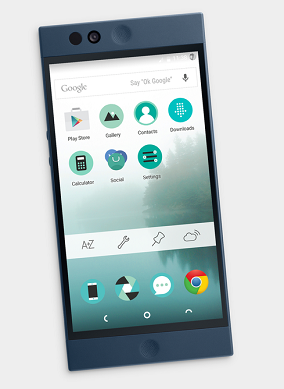 Built on the newest version of Android, the handset features four small lights on the back, which give subtle confirmation that Robin is connected to the cloud and working, without interrupting.
Another LED on the bottom tells users when they have important notifications, even if the phone is on silent and face-down on a table.
"Robin only needs a data connection to upload (back up) your data," according to Nextbit. "By default we do this when it is charging and connected to WiFi, however if you are never in that situation, you can change the defaults so it backs up in less strict conditions. After Robin is backed up, it can clear space on your device with no connection at all."
Running a premium Snapdragon processor by Qualcomm, Robin manages power based on what is being used. It also supports quick charging.
"Robin will be familiar right out of the box, but you'll quickly realize it's a better experience," the company's Kickstarter page states. "We like to keep things simple, and we've taken a light touch with the look and feel, streamlining everything so it's intuitive in all the ways you want it to be, and organized so that what you want is where you need it. Because everything we do with Robin is based on up to the minute innovations on Android, it will always be running on the newest possible version."
[We compared the iPhone 6s to the Galaxy S6 so you don't have to.]
In addition, local storage is encrypted if the user chooses, and the company supports the native disk encryption security feature for Android.
Since Nextbit is using Google's Authenticator for login to their server, users can always opt for two-factor authentication.
In an effort to reach the broadest audience possible, Robin comes with an unlocked bootloader and open source drivers. Users can load CyanogenMod or any other ROM they want, and the device is still under warranty, even if the user bricks it.
The smartphone joins a short but growing list of customizable smartphones that are seeking to upend the current market dynamic with bespoke tailoring at a minimal cost.
In August, London-based smartphone manufacturer WileyFox launched two low-cost, highly customizable smartphones -- the Swift and the Storm -- powered by Qualcomm's Snapdragon chipsets and running Cyanogen's OS 12.1 platform.
One major potential player in this space faced a setback recently. Google confirmed it is pushing back the launch of its highly-modular smartphone platform called Project Ara.
Nathan Eddy is a freelance writer for InformationWeek. He has written for Popular Mechanics, Sales & Marketing Management Magazine, FierceMarkets, and CRN, among others. In 2012 he made his first documentary film, The Absent Column. He currently lives in Berlin. View Full Bio
We welcome your comments on this topic on our social media channels, or
[contact us directly]
with questions about the site.