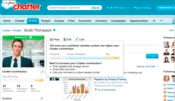 Enterprise Social Networks: Must-Have Features Guide
(click image for larger view and for slideshow)
Though it has the most popular Facebook page of any retail brand, with more than 50 million fans, the Coca-Cola Company is finding that success on its Chatter enterprise social network is a different kind of challenge.
"We're working on transforming our company into a knowledge sharing company, a knowledge enterprise, but that means moving from being a secret formula culture to a sharing culture," said Rachel Cain, global business director for knowledge sharing at Coca-Cola. She and Anthony Newstead, the IT innovation executive leading the Chatter implementation, gave a presentation Wednesday at Dreamforce, the annual Salesforce.com user conference.
Coca-Cola has been protecting and refining the secret formula behind its signature drink since 1886, so it has a tradition of keeping some things buttoned up tight, she said. That's why she made sure research and development, with its institutionalized caution toward sharing, was one of the first groups to try Chatter. Other groups included in the pilot phase included marketing, public relations, and IT. Coca-Cola now has about 12,000 Chatter accounts active (out of a target user base of about 100,000) and 561 Chatter collaboration groups created. This is the result of a controlled introduction, coordinated with sponsors in each business unit, Newstead said. "We didn't want it to go viral," he said, because early users needed more support to learn how to use the tool successfully.
[ Meanwhile at Dreamforce: Salesforce.com Goes To Work.com. ]
At some later stage of the game, when Chatter adoption has reached critical mass, Coca-Cola does hope to let employees enroll or invite their friends at will, Cain said.
Coca-Cola was one of the customers Salesforce.com highlighted in CEO Marc Benioff's Wednesday keynote, which put a heavy emphasis on developments in Chatter and the social-centric Marketing Cloud built around the acquisitions of Radian6 and Buddy Media. The keynote featured some bleeding-edge applications like tapping data from Coca-Cola Freestyle drink dispensers, which serve up custom soda mixes and allow you to save a recipe using your social identity or a mobile application.
Cain and Newstead told a more down-to-earth story about embracing social collaboration within the enterprise.
Because the goal was to innovate with social collaboration, Newstead said it was necessary to deviate from IT's traditional "gated process" for system implementation, which is built around identifying all variables and eliminating risks in advance "so when you go to production, you're in a state of certainty." That may be fine for an SAP or SharePoint implementation "because these are known quantities," but a project oriented toward innovation requires more learning as you go, he said. "You have to be able to work through the issues iteratively, rather than trying to figure everything out up front."
In a three month pilot that Coca-Cola completed last October, Chatter was implemented in parallel with Tibbr, the enterprise social network from Tibco. Different departments were exposed to each tool, and the IT group experimented with both of them. When users were surveyed at the end of the pilot, they generally said they had found the social collaboration tools useful, Newstead said.
When they were asked whether the tool they had tried ought to be deployed across the company, however, "Chatter was very positive, but Tibbr was a little more ambivalent," Newstead said. While 92% of those surveyed voted in favor of company-wide Chatter, only 44% said Tibbr ought to be broadly adopted. Though the products are similarly stream-centric, Tibbr was structured more around following topics rather than following people, he said. While the introduction of Chatter to business units was carefully planned, within each unit adoption by employees was still voluntary, rather than mandated. While adoption "bubbled up" naturally in some cases from employees who latched onto the tool, having a business unit executive lead the charge made a big difference, Newstead said. That's one reason he made sure Chatter was perceived as a business initiative, rather than "a central IT push."
Early on, Chatter enjoyed a rate of adoption and a level of activity that surpassed all expectations, but that didn't last, Newstead said. "After the initial surge in activity, it slowly drifted back down" as people reverted to their old habits of sending email rather than using social communication.
"We addressed that by talking to managers about why their people were drifting away and encouraging them to get back in," Newstead said. It turned out that if an executive leader would just commit to logging in once a week to make a post and a comment, that would be enough to remind people this was something they should be paying attention to, he said. "With executive engagement, you don't have to mandate activity."
This example also shows "the critical importance of doing regular monitoring of your quantitative metrics" to detect problems and promptly address them, rather than managing from general impressions of the success of a social collaboration program, Newstead said.
"We leveraged the business evangelists an awful lot," Cain agreed. She emphasized "being very, very clear about why you are doing this" and being "clear about who it is for--it may not be for the masses." People who had complaints about current modes of communication, such as feeling they were drowning in reply-to-all email lists, were more likely to take to Chatter, she said.
Also, to make Chatter feel more like a social network people would want to be part of, rather than a corporate system with participation dictated from on high, Cain and Newstead said they tried to manage it with a light touch. For example, no one has to ask permission to create a Chatter discussion group--the network operates on the assumption that those that are the most valuable will rise to the top. Cain said that when a mobile marketing executive asked her to shut down the multiple mobile marketing groups that had been established in favor of his own, she told him, "no."
"My response was, it will self-correct. It's like when you use Facebook to check out a restaurant and two entries pop up--the first one listed that has the most members, that's the one I'm going to check into," Cain said. In other words, she told the executive it was his job to make his group the authoritative one everyone would want to join, while the other groups might persist as focus groups on specific tactical aspects of mobile marketing.
On the other hand, Newstead said his monitoring will detect if a group has fallen inactive. He won't necessarily close it down, but he will talk to the group owner about whether it should be deleted or combined with another group.
Similarly, Cain and Newstead said they avoided heavy-handed corporate policy on use of the enterprise social network. "We decided not to wrap the social platform in a whole lot of governance and guidance," Cain said. "Instead, we asked people, what feels right? What's the best way we should be leveraging this platform."
Coca-Cola already had a set of acceptable use policies governing the use of electronic communications for private and proprietary data, Cain said. Other than that, they trusted the individual departments to come up with their own policies, while also watching for any problems that might crop up, she said.
"Where we see need for governance, then we'll start to apply it," Newstead said. "There's a danger of putting in too much governance up front because then it's perceived as a corporate vehicle."
One behavior they "nipped in the bud" early on was people setting up Chatter accounts associated with email aliases, Cain said. That was a shortcut some users tried as a way of translating existing mailing list collaborations into the Chatter environment, "but we decided this didn't feel right," because the point of social communication "was that we connect the knowledge with the person," she said.
Coca-Cola also uses Microsoft SharePoint 2010, including its social MySite feature, which is a potential source of confusion. Newstead said his strategy is for SharePoint to remain the "book of record" for storing enterprise documents, while Chatter is the "dynamic conversation environment." Cain said she would also like to see the company reconcile the multiple employee profiles in its IT systems, so that people would have one consistent profile including information from both social sources and human resources.
Newstead said he also looks forward to turning Chatter from a separate destination into a capability that is embedded in the systems where people get their work done. Chatter is designed so it can be embedded in other Web and mobile applications, with discussions keyed to specific topics, such as discussions about a given customer on a screen related to that customer.
The way collaboration systems are divided today reminds him too much of "the old days of email, where unless you had the same email client, you couldn't actually communicate," he said.
Follow David F. Carr on Twitter @davidfcarr. The BrainYard is @thebyard and facebook.com/thebyard
Social media make the customer more powerful than ever. Here's how to listen and react. Also in the new, all-digital The Customer Really Comes First issue of The BrainYard: The right tools can help smooth over the rough edges in your social business architecture. (Free registration required.)