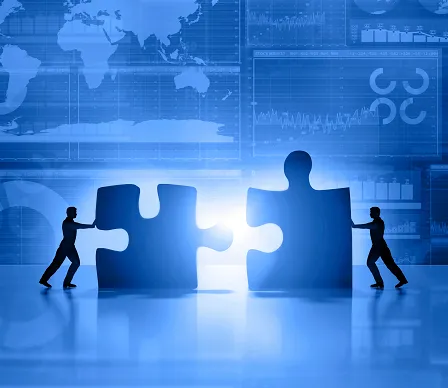 8 Critical Elements Of A Successful Data Integration Strategy
(Click image for larger view and slideshow.)
Global business is at an inflection point where it must undertake the transition to the digital economy in all aspects of its organization, not only in pilot projects, initiatives or isolated business units.
One third of the global businesses that seek to make the transition will succumb to the hurdles that stand in the way, said Frank Gens, senior vice president and chief analyst of IDC in what has become an annual forecast by the market research group: "IDC FutureScape: Worldwide IT Industry 2017 Predictions."
Gens spoke during an hour-long webcast Nov. 1 in which he laid out 10 predictions that will impact IT operations over the next four years.
In several cases, Gens and other IDC analysts stepped up their estimates of how quickly the digital transition will occur. Last year, IDC's forecast predicted that cloud computing, big data and analytics, mobile, and social networking would drive 60% of IT spending by 2019.
In the FutureScape webcast, Gens increased that estimate to 75% of IT's 2019 spending. The transition to digital products and services is being driven by those four technologies, and it's occurring at a faster rate than anticipated, he said.
In another case, Gens and his team forecasted last year that the Top 5 cloud providers would represent 50% of infrastructure-as-a-service (IaaS) and platform-as-a-service (PaaS) services by 2020. On Nov. 1, IDC revised that figure to 75% by 2020.
The consolidation of providers was taking place faster than IDC originally anticipated. Many second-tier providers are transitioning into brokers and on-ramps to the major providers, he said.
10 Predictions
Let's look at each of IDC's ten predictions and how each one affects IT.
By 2020, 50% of the top Global 2000 companies will see the majority of their business depend on their ability to create digitally enhanced products, services, and experiences, according to Gen. The fastest revenue growth will come from these information-based products and services. Investment in digital transformation initiatives will reach $2.2 trillion by 2019, which is 60% more than this year.
Gen's second prediction was the way that cloud, big data, mobile, and social networking will drive 75% of IT spending by 2019, as cited above. In IDC parlance, the four technologies together are referred to as the "third platform" of IT operations.
But those technologies are not destined to remain the same. These third platform operations will evolve their core technologies quickly between now and 2019, adding more value to their capabilities. They will be supplemented by cognitive and artificial intelligence systems, augmented and virtual reality systems, and a new generation of improved security.
Prediction three was the shift of enterprise focus toward cloud-oriented applications will switch from "cloud-first" to "cloud only."
By 2020, over two-thirds of IT infrastructure and software spending will be for cloud-based offerings, Gens said. "Driving this transition is the fact that almost every enterprise will be a cloud service provider of innovative services to its own marketplace," he said.
That is, cloud capability will have become a core business operations issue. He then added his stepped up prediction that the Top 5 cloud vendors will control 75% of the public cloud market by 2020.
Cognitive intelligence, where a system not only knows what information is available, but what multiple types of information mean in a particular context, such as manufacturing, will play a growing role, along with AI capabilities.
IoT and AI
Prediction four stated that 40% of digital transformation initiatives and 100% of internet of things (IoT) efforts will be supported by advanced cognitive and AI capabilities. By 2018, 75% of developer teams will include cognitive and AI functionality in one or more applications. Major cloud providers, including AWS, Google, IBM, and Microsoft, will battle for developers by providing AI services on their public clouds.
Next year, 30% of consumer-facing Global 2000 companies will experiment with augmented reality and virtual reality as part of their marketing.
"McDonald's, Kellogg's, Lego, and [other companies] are already doing this," said Gens about his fifth prediction. The AR and VR interfaces are "the essential gateway[s] to customer engagement," he said. These technologies will see mass adoption by 2021, with more than a billion people worldwide regularly accessing applications, content, and data through some kind of AR and VR platform.
Prediction six was that the number of industry collaboration clouds (ICCs) will triple from 150 in 2016 to 450 by 2018.
Collaboration clouds are platforms in a cloud that's shared among several companies within an industry, so each doesn't duplicate a service. IDC expects such "industry crossroads" to multiply over the next several years. Regulated industries in particular will find ways to establish compliance procedures in an ICC and share the cost of doing so. Each company will not have to come up with its own approach.
By 2020, "60% of regulated companies will actively participate in compliance clouds," Gens said. Such alliances will seek to partner with one of the major cloud service providers.
Gen's seventh prediction found that 70% of the top 500 global companies will have dedicated digital transformation and innovation teams by the end of 2017.
"Enterprises will have to grow their developer teams more quickly. Look for growth of two-three times by 2018," he said. Code will be produced faster with the companies embracing DevOps able to produce new releases at a 50% greater rate than today. The result with be "a dramatic increase in enterprises' ability to monetize software value" through the products and services it produces.
Gen's eighth prediction was one of the more surprising items in the list.
By 2020, he said, 70% of public cloud service providers' revenues will come by way of channel partners and brokers, rather than from customers via direct payment. The increasing complexity of enterprise cloud use will dictate that an intermediary group of cloud technology experts will provide much of the support needed to get the cloud infrastructure to do all the tasks that need to be done.
Instead of selling hardware, partners that might have previously served the function of a value-added reseller or system integrator will be expert cloud brokers who connect customers to the public cloud. As soon as 2018, one third of what used to be hardware sales will have been converted into sales of cloud services and brokering services, Gens said.
In his ninth prediction, Gens cited the possibility that 30% of traditional companies trying to make the transition will fail.
By 2020, enterprise performance will be measured by "a demanding set of digital experience-driven benchmarks requiring from 20% to 100% better business performance" than current practices. Every enterprise will have to "think and operate like a digital native organization," he said.
[Want to see how IT is leading the transformation at Bank of America? Read Bank of America's Digital Transformation: Where IT Fits in.]
Top management, including CEOs, will have to have critical technology leadership experience. Customer engagement and operational efficiencies "must improve dramatically," he added. IDC expects "at least one-third of every industry's Top 20 companies will fail to reach these new benchmarks." He didn't project that same measure into the ranks of those not found in the Top 20, but it's hard to see how they are going to avoid a similar casualty rate.
Conclusion
Gen's tenth, and final, prediction was either the most far-seeing or the most far-fetched in his hour-long presentation.
The technologies of cloud computing, big data, mobility, and social networking will be integrated with the everyday activity of the human body for companies in health, life sciences, and consumer products. The next four years will be the "proto" period where prototypes of such integration are offered and tried out on consumers.
By 2020, the first Amazons, Googles, and Facebooks of the next era will start to emerge as specialists in integrating the known leading technologies with human biosystems, he said.
The digital transformation that companies are undergoing must parallel and match the digital transformation going on throughout consumer society, Gen's listeners might have concluded.
Whether that process moves forward or whether some customers fall out of step with a company trying to find its way may well determine who survives to live into another technology era and who will fail.