To keep pace in today's transformative world, more enterprise organizations are opting to take a multi-cloud approach. A Gartner survey of public cloud users from earlier this year underscores this big shift to a multi-cloud computing strategy. The survey results show that 81% of their respondents are working with two or more providers.
Multi-cloud may appeal to organizations that want as many choices as possible to exploit the cloud. Using multiple cloud providers offers core advantages, which in the past worked as disadvantages. Now, enterprises can avoid vendor lock-in, they can pick and choose/mix or match strengths of cloud providers to their specific needs, they see more reliability and less down time by spreading their bets, and they can uphold stronger data governance and security. But it's been a painful process to get there.
All this doesn't mean enterprises are giving up on private or hybrid cloud, which, by the way hybrid cloud is often used synonymously with multi-cloud by some people. Multi-cloud is a subset of hybrid cloud. Companies are struggling to get the most value out of cloud in general, and multi-cloud may be the answer for some. In a recent column for InformationWeek, Kishore Durg, a senior managing director of Accenture Cloud, wrote that "when it comes to realizing the value of cloud … it seems clear that the best operating model is one that supports multi-speed delivery across legacy IT and multi-cloud landscapes."
The InformationWeek editorial team has covered all aspects of cloud and the burgeoning multi-cloud market. We've curated our best articles and divided the coverage up into five sections: cloud evolution and decisions; advice, best practices and drawbacks; security and governance; technology drivers; and cloud providers and products.
Check out these articles and the hundreds of other informative content pieces -- about IT management, careers, analytics, DevOps, AI, and more.
Cloud Evolution and Decisions:
Cloud Computing 2019: The Cloud Comes of Age
A Forrester study predicts that enterprises must respond nimbly to address changing cloud markets and technologies. in 2019 the cloud will reach "its more interesting young adult years, bringing innovative development services to enterprise apps rather than just serving up cheaper, temporary servers and storage."
The Cloud Question: Native or Hosted?
Before making the cloud decision, IT leaders need the facts and the criteria to choose the option that's best for their business, operational and financial goals.
Rethinking IT for Cloud Computing
Companies continue to move aggressively to the cloud with a goal of ultimately being "all cloud" or "more cloud." How will this change the composition and core competencies of IT departments, and ITs strategic priorities — and what should CIOs be doing now to prepare for it?
Weighing Opinions on Going Multi-Cloud versus Vendor Lock-In
When enterprises make long-term plans for the cloud, they face a tough choice early in the process. They could pick only one source for their cloud services, such as Amazon Web Services, Microsoft Azure, or Google Cloud, to take advantage of all the exclusive features providers offer to their dedicated users. A counterpoint to a "locked-in" approach is to choose agnostic, multi-cloud services cherrypicked from different providers to allow for more freedom. Experts continue to debate the advantages and drawbacks of each path that enterprises can select.
Is Hybrid Cloud the New Standard for Future Infrastructure?
The rising tide of cloud transformation continues to pick up companies and momentum, yet it may be impossible for certain organizations to completely go all-in. Complex legacy systems and regulatory requirements are some of the factors that may make it unfeasible for some companies to move everything to public cloud services.
Can a Hybrid Cloud Strategy Boost IT Transformation Adoption?
Change may be hard, especially when modernizing legacy systems, but naturally it is crucial to explore "transformative measures" to keep enterprises competitive. Moreover, this can be a turning point for IT departments to prove how they can be part of businesses' evolution — or risk seeing the transformation process handled by another party.
Multi-Cloud Advice, Best Practices and Drawbacks:
Tips for a True Multi-Cloud Strategy
A true multi-cloud strategy takes far more planning than you may think. It must include well thought-out and actionable steps regarding business need for multi-cloud as well as details on how private and public clouds can most efficiently be stitched together to create a singular network.
Integrated Cloud Architecture: What It Is and Why It Matters
The rapid migration to the cloud has only accelerated as organizations, from small to large, embrace the benefits of the cloud and adapt to the new security, performance and scale paradigm. Amid such advances and success (and failures), why introduce yet one more cloud catch phrase: integrated cloud architecture (ICA)? The answer is because illumination is needed in how organizations are aggressively blending multiple cloud platforms to provide an orchestrated collection of services that leverage the diverse strengths of each respective service/cloud platform.

Complexity: Cloud Computing's Achilles Heel
As enterprises move to private clouds, hybrid clouds, and now multi-cloud, the number of platforms, databases, devices, network, and end points continues to explode. While there are no easy answers or magical tools to address the complexity issues, some fundamental architectural planning can be done.
Unlocking the Business Value of Cloud
When it comes to realizing the value of cloud, while addressing the performance barriers around complexity, it seems clear that the best operating model is one that supports multi-speed delivery across legacy IT and multi-cloud landscapes.
Navigating the Skills Gap in the Hybrid Cloud Era
IT leaders who will survive in the hybrid multi-cloud world are fostering the skills they already have in-house, while embracing some shifts toward new ideas.
Multi-Cloud Security and Governance:
Best Practices: Governing Data in Multi-Cloud Environments
Like most things in the world of data, creating and maintaining governance policies in a multi-cloud environment requires constant compromise and negotiation. As you consider cloud providers, look for those with functionalities that make data governance easier, including SAML integration and APIs that extend your role-based access. Look for tools that allow for automated data tagging and archiving to streamline your data lifecycle requirements.
Stepping into the Cloud Requires New IT Security Tactics
Many executives and IT teams may be under pressure to advance cloud migration strategies, but such a push can leave some considerations overlooked. Security measures that served on premise might not cover all the nuances of cloud computing, hybrid cloud, and multi-cloud environments -- if they are not adapted for the cloud. Some industry players have a few perspectives on what to watch for and how to mitigate security exposure when making the migration.
How Cloud Shifts Security Balance of Power to the Good Guys
Cloud providers have the resources to fortify their data centers and hire armies of security pros, but they wield other powerful weapons to protect customer data. Anyone who has followed tech trends over the past few years probably can recite a litany of reasons companies should turn to cloud computing instead of running their own data centers.
Multi-Cloud Technology Drivers:
Enterprises Put More Data Infrastructure in the Cloud
More enterprises are putting their data operations in the cloud, a trend that will continue as AI, machine learning, and other analytics efforts accelerate.
Cloud Migration Opportunities to Be Aware of in 2019
We've reached the stage in cloud's evolution that companies have experience in migrating core enterprise applications such as AS/400-based ERP systems to the cloud.
Will AI and Machine Learning Break Cloud Architectures?
Greater storage space at lesser costs creates opportunities to do things that were not economically feasible before, such as making backups of backups or the ability to unleash AI and machine learning on even larger corpuses of data. But AI and machine learning are powered by lots of data -- so much so that one futurist thinks today's cloud architectures aren't enough.
Database Deployments Moving to the Cloud
Of the top five database vendors by revenue, four are also cloud service providers -- Oracle, Microsoft, AWS, and IBM. The future of DBMS is in the cloud.
Kubernetes Advantage: Considerations for a Multi-Cloud World
As more IT leaders deploy Kubernetes into mainstream production environments, the ecosystem around Kubernetes will grow and drive innovation. The fact that major cloud providers including AWS, Microsoft Azure, and Google Cloud have all embraced Kubernetes and are all offering Kubernetes-as-a-service options is a significant benefit for enterprises. Because it's available as a service, it can be easier for them to experiment with and pay as they go.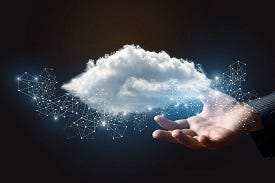 Cloud Providers/Vendors:
Cloud Vendors on the Rise in 2019
The opportunity is vast. In 2019, top technology predictions include fields such as artificial intelligence (AI), IT security, quantum computing, Internet of Things (IoT) and container and multi-cloud management. These fields include technology that is commonly built and managed inside cloud environments. There are more cloud products and services than ever before, and that means more vendors to consider.)
Cloud 2.0: A New Era for Public Cloud
With new technologies and cloud offerings available almost by the day, the impetus for cloud adoption is stronger than ever before.
Q&A: Where IBM Sees Growth in Hybrid Cloud
Eager to show that it is part of the future, IBM shares some of its perspective on how cloud computing continues to evolve. Multi-cloud is part of their vision: Focus on the things that drive topline performance changes and adapt the rest to have a more coherent view of hybrid. It's multicloud, meaning everyone is going to have one or two external providers. They are probably going to have a handful of SaaS properties. IBM is relatively agnostic. We'll embrace multicloud where it is."
Google Unveils Hybrid Cloud Platform Anthos
Word came from the Google Cloud Next '19 developer conference of new possibilities for cloud migration with the reveal of a hybrid cloud platform called Anthos.
***
Check out our other Enterprise Technology Guides:

AI & Machine Learning: An Enterprise Guide
Data Science: A Guide to Careers and Team Building
A Practical Guide to DevOps: It's Not that Scary
Enterprise Guide to Digital Transformation