Google on Friday said it has submitted plans to the Mountain View City Council for a proposed renovation of four sites in Mountain View, Calif., where its headquarters are located.
In taking on a major construction project, Google joins Apple and Facebook, both of which are constructing new facilities, in Menlo Park, Calif., and Cupertino, Calif., respectively.
Google's design calls of buildings covered with translucent canopies. Seen at a distance, these structures could be mistaken for the silk tents of caterpillars.
"Large translucent canopies will cover each site, controlling the climate inside yet letting in light and air," said Google VP of real estate David Radcliffe in a blog post. "With trees, landscaping, cafes, and bike paths weaving through these structures, we aim to blur the distinction between our buildings and nature."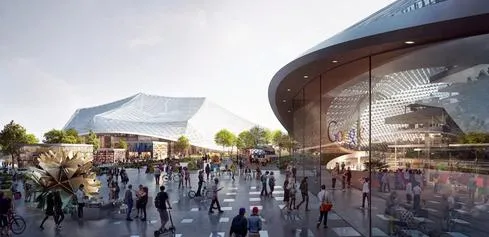 Google, like Apple, has opted to make a statement with its architecture. But in keeping with the competitive relationship between the two companies, Google suggests its approach is more open than Apple's -- an argument it has used to promote Android.
According to the Silicon Valley Business Journal, Google's planning package takes a swipe at Apple's circular design and enclosed campus by noting, "Instead of turning inward like many of our peers, the new Google campus prioritizes transparency and inclusion."
Architect Bjarke Ingels, in a video posted to Google's blog, echoes that sentiment when he observes, "Google's presence in Mountain View is simply so strong that it can't be a fortress that shuts away nature, that shuts away the neighbors."
Protecting Retailers And Owls
Ingels and Thomas Heatherwick designed Google's proposed project, which could face opposition from a city that has been overwhelmed by Google's growth and from LinkedIn, which is also seeking to expand its local real estate footprint. That and the recent protests of its employee buses in San Francisco may explain why Google, its architects, and its designers, are emphasizing how much the company's plan will benefit the local community.
Radcliffe says the company plans to add bike paths and retail opportunities for local businesses. "We also hope to bring new life to the unique local environment -- from enhancing burrowing owl habitats to widening creek beds," he said, adding that Google is committed to offsetting its energy consumption with renewable energy.
To judge by the project renderings posted to Google+, Google hopes to rid US 101 of the traffic that has accompanied its success. The final image in Google's gallery depicts an aerial view of the company's reimagined Mountain View headquarters at sunset, beside a highway without a single car. That's not a scene anyone in the Bay Area would recognize.
Attend Interop Las Vegas, the leading independent technology conference and expo series designed to inspire, inform, and connect the world's IT community. In 2015, look for all new programs, networking opportunities, and classes that will help you set your organization's IT action plan. It happens April 27 to May 1. Register with Discount Code MPOIWK for $200 off Total Access & Conference Passes.