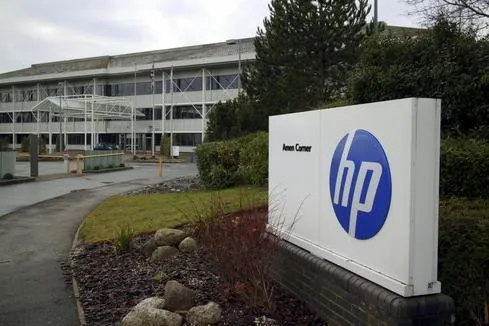 HP Milestones: A Look Back, As Tech Giant Splits In Two
(Click image for larger view and slideshow.)
In its first Discover conference for enterprise customers since it split from the larger company, Hewlett Packard Enterprise (HPE) rolled out a host of initiatives to firmly establish the company in the hybrid cloud computing market.
A cornerstone of the new strategy for hybrid cloud is the HPE Synergy platform, which got plenty of stage time during the event in London this week. This architecture is designed to fulfill the way computing is performed today -- often as portable workloads that can be deployed on infrastructure that is designed for flexibility rather than dedicated infrastructure for dedicated applications.
Synergy will be available in the second quarter of 2016, HPE said.
"In order to respond to the demands of the business, CIOs and IT executives need to deliver services that are increasingly application centric," said Jed Scaramella, research director at IDC, in a prepared statement released by HPE. "To remain relevant, IT needs to not only provide a reliable and cost-effective infrastructure that can support their legacy investments, but one that gives them the flexibility and speed to deliver services like a cloud provider."
[Read more about how the HPE, Microsoft partnership has evolved for the cloud: Microsoft, HP Enterprise Revive Partnership With Cloud.]
And that's what HPE says is trying to do with Synergy -- deliver an infrastructure that follows "composable" system design principles. That means the components of this infrastructure can be used and reused, can support all types of workloads from physical to virtual to containerized, and they are smart enough to be able to self-discover and self-assemble into the infrastructure that is needed each time. The hardware tuning that is required can be delivered via an API.
As described, this is basically what public cloud providers have been offering in an infrastructure-as-a-service (IaaS) model. And now HPE is looking to replicate that for enterprises to deploy within their own data centers with the Synergy platform.
Not surprisingly, HPE rival Dell found faults with HPE's plans. Dell isn't against the design principles, but a top technologist and executive at the company this week said HPE's approach is a closed one. And closed infrastructure is the opposite of what companies are looking for when they are shopping for infrastructure to support portable workloads.
"Right now, most approaches to composable infrastructure are being driven by a single company," wrote Robert Hormuth, senior fellow and executive director of platform architecture and technology at Dell. "They're not open -- so they lack the flexibility and choice we advocate."
In his post he encouraged HPE to provide an open approach to composable architecture when its platform hits the market next year.
Meanwhile, in London, HPE pitched the importance of a hybrid approach to IT and computing.
"Market data clearly shows that a hybrid combination of traditional IT and private clouds will dominate the market over the next five years," said Antonio Neri, executive vice president and general manager of the enterprise group at HPE, in a prepared statement. "Organizations are looking to capitalize on the speed and agility of the cloud but want the reliability and security of running business critical applications in their own datacenters. With HPE Synergy, IT can deliver infrastructure as code and give businesses a cloud experience in their datacenter."
HPE, before the split, pulled the plug on its own public cloud offering earlier this year and said it would double down on hybrid and private cloud services.
HPE also used Discover as the venue for a few other announcements.
HPE also announced a deeper cloud partnership with Microsoft Azure, making the company the preferred public cloud partner for HPE customers. HPE said the deal also calls for it to serve as a preferred partner to Microsoft in providing infrastructure and services for Microsoft's hybrid cloud offerings.
HPE said in its announcement of the partnership that the two companies would work together to integrate their platforms and offer new consumption models that customers want.
HPE's new HPE Helion Managed Cloud Broker service, also announced this week, positions HPE as the company that can help enterprises provision, access consolidate and securely control services across multiple cloud workloads and providers.
HPE will be provide a single contact for these companies and provide them with a single invoice for all these services, a spokesperson confirmed for InformationWeek.
"While cloud computing promises organizations significant advantages in terms of speed, agility, and lower costs, those advantages are lost when organizations face a sprawl of unmanaged, uncoordinated cloud instances," said Eugene O'Callaghan, VP for enterprise services workload and cloud at HPE, in a statement. "HPE's unique managed services-driven approach unifies all enterprise cloud resources together, giving our clients a single view of their IT activities and helps businesses accelerate innovation in an orchestrated, secure and cost-effective manner."
The company also introduced new IoT technology, with a focus on compute capabilities at the edge of the network.
That kind of intelligence at the edge can help in instances where sensors collect large amounts of data, but bandwidth is limited to send that information back to a central location for processing -- for instance, oil and gas exploration sensors and analytics.
The new HPE Edgeline IoT Systems come out of a partnership with Intel, and they let customers aggregate and analyze data in real-time and control devices and things. These systems are available in ruggedized, mobile and rack-mounted versions.
**New deadline of Dec. 18, 2015** Be a part of the prestigious InformationWeek Elite 100! Time is running out to submit your company's application by Dec. 18, 2015. Go to our 2016 registration page: InformationWeek's Elite 100 list for 2016.