Google Wins In Amazon Cloud Price Battle
Let's put this week's cloud price cuts in context. Cash-rich Google has made it harder for Amazon to profit on AWS. Whether or not Google steals a ton of AWS customers, Google wins.
In a remarkable display of the cloud's pricing dynamics, first Google, then Amazon Web Services announced severe price cuts to basic services this week. Prices of popular virtual servers plummeted 30%, and a new round of competition was initiated in cloud storage, with prices cut in half.
Amazon didn't quite match the price cuts that Google made in entry-level storage, so it's lost the price leader's mantle there. But it's maintaining a brave front. Without mentioning Google's name, AWS said Wednesday it was cutting prices for the 42nd time and it's in its retailer's blood to continue to discount prices.
"As more companies come in, we'll be mindful of what other companies are doing," said Adam Selipsky, VP of marketing and product management at AWS, in an interview Wednesday afternoon. But Amazon's eye isn't trained on any particular competitor, he continued. "We're going to be very predictable. We'll lower our prices over time" as Amazon realizes increased efficiencies from new components and economies of scale. It's merely doing what it's done all along, instituting another price cut, he said.
But in fact, Amazon has not cut storage prices 42 times by 51%. These cuts were much larger than usual and applied across a larger service set than usual. Given Google's announcement the day before, it's fair to say Amazon's announcement Wednesday represents the first set of price cuts in a competitive cloud-service atmosphere. Reading between the lines, that means AWS doesn't want to overreact to Google's sally into its space. It's willing to concede at least temporarily the price leader's spot in certain cases and, publicly, it's conceded nothing.
[Want to learn more about comparing cloud service pricing? See Why Cloud Pricing Comparisons Are So Hard.]
For example, a Google n1-standard-1 virtual server, its small, general-purpose server equipped with a single virtual CPU and 3.75 GB of RAM, will be priced at $0.07 per hour starting April 1, a 32.7% reduction. It introduced a Sustained Use server as well. The same virtual server running continuously for a month in "100% Sustained Use" will cost $0.049 per hour, a 52.88% reduction for Google.
How does that compare to Amazon Web Services? Setting aside the question of each virtual CPU's power, it might be compared to the M3.medium, which comes with a single virtual CPU and 3.75 GB of RAM. Its price was dropped 38%, also to $0.07 per hour starting April 1.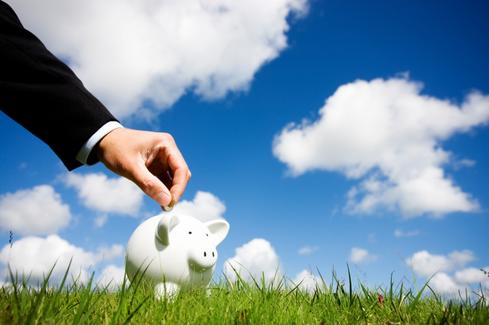 Comparing further, Google's new Sustained Use is roughly equivalent to Amazon's Reserved Instance category. The Amazon M3-medium as a Reserved Instance for one year would amount to another 45% reduction off the on-demand price, or $0.0315 per hour, after the upfront payment is added in. A three-year Reserved Instance would get a 60% reduction off the on-demand price, or $0.028 (on average) per hour, after the upfront payment is added in.
So in entry-level virtual servers, whether on-demand, by the hour, or long-term sustained use, Amazon enjoys a slight price advantage -- but the gap that formerly existed has been largely closed. Google retains an advantage in that it charges by the minute after the first 10 minutes, while Amazon charges by the hour, with a full hour charged for any usage amounting to 15 minutes or more. In the sustained-use category, Google likewise has a more flexible approach, in that there are no one-year or three-year contracts. It will also start applying Sustained Use pricing on a sliding scale after a customer has had a virtual server in use for 25% of the month, although a user doesn't get the full benefit unless the server runs 100% of the month.
In the key category of cloud storage, however, Google dropped prices so drastically that Amazon chose not to follow suit. In the entry-level, first-TB category of Cloud Storage, Google's price per GB a month is $0.026, compared to Amazon's $0.03 a GB. The Amazon drop for S3 storage as a whole was 51%. In this category it's 65% because this is where new customers are won or lost, and it needed to keep its price within striking distance of Google's bargain-basement level.
Google also offers Durable, Reduced Availability storage at $0.02 a month. Amazon offers Reduced Redundancy storage at $0.024 per GB a month. Glacier storage, Amazon's low I/O and infrequently accessed permanent service, is $0.01 per GB a month.
That leaves Google being the price leader only on the entry-level storage front. But Google, which is cash rich, is striking hard where Amazon may be vulnerable. Amazon CEO Jeff Bezos is expanding his company in a manner that is going for broke and, some might claim, going broke. It's using all
its cash flow to build up Amazon content and build out on-land distribution for online retail. The best summary I've seen on this is by Motley Fool writer Siddhart Dalal. A year ago he said, "Amazon spends almost every dime it earns, keeping the net profit down as close to zero as possible."
Skillfully building out ecommerce systems is cost effective. Building out a physical distribution system -- Amazon.com will have its own truck fleet labeled "Fresh" -- uses more money than it brings in and must be amortized over many years. Amazon.com wants to deliver fresh meat and vegetables the day you order them to major US population centers, and it wants to make as many two-day deliveries of retail goods as customers want, provided they've paid a $99 annual fee for Amazon Prime (just increased from $79 a year). Those deliveries, repeated often enough, could also add to Amazon's costs.
Amazon Web Services is talking as if its price reduction for instances and storage is just routine, but the guess here is it's a deeper reduction than Amazon wanted, due to the emergence of price competition. For the first time, it's having to reduce prices to maintain its customer base in the face of a price-conscious competitor, at the same time it's having to raise prices elsewhere.
In this price-slashing competition, the cash-rich competitor with fewer customers can benefit either way. Google may not steal many customers from AWS, but Amazon.com will have a harder time making money on AWS and continuing its rapid pace of overall business expansion.
Are you better protected renting space for disaster recovery or owning a private cloud? Follow one company's decision-making process. Also in the Disaster Recovery issue of InformationWeek: Five lessons from Facebook on analytics success. (Free registration required.)
Charles Babcock is an editor-at-large for InformationWeek and author of Management Strategies for the Cloud Revolution, a McGraw-Hill book. He is the former editor-in-chief of Digital News, former software editor of Computerworld and former technology editor of Interactive ... View Full Bio
We welcome your comments on this topic on our social media channels, or
[contact us directly]
with questions about the site.