VMware COO Clarifies Focus
In an interview, COO Carl Eschenbach explains how VMware plans to outstrip the competition and why it's offering OpenStack.
As VMworld unfolded in San Francisco this week, it became clear just how ambitious VMware's reach has become. It had partner announcements for the first time with Google and Linux container supplier Docker. It had product announcements in its NSX software-defined networking and vCloud Suite. It also announced it would have an OpenStack distribution in the first half of next year.
InformationWeek editor-at-large Charles Babcock sat down with VMware COO and president Carl Eschenbach, attending his 11th consecutive VMworld, to discuss the initiatives and what they mean for VMware customers.
InformationWeek: VMware started out in the server virtualization business. It's entered a phase where it appears it's moving into all IT operations, from the lowliest end user up to the biggest e-commerce system, with the software-defined data center.
Eschenbach: We're trying to make the desktop more virtualized. We're trying to make the data center more automated and we're trying to make access to the cloud more seamless. If you look at the software-defined data center [SDDC], it actually bleeds into all three. It's the underpinning for delivery of hybrid cloud. The degree of automation is the same in private cloud or public cloud as in the SDDC. That's why we believe we're in a unique position to bring the hybrid cloud to market.
[Want to learn more about VMware's OpenStack distribution? See Why VMware Is Embracing OpenStack.]
InformationWeek: Some people, particularly on Wall Street, think the virtualization market is just about saturated and you'll now face increased competition. Microsoft keeps nibbling away at the VMware customer base.
Eschenbach: We've moved way beyond virtualizing the server. Now we're focused on data center automation. We don't see Microsoft as a competitive threat. Our data center automation, our management and orchestration tools are world class and allow us to differentiate ourselves from Microsoft. It depends on whose market-share chart you're looking at, but we don't think our market share has changed all that much. Some of our largest customers are running 50,000 or 100,000 virtual machines on our products. We don't see anything in Hyper-V and System Center that suggests these people are going to migrate away from us.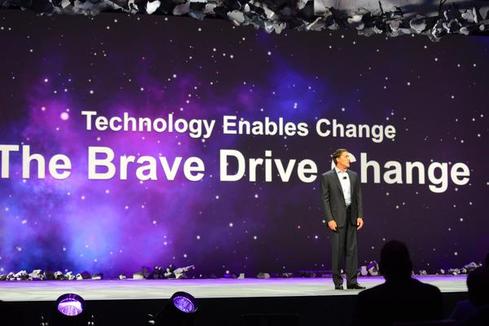 InformationWeek: At the same time, virtualization of the desktop and end user has been slow to happen. What makes you think you've mastered the barriers now?
Eschenbach: There's been a slow uptake for a couple of reasons. It's always been perceived as something that's hard to get a return on investment from. The cost for compute and storage of individual desktops was high. With technology like VSAN (pooled, virtual storage for disks tied to servers on a rack) working with flash memory, we're seeing the market deploy more virtual desktops. That's why we think we're taking share from the competition. It's not just virtual desktops. It's how you manage desktops, how you deploy applications, how you manage mobile devices. We are leveraging the technologies we got from Desktone, AirWatch, and CloudVolumes, and we don't think anyone can match the combination.
InformationWeek: Citrix Systems has been competing to virtualize end users.
Eschenbach: Citrix is strong in terminal services and always has been. The desktop ... is a lot different to us. I think we stack up quite well against them. If we can leverage everything we do in the data center for the end user, and combine that with Horizon and Airwatch [by VMware], we'll have a richer end-user experience ... The majority of Citrix desktops are running on VMware infrastructure in the data center anyway.
InformationWeek: VMware is coming out with an OpenStack distribution, but it doesn't use OpenStack for its own vCloud Air (the former vCloud Hybrid Service.)
Eschenbach: VCloud Air is built on VMware software-defined data center components. We're leveraging our own technology. We don't need OpenStack to deliver vCloud Air. But an OpenStack distribution gives our customers choice ... The OpenStack framework is a platform for building clouds. A lot of companies like to do their own innovation and OpenStack appeals to them. They want to do their own provisioning interfaces and manage their infrastructure themselves. Hey, now your DevOps team can use the OpenStack platform to plug into the VMware infrastructure. If you want to experiment with OpenStack, you would have to get a different source of support [without the VMware integrated distribution].
InformationWeek: What about supporting OpenStack's default hypervisor, KVM?
Eschenbach: No. At this time, we leverage the greatest hypervisor, vSphere [with ESX Server] into OpenStack technology. We're not looking to offer a multi-hypervisor cloud. We won't provide support for that level of a distribution. vCloud Automation Center can support heterogeneous hypervisor management [ESX Server, Xen, and Hyper-V]. But if you build an OpenStack with KVM, I don't see us supporting a heterogeneous cloud.
InformationWeek: How strategic was your purchase of Nicira, with its software-defined networking?
Eschenbach: I don't think you can build the software-defined data center without network virtualization. If you do the network in hardware, you don't get the benefit of the level abstraction that you get with virtualization. It's the linchpin of the software-defined data center.
InformationWeek: This is your 11th VMworld, with 22,000 attendees this year. Does it ever surprise you how far VMware has come?
Eschenbach: I was overlooking the show floor just a few minutes ago and I said, "What an amazing ecosystem, what a robust economy we've built around virtualization that didn't exist 10 years ago." Now we're going to extend it across the other unvirtualized components of the data center.
In its ninth year, Interop New York (Sept. 29 to Oct. 3) is the premier event for the Northeast IT market. Strongly represented vertical industries include financial services, government, and education. Join more than 5,000 attendees to learn about IT leadership, cloud, collaboration, infrastructure, mobility, risk management and security, and SDN, as well as explore 125 exhibitors' offerings. Register with Discount Code MPIWK to save $200 off Total Access & Conference Passes.
Charles Babcock is an editor-at-large for InformationWeek and author of Management Strategies for the Cloud Revolution, a McGraw-Hill book. He is the former editor-in-chief of Digital News, former software editor of Computerworld and former technology editor of Interactive ... View Full Bio
We welcome your comments on this topic on our social media channels, or
[contact us directly]
with questions about the site.