Microsoft has announced the availability of SQL Server 2016 in public preview. This is just one of multiple data and storage updates to come from Redmond this week.
CEO Satya Nadella first announced SQL Server 2016 at this year's Microsoft Ignite conference. In his keynote, Nadella promised that the intelligent platform would be available in preview this summer and include better data protection, deeper data insights across on-premises and cloud, and the ability to stretch transactional data to Microsoft Azure.
It's not quite summer yet, but Microsoft is ready to debut the first public Community Technology Preview (CTP2) for SQL Server 2016. Eager adopters can get a sneak peek at the new platform's capabilities and test the preview through virtual machine in Azure or in their environments.
Those who choose to download the preview can expect to see new features including:
Always Encrypted: Designed to protect dormant or active data, this allows SQL Server to perform operations on encrypted data as the encryption key stays with the application in the customer's environment. Data encryption and decryption happen transparently inside the application, which cuts back on changes that have to be made to existing applications.
[MS Office Coming to 20 More Android Tablets]
Real-time Operational Analytics and In-Memory OLTP: Users are already leveraging In-Memory OLTP for faster transactions but will now be able to apply this technology to more applications. This update also provides real-time operational analytics while delivering faster transaction performance.
Stretch Database: This lets users stretch both warm and cold transactional data to Microsoft Azure. It can be used alongside Always Encrypted for more secure data extension.
In a May 27 blog post on the news, Microsoft highlights additional features of the SQL Server 2016 CTP2 including row-level security, temporal database support, dynamic data masking, query data store, and enhanced hybrid backup to Azure. Testers can opt to receive more frequent updates to their previews instead of waiting for CTP3.
Also available in public preview is Live Encoding for Azure Media Services. This is a cloud-based workflow that lets users send a single high-quality video feed to an Azure data center, where it is encoded into an adaptive bitrate stream. The simplified stream process makes it easier for customers to run live events from remote locations while paying only for a good WiFi or mobile network, Microsoft explains. With Live Encoding, users can also run encoders built into cameras or less expensive encoders that don't require as much power.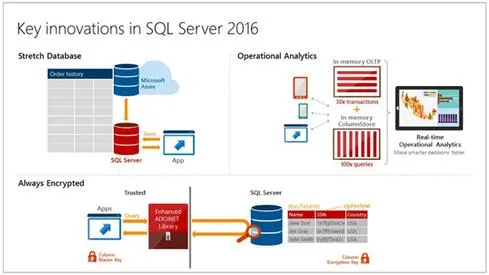 Other news from Wednesday includes the StorSimple 8000 Update 1, which is the first major software release for the StorSimple 8000 series, designed to help enterprise customers handle data growth and storage management. The most recent update includes SDK support for Azure PowerShell and Zone Redundant Storage support, as well as data migration tools to assist users in upgrading to the 8000 series.
Microsoft has also released the SQL Server 2014 Service Pack 1, Power BI Content Packs, System Center 2012 and R2 Configuration Manager Service Packs, and the Microsoft Intune May Service Update.