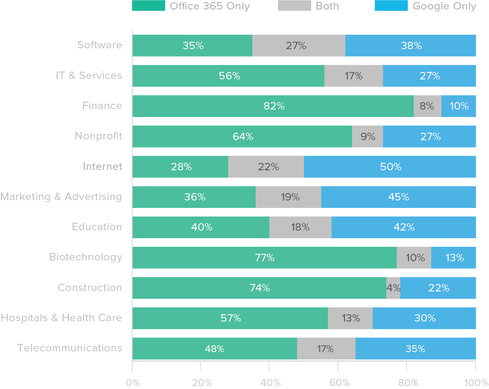 Google Apps Vs. Office 365: Which Suite Reigns Supreme?
(Click image for larger view and slideshow.)
Microsoft has announced the "reimagining" of Microsoft Ventures to focus on investing in early-stage startups. The idea behind its approach is to fund young companies that align with products in technology sectors like cloud, security, and machine learning.
While Redmond has a history of supporting startups, it hasn't done much in the way of early-stage investment. Most of its funding has been wrapped up with larger deals and didn't give the company a chance to work with companies at the forefront of cutting-edge trends.
"Because we would often invest alongside commercial deals, we were not a part of the early industry conversations on disruptive technology trends," wrote Nagraj Kashyap, corporate vice president of Microsoft Ventures, in a May 30 blog post on the news. "With a formalized venture fund, Microsoft now has a seat at the table."
[The future of Microsoft mobile: What comes next?]
Microsoft Ventures was previously the name of a startup accelerator group within Microsoft's Developer Evangelism team. This division has been repurposed as Microsoft Accelerator and meant to help early-stage companies grow.
Microsoft Accelerator stands at one end of the company's investment spectrum, Kashyap explained. Its larger investments and acquisitions stand at the other end. The new Microsoft Ventures "fills a gap we've had somewhere in the middle of that range," he wrote.
The revamped division, which consists of a small team, will identify new market trends and help young businesses with financial and technical resources.
Its focus will be on startups that complement Microsoft's transition to the cloud. That focus includes companies developing products and services that align with the Azure infrastructure and are creating business SaaS apps, enhancing the Windows and HoloLens ecosystems, and building enterprise, productivity, and communication products around Office 365.
In addition, he noted, Microsoft Ventures will also keep a close eye on companies working on machine learning and security.
Kashyap, who formerly led Qualcomm Ventures, joined Microsoft in January. His hiring was a sign Microsoft was ready to boost its venture investment strategy, explained Pund-IT principal analyst Charles King, noting there are good tactical reasons for doing so.
Over the past few months, venture capital activity in tech has taken a dramatic tumble, because many start-ups, including many "unicorn" businesses, have failed to succeed. Few unicorns, which are startups given a value of more than $1 billion, have found clear paths to profitability.
"As a result, investors are moving more cautiously, making funding harder to fund," King explained. "Microsoft has the wherewithal to make a real difference, and to better maximize on its investments."
He likened the move to avoiding real estate in hot housing markets. Those who wait until things calm down and eager buyers move elsewhere, will have a better chance of finding good deals and opportunities.
Microsoft is also trying to keep up with competitors in its venture projects. Its approach to investing is different from those of competitors and partners who have focused on early-stage companies. At this point, Microsoft likely thinks its experience and resources are not giving it the success it should have.
The creation of Microsoft Ventures also appears "clearly linked" to the rise of Satya Nadella as CEO.
"It isn't what you'd call a huge step forward, but I expect that fixing the company's VC efforts has been relatively high on Nadella's to-do list," said King.
Microsoft Ventures will start with a presence in the San Francisco Bay Area, New York, and Tel Aviv. Its goal is to expand to cover other geographies in coming years.