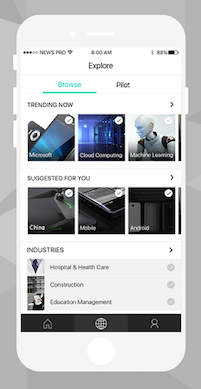 10 Cool Microsoft Garage Projects You Didn't Know About
(Click image for larger view and slideshow.)
Software-as-a-service CRM provider Salesforce is rolling out a new integration with Microsoft designed to help business users, especially sales reps, to get their work done faster.
Salesforce's new Lightning for Outlook add-in lets users access Salesforce data from inside their Microsoft Outlook email inbox with no need to toggle between multiple applications. The new integration automatically syncs both contacts and events. Specified emails can be marked to be synced to Salesforce, too.
The Lightning for Outlook add-in integration is only the most recent integration resulting from Salesforce and Microsoft's strategic partnership, the companies noted in a June 28 statement. These integrations span many of the applications in Microsoft's Office productivity suite, Salesforce Sales Cloud director Greg Gsell told InformationWeek in an interview. This newest integration, however, marks a significant first for Salesforce.
"For the first time, Lightning Components will be available in another application," he said.
[What else is new at Salesforce? Read Salesforce Unifies Mobile App Dev, Updates Marketing Automation.]
Specifically, users will be able to embed Lightning Components -- the reusable blocks of code that can be used to create custom apps in Salesforce -- into a third-party application. In this case that third-party application is Microsoft Outlook.
For instance, customers could use the components to quickly add new functionality into their Outlook inbox, such as price quote updates that pull from Salesforce SteelBrick CPQ (configure, price, quote) technology.
Accenture
Accenture is among the customers that expects to make use of this new integration.
"At Accenture, our top priority is helping clients navigate the accelerated rate of digital change," Accenture CIO Andrew Wilson wrote in a statement. "Offering out-of-the-box integration between platforms, the joint solutions from Salesforce and Microsoft deliver at speed and avoid rework. These solutions help us arm our people with the relevant data right at their fingertips so they can connect globally and deliver unparalleled insights and value for our clients."
Salesforce EVP of strategic product alliances Ryan Aytay wrote in a blog post announcing the new integration that the solution is available to Salesforce users across Windows, Mac, and the web, and is coming soon to Outlook Mobile. It is 100% cloud-based, and is automatically updated without user intervention.
Lightning for Outlook is available to all Sales Cloud users and Service Cloud users at no additional cost, Gsell told InformationWeek. It is now generally available at the Office Store.
Microsoft provided more detail on the supported platforms in a blog post noting that the add-in works with Outlook 2013 for Windows, Outlook 2016 for Windows, Outlook 2016 for Mac, or Outlook on the web with either Office 365, Exchange 2013, or Exchange 2016 mailboxes.
More Features
Lightning for Outlook also makes it easier for sales reps and other users to find the related information they need quickly. The integration adds a new pane to the standard Outlook inbox window view to display relevant Salesforce information. Users can also search for Salesforce information within Outlook, so there's no need to toggle between two applications.
Other joint solutions from Salesforce and Microsoft include Salesforce1 Office Edition, Salesforce Files Connect Integration with SharePoint and OneDrive for Business, Skype for Business Integration, SalesforceIQ Inbox, Salesforce Wave Connector for Excel, and several others.
Customers using integrated Salesforce and Microsoft Office tools include BMC Software, TechBridge, and Unilever.