Microsoft Power BI Makeover: 6 Big Improvements
Microsoft's revamp of its cloud-based Power BI will challenge IBM, Tableau, and other business intelligence vendors. Here are six new ways it should appeal to users.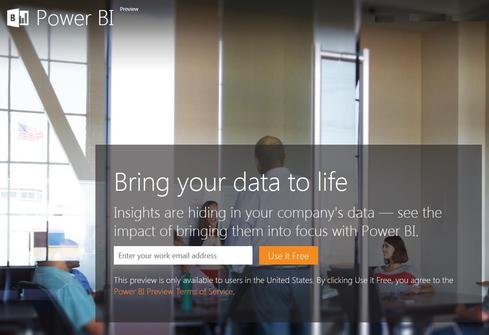 Microsoft is cutting its cloud-based Power BI service loose from Office 365 and letting anyone with an email account sign up for what's now a "freemium" service. The company announced the public preview of six significant new capabilities on Tuesday, but the big news is that the new business model is aimed at reaching as many users as possible.
Highlights of the new Power BI include a free tier of service including 1 GB of storage, and a free-to-download Power BI Designer, software that can be used to develop charts and other data visualizations that can be uploaded and shared through the Power BI service. Power BI Pro, which will cost $9.99 per user per month, offers 10 GB of storage, Active-Directory-controlled collaboration and data privileges, live access to on-premises Microsoft SQL Server instances, and self-service access to third-party cloud sources including Salesforce, Marketo, Zendesk, and GitHub. Mobility is supported through a native iPad app, an iPhone app expected within one month, and Android and Windows universal apps that can run on multiple types of devices.
[ Want more on Power BI? Read Microsoft Power BI Gets 'Freemium,' Visual Makeover. ]
Power BI's new pricing is well below the $20 to $52 per user per month Microsoft previously charged Office 365 subscribers. It also undercuts the $30 per user per month IBM is charging for its still-in-preview Watson Analytics service. Like Watson Analytics, Power BI is aimed primarily at individual users, but with live data access (including streaming data support) and data-access controls, it also supports team collaboration and use of on-premises and popular corporate cloud services like Salesforce.
Describing the history of BI systems, Microsoft Business Intelligence general manager James Phillips said the first wave brought technical BI systems, which required DBAs to curate data cubes, models, and trusted sources. The second wave brought self-service options, such as Microsoft Excel and Tableau Software. The third, user-oriented wave is being kicked off by Power BI and Watson Analytics, Phillips said, but it won't supplant the earlier waves.
"Unlike other enterprise software categories, where emerging SaaS offerings have tended to eclipse previous offerings, that's not going to be the case in BI, where these waves will build on top of each other," he said.
That's a hoped-for outcome for Microsoft, given that it's still a leader in technical BI with "more data models running in SQL Server and SQL Server Analysis Services than any other vendor," according to Phillips. And Microsoft also doesn't want to diminish the importance of Excel, which Phillips says will be used side-by-side with the Power BI Designer.
"Microsoft Excel is used by hundreds of millions of people, it's the tool of choice for business analysts, and I've never met a Tableau Desktop user that did not also use Excel," Phillips said.
Microsoft did not offer projected timing for general availability of the new Power BI, but for now the new services are available without the "Pro" service-level fees. Microsoft has yet to figure out how it might package and price the service for Office 365 subscribers. Read on to see the new Power BI features, get details on free vs. Pro-tier capabilities, and compare the service with rival offerings.
Attend Interop Las Vegas, the leading independent technology conference and expo series designed to inspire, inform, and connect the world's IT community. In 2015, look for all new programs, networking opportunities, and classes that will help you set your organization's IT action plan. It happens April 27 to May 1. Register with Discount Code MPOIWK for $200 off Total Access & Conference Passes.
Doug Henschen is Executive Editor of InformationWeek, where he covers the intersection of enterprise applications with information management, business intelligence, big data and analytics. He previously served as editor in chief of Intelligent Enterprise, editor in chief of ... View Full Bio
We welcome your comments on this topic on our social media channels, or
[contact us directly]
with questions about the site.