Microsoft's Strong Quarter: 7 Highlights
Microsoft's fiscal Q1 easily eclipsed Wall Street estimates, buoyed not only by cloud growth, but also unexpectedly strong Surface sales.
Microsoft on Thursday announced robust financials for its fiscal first quarter, with sales that beat Wall Street estimates by more than $1 billion. Revenue hit $23.2 billion, a 25% year-over-year increase. Earnings fell 13% to $4.454 billion, however, due to charges related to Microsoft's acquisition of Nokia's device business.
With Microsoft still an afterthought in the smartphone market, the "cloud" part of CEO Satya Nadella's "mobile first, cloud first" strategy unsurprisingly produced more promising sales. But though some of Microsoft's troubles persist, at least one recent weak point unexpectedly became an asset -- Surface revenue was up almost 130%.
What other surprises did Microsoft's Q1 contain, and what do they mean for the company as it barrels toward Windows 10? Here are seven highlights from Microsoft's strong quarter.
1. The Surface line finally turned a profit. Sort of.
Propelled by relatively strong demand for the Surface Pro 3, Microsoft's tablet line hit $908 million in revenue during the company's Q1, which ended September 30. Microsoft's reported cost of revenue was only $802 million, which means Surfaces finally posted a favorable gross margin. Microsoft doesn't report granular marketing and R&D expenses, so it's not clear whether Surfaces are profitable overall -- but the line has some a long, long way from the near-$1 billion write-down it forced Microsoft to take over 15 months ago.
Progress is relative, of course. Among premium notebooks, Macbooks comfortably outsell the Surface Pro 3. If you think of the Surface as an expensive tablet, the comparison gets even worse, as Apple, despite being in a bit of a tablet sales slump, sold more than 12 million iPads in its recent quarter.
Nevertheless, the Surface line has finally begun to justify itself. CEO Satya Nadella recently said he remains committed to the Surface Pro line, and Microsoft reps have dropped high-level references to a coming Surface Pro 4 with the same dimensions as the current model. Now that the company's earnings are out, it's easy to see why Nadella decided to continue betting on Surface. CFO Amy Hood said during the company's earnings call that she expects Surface sales to grow in Q2.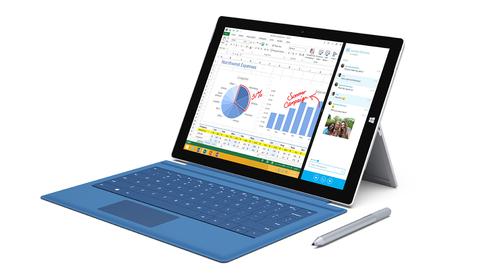 2. Cloud revenue is way up.
Compared to Q1 2013, Microsoft's commercial cloud revenue (which includes Azure, Dynamics CRM, and enterprise versions of Office 365) rose 128% in the most recent quarter. Microsoft's cloud revenue represents less than 10% of the company's overall business, but Nadella is shifting priorities to place Azure at the center of the company's plans, with traditional cash cow Windows relegated to a more supporting role. As such, the consistent growth of Microsoft's cloud portfolio is encouraging.
[Can Microsoft's hybrid approach and enterprise focus beat cloud giants Amazon and Google? See Microsoft Battles Google, Amazon In The Cloud.]
3. Consumers continue to adopt Office 365.
Microsoft made much of its cloud progress with enterprise products, but the mainstream version of Office 365, arguably the company's biggest cloud play for consumers, enjoyed a strong quarter as well. Office 365 Home and Personal now boast 7 million subscribers, or 25% more than last quarter.
4. Windows Phone is messy but could be worse.
For Microsoft's Q1, the addition of Nokia was something of a double-edged sword. The company sold 9.3 million Lumia smartphones in the quarter and took in more than $2.6 billion in phone hardware revenue, giving it a gross margin of almost $500 million. True, compared to Android's ubiquity and
Apple's record-setting iPhone sales, Microsoft is battling for table scraps. But all in all, it could be worse.
Windows Phone licensing revenue was down a hefty 46%. The decline in revenue stemmed in part from Microsoft's decision to reduce or eliminate license fees for many consumer versions of Windows, including Windows Phone. Licensing revenue was also destined to take a hit because Nokia, whose device business Microsoft now owns, used to be the biggest purchaser of Windows Phone licenses.
5. Windows is a mixed bag.
Microsoft and its partners hope to stimulate PC sales with a mix of ultra-cheap devices and premium notebooks and 2-in-1s with the latest Intel chips. Microsoft execs said the cheaper devices, which Microsoft's low-cost and free licenses enable, contributed to increased unit sales. But increased unit sales don't necessarily translate to increased profit, or to increased user investment in the Windows ecosystem.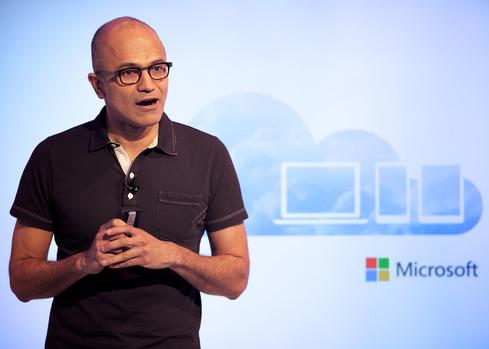 The overall PC market, Macs excluded, remains mediocre at best. Moreover, all variants of consumer Windows licenses, including the ones that still carry a fee, dropped in revenue during Q1. With Windows 10, Microsoft hopes to reignite sales, but the market's negative attitude toward Windows 8 and 8.1 continues to be a problem.
That said, Microsoft's Q1 included a few bright spots for Windows. The Surface Pro 3's success brings some validation to the hybrid OS concept. Microsoft also reported that revenue from volume Windows licenses increased 10%, though that number is likely a bit inflated due to short-term demand for Windows XP replacements. Hood noted that because last year's Q2 included the first rush of Windows XP upgraders, Windows revenue from this year's Q2 might be lower.
6. Microsoft's server business continues to grow.
Microsoft's cloud products have become popular partly because they facilitate hybrid deployments that allow businesses to control when and if assets are moved off-premises. Given this cloud strategy, it's no surprise the company continues to push its server business, which posted a 13% year-over-year revenue increase in the just-concluded quarter. SQL Server, System Center, and Windows Server all enjoyed double-digit percentage growth.
7. Enterprise products continue to drive most of Microsoft's revenue.
Though Microsoft had solid consumer success with Office 365, Surface Pro 3, and Xbox One, the company's enterprise products continue to rake in the most cash. Consumer-facing services and devices generated $10.96 billion in Q1, or 47% of Microsoft's total revenue.
Despite playing second fiddle to enterprise sales, revenue from consumer products was up almost 50% year-over-year. The addition of Nokia's device business drove most of the increase.
Commercial revenue was up 10%, to $12.28 billion. Microsoft's strong server and Windows volume license sales drove some of the growth, though products such as Lync, SharePoint, and Exchange all grew by double-digit percentages.
If the world wasn't changing, we might continue to view IT purely as a service organization, and ITSM might be the most important focus for IT leaders. But it's not, it isn't and it won't be -- at least not in its present form. Get the Research: Beyond IT Service Management report today. (Free registration required.)
Michael Endler joined InformationWeek as an associate editor in 2012. He previously worked in talent representation in the entertainment industry, as a freelance copywriter and photojournalist, and as a teacher. Michael earned a BA in English from Stanford University in 2005 ... View Full Bio
We welcome your comments on this topic on our social media channels, or
[contact us directly]
with questions about the site.