In our recent survey of 200 senior IT professionals from across the world, nearly two-thirds reported that their company failed to fully realize four key benefits of the cloud: cost savings, speed to market, business enablement, and improved service levels. Given that 77% of enterprises today have at least one application, or a portion of their enterprise computing infrastructure in the cloud, this should be concerning. Why are so few organizations finding that the cloud lives up to its expectations?
Barriers to value realization
The perennial barrier to cloud value realization, security and compliance, still figures highly: 65% of the people surveyed cited risk as a key obstacle. The other major barriers were more technical in nature, such as the complexity of business and organizational change (55%) and the need to manage legacy infrastructure and/or application sprawl (43%).
Cloud environments are significantly more fluid and dynamic than traditional IT systems and are therefore more complex to manage. Such environments can put pressure on enterprise networks both from a bandwidth and security perspective, while IT teams can have trouble adapting to the fast-paced cloud market, where new platforms are launched regularly.
Cloud by design
The good news is that these challenges can be addressed. By adopting a 'cloud by design' approach, businesses can reduce the risk and complexity of cloud deployments while unlocking the full potential of the technology. A 'cloud by design' approach means moving away from siloed application deployments by committing fully to the technology. The benefits are clear: our survey showed that respondents from companies with most of their infrastructure in the cloud are significantly more likely to report that their organization has achieved its intended cloud outcomes.
Businesses should therefore look to bring together all their apps, data, artificial intelligence (AI) into the cloud to build out a fully integrated cloud ecosystem. With all cloud apps seamlessly integrated and interoperable, enterprises will realize greater value at a higher speed and unlock trapped value through analytics and data sharing. However, doing all this will do nothing to solve the complexity challenges businesses face, which is why a systematic approach is preferred.
Phased migration
The first step is to focus on the areas that serve specific business functions -- look at the applications and the data. Organizations should review their existing application estate, determine the dispositions of each application, and then develop a transformation strategy and roadmap to modernize their applications.
The goal here is to map which applications should be retired, which can still add value and should be retained, and which custom applications, if any, would benefit from being replaced by Software as as Service (SaaS) alternatives. Once these are identified and prioritized, organizations can migrate them at their own pace and at a timeline that makes sense for the business.
In doing so, organizations can leverage the cloud itself as a mechanism for digital decoupling. By using new technologies, development methodologies and migration methods, IT teams can create new systems that execute on top of legacy systems. This approach allows the business to gradually decouple core systems: migrating functionality and data to new platforms at a pace that suits them.
Multi-cloud environments
One of the questions that is commonly discussed regarding the cloud is which type of cloud to use: private, public or hybrid. It does make a difference and organizations must be strategic in their selection. According to our survey findings, the cloud model employed by organizations appears to have an influence on their ability to capture expected cloud results. Specifically, companies leveraging private clouds tend to lag compared to their counterparts employing public cloud or hybrid models when it comes to fully achieving expected outcomes (28% vs. 42% and 38% respectively).
When it comes to realizing the value of cloud, while addressing the performance barriers around complexity, it seems clear that the best operating model is one that supports multi-speed delivery across legacy IT and multi-cloud landscapes. This approach balances the public cloud benefits of innovation, speed, consumption and scale with the private cloud benefits of regulatory compliance, performance, data gravity and recouping existing investments; providing increasingly more dynamic and optimized workload placement over time.
What's clear is that the time for experimenting with the cloud at the edges of the organization is over. Businesses that expand their cloud footprint across the entire organization will see a much greater increase in value and a better return on investment.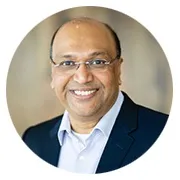 Kishore Durg is senior managing director of Accenture Cloud for Technology Services. Durg leads Accenture's cloud business globally and drives investments, ventures and acquisitions. Before joining Accenture, Durg spent 10 years in the U.S. working on system integration and consulting assignments around the world. He is currently based in Bangalore, India.