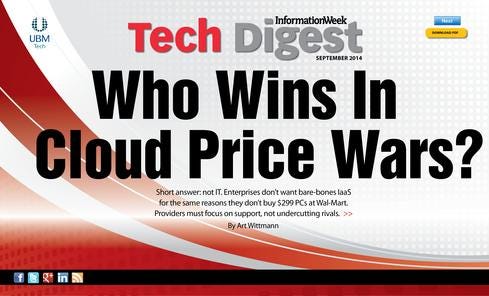 Download the entire new issue of InformationWeek Tech Digest
, distributed in an all-digital format (free registration required).
Cloud computing, specifically infrastructure-as-a-service, is nearing its eighth birthday. It was 2006 when Amazon sparked the imaginations of IT pros and developers alike by offering to sell the spare cycles in its data centers to anyone who wanted them. Amazon Web Services has enjoyed meteoric growth and spawned services from Google, Hewlett-Packard, IBM SoftLayer, Rackspace, and plenty of others. The big-name users have been so impressive, the potential for disruption so evident, and the press headlines so breathless that IT pros who haven't moved to the cloud may feel they've missed out.
Don't worry. The data says different. Year in and year out, a majority of respondents to most cloud surveys -- by InformationWeek and others -- insist they plan a major IaaS implementation in one, two years at the most. Yet to date, most large-scale adoption is by a subset of companies, often startups. Remove software-as-a-service from the cloud equation and adoption plummets. In InformationWeek's 2014 Strategic CIO Survey, only 18% said they had a major implementation in place for public cloud infrastructure. That number was up from 14% in 2013. Yes, CIOs are optimistic about the technology -- 20% say they plan a major implementation this year.
Even that number, we can assure you, is optimistic. In 2013, 21% said the same thing, yet the major implementation number only moved up 4 percentage points. It seems something always comes up as a higher priority. Topping this year's list of things to do are improving security, improving collaboration, and increasing use of SaaS -- all of which have a more immediate impact on business. Next year, I'm willing to bet that moving apps to, or creating apps for, mobile devices will make its way to the top of this list, again leaving IaaS/PaaS adoption with increases at 3 to 5 percentage points.
A big part of the problem is also this idea that compute cycles equal electricity -- a raw, undifferentiated, blunt force.
But, you say, even in the depths of the Great Recession, Amazon posted double- and triple-digit quarterly growth rates in its "other" category that includes AWS. And better yet, Amazon generously cut prices, surely with the good of humanity in mind. Industry analyst firms and press lapped it up and spit it back, creating a massive version of the hype cycle that surrounds most new technologies. The beat was picked up, with relish, by marketers and venture capitalists. Precious few noted that Moore's Law and bleeding-edge, scale-out, white-box-based architectures left Amazon plenty of room to cut costs.
The hype cycle for IaaS's nerdier and harder-to-understand cousin, platform-as-a-service, is just now picking up serious steam. PaaS had no personality to champion it, not like Amazon's Werner Vogels, father of AWS. Vogels could get on any stage and convince the audience that the service he was building would be the way computing resources would be procured in the future: "You don't generate your own electricity; why would you generate your own computing cycles?"
PaaS lacked that simplistic story. PaaS was born out of the likes of Salesforce.com, which in early 2008 released Force.com in hopes of helping an ecosystem of developers enhance its sales automation offering by giving them a platform on which to build add-ons. Microsoft followed later that same year with Windows Azure (the Windows part would later be dropped), to comparatively little fanfare. These seemingly parochial offerings were interesting, but hardly a game changer of the likes Vogels described.
Don't get me wrong, IaaS and PaaS matter. The buzz around cloud service growth is no exaggeration; it's just that the raw numbers don't offer context. In shops that use public cloud heavily, there's almost always an effort to add more of it. And capturing 3% to 5% more of enterprise IT shops each year is a big growth deal for a business (cloud infrastructure services) that accounts for less than 10% of the global software market. It's akin to saying Tesla is the fastest-growing carmaker. When a company starts with a miniscule share, doubling or tripling it still leaves it with a tiny market.
Disruption of a different type
There's more going on here than simple distortion of the importance of a new technology to an existing market. If I've left you with the impression that cloud isn't the disruptive force that everyone assumes it is, that's not my aim. SaaS is having an unmistakable effect on all of IT, and infrastructure services are too, to a lesser degree. They could be a much larger factor in the future.
But for that to happen, providers need to lose the bare-bones, "it's like electricity" schtick. Some new market numbers (see chart on p. 8) that show IBM and Microsoft as the surprising big gainers may hint at what it will take for cloud infrastructure to have a more meaningful effect on a larger portion of the enterprise IT market. But before we move on to that, it's worthwhile to understand the objections that IT planners have to current cloud infrastructure services.
Read the rest of the story in the new issue of
InformationWeek Tech Digest (free registration required).