Putting new video games on the international stage, the inaugural Tribeca Games leveraged Parsec's cloud platform to deliver playable content to remote attendees.
These days event runners continue to look for ways to offer virtual or hybrid alternatives to in-person engagement, and the Tribeca Festival is no exception. The annual showcase of film, music, games, and other mediums of storytelling held in New York in June naturally had to change gears and offer remote audience options in response to the pandemic.
This year saw the introduction of Tribeca Games, which hosted more than 1,000 sessions of playable demos for eight new video game titles presented at the event. Tribeca Games made the playable demos available simultaneously by using the Parsec remote desktop platform. That included hosting games via the cloud to run on different machines and offer permissioning to virtual attendees while maintaining a branded experience.
"Tribeca has been celebrating games for the past 10 years, but this is actually the first year that Tribeca has opened up submissions and selected a full lineup of games similar to our other sections," says Casey Baltes, vice president of Tribeca Games. This all had to be built from the ground up, she says, with the intent to showcase video games the way films and other storytelling content might be. "It became pretty critical for us to devise a way for our audience and players to experience these selections in a hands-on way."
Parsec's platform made the playable demos available to virtual attendees, letting them take control from computers at home or elsewhere. The games demoed included "Kena: Bridge of Spirits," an upcoming title from Ember Lab, and independent publisher, and "Lost in Random," a title from industry giant Electronic Arts.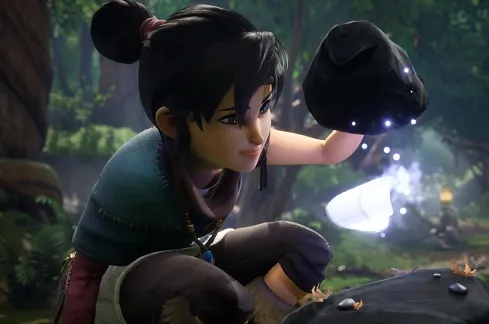 Tribeca Games is not the first gaming event to go virtual and it may be a sign of continued change for delivering major events at scale in via digital. Because of the pandemic, E3 Expo and other video exhibitions continued to use virtual options, at scale, to reach their audiences.
Though a large portion of Tribeca's film exhibition was held in-person this year, Baltes says digital made sense for the video game section of festival. Delivering frictionless, secure remote access to the game demos meant finding a way to handle the process with an immediate level of trust with the game publishers and the audience. "We wanted to make sure we had something that would be feasible for a wide range of types of games but also a wide range of types of companies," she says, from indie developers to larger game publishers.
Baltes says Tribeca looked for cloud solutions to offer playable demos during the festival, offering accessibility to multiple players at the same time. "The key factor in looking at Parsec as the solution was in the ways that Parsec already works," she says. The platform offers guest tokens as the mechanism for players to play the demos for limited periods of time, Baltes says, in a way that felt digitally connected to the festivals. In addition to Parsec, Tribeca tapped Akcelo for the event website build and user experience with the different demos, she says. "They took the lift on the technical load of the digital experience."
Should country see a substantial return to in-person events in the future, virtual elements such as those deployed for Tribeca Games may continue to see use. "On the film festival side as well we had virtual offering," Baltes says. "These types of solutions are here to stay, whether that's an augmentation of a physical event or the physical event is the augmentation of the digital event."
Related Content:
How Enterprises Can Adopt Video Game Cloud Strategy
IBM Esports and Interxion Talk Lessons from Cloud Gaming Tech
Topspin and Terabytes: IBM Ups Its Cloud Game at the Masters