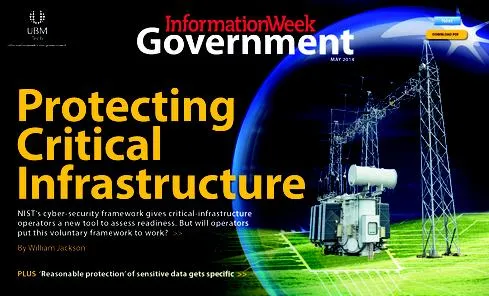 Download the entire May issue of InformationWeek Government
, distributed in an all-digital format (registration required).
One big question hangs over the NIST Framework for Improving Critical Infrastructure Cybersecurity: Will the operators of the nation's critical infrastructure use it?
The voluntary recommendations reflect industry's best cyber security practices, but self-interest and prudent risk management may not be enough to compel critical-infrastructure owners to adopt the framework. One incentive would be if compliance with the framework makes it easier and cheaper for companies to get insurance to cover cyber security incidents.
Various insurance industry sources estimate that cyber security insurance generates annual revenues of $1 billion to $2 billion -- most of it in the US. Double-digit growth is expected in coming years. But business requirements and government regulations, not insurance requirements, still are driving cyber security investments, says Thomas Reagan of the Beazley Group, which has been underwriting cyber security insurance policies since 2000. Beazley helps clients assess their exposure to cyber security risk, "but there is no bright line that is going to be a guarantee of security," he says. "The risk is going to be what it is."
[Learn more about NIST's cyber-security framework. See Protecting Critical Infrastructure: A New Approach.]
Reagan has seen the market evolve over the past decade. Since the late 2000s, it became apparent that the risk from breaches isn't just in the lost data, but also in the recovery costs, including the costs of forensic and legal assistance, notification, and credit monitoring, as well as crisis management and public relations.
A common framework for evaluating a company's security status could streamline assessments for an insurance policy, Reagan says, and put a strong emphasis on response: "When a breach happens, it's not the end of the road. It's the beginning of another road. Protection is not enough. You have to be ready to respond."
To read more,
download the May issue of InformationWeek Government
distributed in an all-digital format (registration required).