When does the Emerald Isle look a lot like the dry and dusty high plains of central Oregon? When Facebook comes to town in Ireland.
Facebook is building its second European data center on a 227-acre site in Clonee, Ireland, 10 miles northeast of Dublin. A drawing of the complex makes it appear similar to the football-field sized plant it built in 2012-2013 near Prineville, Ore.
Clonee, a village with two grocery stores, three pubs, and the headquarters of a food processing company, is now the future home of millions of Facebook likes and users. Facebook has one other data center in Europe, located in northern Sweden near Lulea, where there's abundant hydropower. In Ireland, its data center will be powered by electricity generated from renewable power, "thanks to Ireland's robust wind resources," said Tom Furlong, VP for site operations, in a Jan. 25 blog post on the Facebook site.
"Clonee will be packed full of cutting-edge technology, making it one of the most advanced, efficient, and sustainable data centers in the world," Furlong wrote. Among other things, the servers inside will be based on Facebook's Yosemite design, introduced at the Open Compute Summit last March. Facebook founded the Open Compute Project to share cloud server hardware designs as a form of open source code.
[Want to learn more about Facebook's data center at Prineville? See Facebook's Data Center: Where Likes Live.]
The Yosemite is a four-server compute array mounted on a single tray of an Open Rack, another OCP design for rack-mounted servers. One rack can hold up to 192 of the servers (48 of the arrays). The processor is designed to use 65 watts of electricity, and all the components of the server as a whole use only 90 watts. Each server is built as a pluggable card using an Intel D-1500 processor. The card design was dubbed Mono Lake.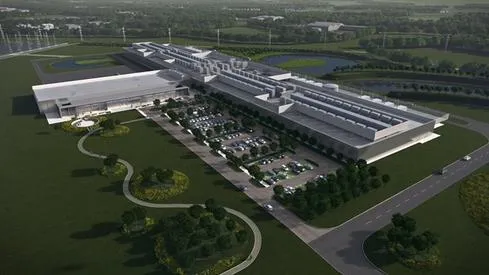 The Yosemite servers will allow Facebook to pack a lot of compute power into the 347,550 square feet of space to be built in Clonee. The first Prineville data center occupied 330,000 square feet with rows and rows of racks. That building would amount to an 81-story skyscraper if tilted on one end. A similar second building was being equipped last year. A third building in the complex, started last fall, is slated to be 487,000 square feet, according to this account in The Oregonian newspaper. A typical Costco big box store by comparison is 144,000 square feet.
"All the racks, servers, and other components have been designed and built from scratch as part of the Open Compute Project, an industry-wide coalition of companies," wrote Furlong in his blog.
In addition to the Yosemite servers, Facebook will be implementing the Wedge top-of-rack switch as a component of its data center network. The Wedge, another public design contributed by Facebook, is commodity hardware loaded with an open source FBoss operating system, a unit that can be replicated many times at low cost across the data center.
Storage will be added, following additional OCP designs, Furlong said. The data center is slated to come on line in late 2017 or early 2018, he wrote. Getting Clonee on line will take Facebook a step closer toward its goal of becoming 50% reliant on renewable energy throughout its operations by the end of 2018.
Facebook uses a technique invented by chicken farmers in Scandinavia to cool hen coops via low-cost fans and evaporation. A trickle of water is supplied to a vertical wall of Munter's Media, which absorbs water without losing its stiffness. As air flows over it, the water evaporates, cooling the air by 10 or 15 degrees. That's channeled through the cold air aisles of the data center.
The Clonee facility will need a new implementation of the design. While water evaporates readily in the high desert, the air drawn into Clonee will be off the Irish Sea. It's heavy with salt ions from the ocean. "We will still cool the facility with 100% outdoor air, but because of the high levels of salt in the air, we will use an indirect air cooling process that filters the air more thoroughly before sending it into the data hall," wrote Furlong.
Ireland has been the home of Facebook's international headquarters since 2009, he added.
Are you an IT Hero? Do you know someone who is? Submit your entry now for InformationWeek's IT Hero Award. Full details and a submission form can be found here.