{Image 1}
It's always ironic to write predictions for the future of Agile. The adoption, development and use of agile approaches are by their very nature unpredictable and complex. How Agile will be used and deliver value in the future is ultimately unpredictable. But the Agile world is a big one, and just like any super tanker, it takes time to change course, which gives me the luxury of highlighting the trends that I believe will continue or grow over the next year.
Here are 10 predictions for Agile that I see happening.
Increased use of Scrum and Agile outside of software development: We have seen over the last few years a growing trend of the use of Scrum in areas that are far away from "shippable increments" or "Development Teams" of software. Scrum like many of the ideas of Agile can be applied to any complex problem. In the case of Scrum, all you need is a problem to be solved and a willing team. This year, we will continue to see an increase of usage with a growing body of material that helps practitioners apply these ideas outside of software and traditional product development.
Flow will be integrated: As a keen fan of the work of Donald Reinertsen, I've always looked to how to integrate the growing body of ideas on flow into my work with Scrum teams. But it was not easy. Capturing the right metrics, making them transparent and building consistent integration points between teams often left me dazed and confused. Flow is a natural partner for agility, and it is time to make it simple to implement and easy to understand. This will be that year. We might see the use of enterprise Kanban boards, the rise of right sizing and other Kanban and Lean ideas being integrated at scale into Scrum.
The intent of organizational change will replace the renaming of existing models: Last year, we saw many organizations adopt the 'Spotify' model, renaming departments and project teams to tribes, squads, etc. But this year, those renamed departments will need to move from names to execution and start adopting a different way of thinking about collaboration, incentives and promotion models. The reality is that renaming existing functions does not actually change them, but sometimes is a good place to start as long as the intent is considered and impediments to that intent are resolved.
"Project to Product" will become mainstream: As described in Mik Kersten's book with the same name, organizations need to realign the majority of their discretionary spend not on projects, but products. This shift will see organizations evolve to a simpler, focused approach to delivering customer value. This year, we'll see earlier adopters start to change their approach.
Design thinking and lean UX will make their way out of the studio and into the mainstream with teams adopting these practices: Designers will change their orientation from contributors to skills enablers driving the message of customer knowledge and design elegance into teams through mentoring and collaboration. The bottleneck of design will be replaced with fountain of design with everyone taking a drink.
Budgeting will continue to slow the adoption of Agile thinking: The one golden rule is the person with the gold sets the rules. Without a clear way for finance to manage risk, plan spending and safeguard assets agile will continue to battle the status quo. I do not see this changing this year as continued talk of a recession will require increased diligence on spending and reporting.
Value metrics will escape slowly into the wild: The historic focus of measuring teams and work in terms of motion or interim artifact completion will be augmented with external value-based metrics. The ideas of flow coupled with design thinking will create a wind in the sails of value-based metrics encouraging teams to start measuring and reporting on them. Motion metrics will not go away, but they will be at least delivered in context.
The debate of Agile Coach vs. Scrum Master will continue throughout the industry with each side trying to take the high ground: The reality is that it does not matter what the role is called, the increasing understanding of the importance of an enabler to the team and organizational value will make this the year of the Scrum Master/Agile Coach.
Everyone will continue to talk Agile: Media and marketing organizations will continue to use the buzz word Agile, but increasingly in the context of digital transformation and new ways of working. This buzz will increase the value of everyone who has these skills and increase demand for experienced people and better content.
Increased demand will find the job market wanting: Only eclipsed by full-stack developers, real Agile skills and experience will be harder and harder to find. This will lead to more and more internal development of people and their skills with the rise of internal Agile academies and centers of excellence.
In a nutshell, the 2020 agile change bus will continue its journey, but this time with the additions of flow, design thinking, and improved metrics. It will be adding new stops to the worlds of marketing, legal and HR with the ultimate destination of product alignment on its windscreen.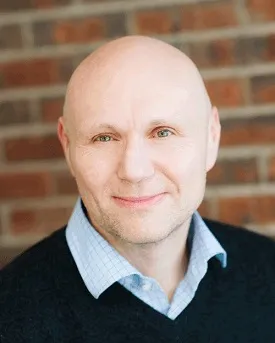 Dave West is the Product Owner and CEO at Scrum.org. He is a frequent keynote speaker and is a widely published author of articles. He also is the co-author of two books, The Nexus Framework for Scaling Scrum and Head First Object-Oriented Analysis and Design. He led the development of the Rational Unified Process (RUP) and then worked with Ivar Jacobson running the North American business for IJI. Then managed the software delivery practice at Forrester research where he was VP and research director. Prior to joining Scrum.org, he was Chief Product Officer at Tasktop where he was responsible for product management, engineering, and architecture.