DeveloperWeek NY and MongoDB World Tackle Transformation
IT pros from IBM, The New York Times, and T-Mobile discussed digital transformation best practices at a pair of conferences aimed at educating developers.
A pair of conferences last week brought together coders, engineers, and developers in New York in forums that created opportunities to discuss different ways to tackle mutual challenges. The annual MongoDB World conference in midtown gave the company the chance to announce its new strategic direction and let some of its clients talk about their use cases and real world experiences. Meanwhile in Brooklyn, the DeveloperWeek New York conference put together a program that brought out developers, architects, and other professionals to share ideas on getting ahead in this era of digital transformation.
Speakers at these conferences ranged from app development consultant OpenForge to deployment stories from enterprises such as T-Mobile, IBM, and The New York Times.
While MongoDB World served as a showcase for the company, it also offered up educational sessions and attracted partners and clients who shared their implementation experiences. As previously reported, a key part of the conference was the new roadmap MongoDB laid out for its future as a data platform company moving beyond its titular database.
DeveloperWeek, on the other hand, offered more of a mixed bag of engagements and learning sessions that covered a broad mix of actionable ideas and use cases. For example, one of the speakers addressed the need for teams from different IT disciplines to find common ground and work more cohesively.
Organizations continue to explore best practices for DevOps and push for cloud migration, with teams looking for the best strategies to manage data collected along the way. Pressure to deliver new ways to compute -- and make organizations more competitive -- drive such conferences and expos. Both conferences included time and space for hackathons that encouraged the creation of new solutions and applications. The results from hackathons might not lead to immediate implementations, but these types of exercises put teams on a clock to deliver ideas.
What follows are some takeaways from session leaders and keynote speakers who discussed their experiences tackling issues that teams at other organizations can learn from.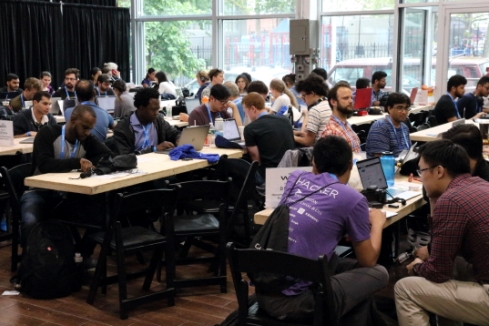 Efficient Data Migration in MongoDB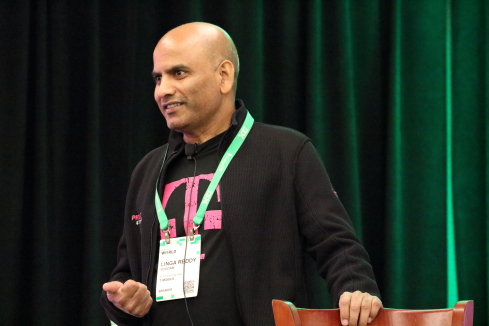 Linga Reddy Boddam, principal engineer of software for T-Mobile, spoke at MongoDB World about his company's digital transformation through a method that he said had "zero impact on existing ecosystems and transactions."
As one of the largest wireless network operators in the country with about 80 million customers as of March, T-Mobile has mountains of customer data it needs to process, manage, secure, and leverage. Boddam spoke about how T-Mobile's system, which uses algorithms to create rules and maintains associated customer services. Challenges T-Mobile faced in its digital transformation included service latency, security, and scalability.
Solving those challenges included an API-oriented approach to increasing the power of the database. "We also designed and developed a new cloud native microservice app around self-service," he said.
What Change Looks Like in AI and Data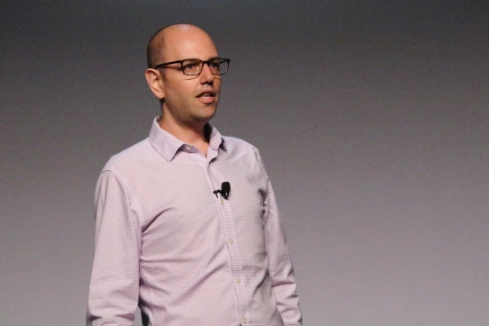 Adam Storm, distinguished engineer at IBM, gave a keynote talk at MongoDB World about recognizing the signs of change and adapting rather than holding on to the past. "Clearly AI is changing the world," he said. "We have phones in our pockets that can visualize our faces. AI has infiltrated medicine for the betterment of people." He also noted the rise of smart thermostats and the potential for self-driving cars as other examples of the changes driven by AI.
Storm also shared a story about a home appliance (his freezer) being AI-enabled, thanks to the actions of his local power company even though AI did not directly connect to the appliance. When an ice storm hit his home, taking down powerlines, the electrical producer in Storm's city was prepared due to its proactive use of AI. "They'd taken weather data they'd collected as the storm was approaching and predicted the path of the storm and which areas of their grid were most vulnerable," he said.
That model and predictive analysis let the power company send crews to vulnerable locations before problems occurred. "They worked to fix and repair the grid and bring power back to 500,000 people one full day faster than they would have normally," he said.
Such benefits might make a case for AI, but the technology has a long way to go, Storm said. Data from visual inputs, for example, can confuse some AI. A study by a team at Princeton University showed that the addition of a little "noise" to a KFC sign tricked some self-driving car algorithms into misinterpreting that branding as a stop sign, he said.
Teams at other universities worked the problem in reverse. With just four well-placed stickers, they tricked self-driving car models into misreading stop signs as speed limit signs. "This is happening all over in AI," Storm said. "We see AI models putting the wrong people in jail, predicting the wrong people to die at the wrong rates -- adversely affecting their life insurance policies."
Getting Designers and Developers on the Same Page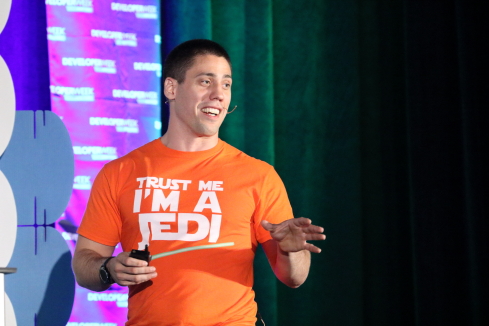 There are times when the human factor plays a substantial role in hindering or furthering digital transformation. During the DeveloperWeek New York conference, Jedidiah Weller, CEO of app development consultancy OpenForge, spoke about the need for developers and designers to find a common language to communicate with each other. Weller said his staff discovered during a company retreat that they could understand the responsibilities of people outside their immediate disciplines. "We have an innate appreciation for each other," he said. "Developers would talk about designers doing all of these things for them they don't know how to do."
Team members learned more about themselves and their colleagues' responsibilities in the process, Weller said, through further conversation. It remains necessary to establish a common language, he said, to advance communication and understanding across disciplines. Jargon that might be readily understood by one team might come off as alphabet soup with another team. "They don't know what all of our acronyms and abbreviations mean, and we don't know what theirs are," he said. "We have to learn each other's language before we can properly communicate. Encourage your teams to do this."
What to Do When Top Developers Leave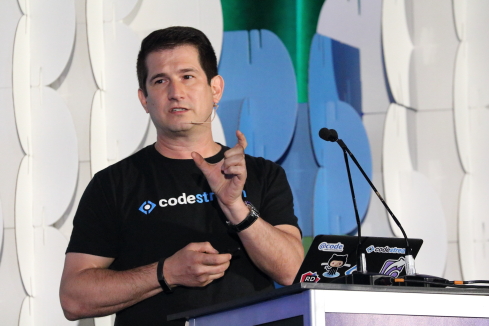 There is no hiding that the demand for IT talent with bleeding-edge skills is top of mind for many organizations. That opens the door for the best and brightest to make fast career moves that could leave companies scrambling to cope with their departure.
Peter Pezaris, CEO and founder of dev tools company CodeStream, spoke at DeveloperWeek New York about what happens when the best developers leave. In addition to their skills, such developers may take their understanding of code that is the backbone of the organization with them. Pezaris called this "one of the biggest pain points for engineering leaders, especially if they are managing a large team."
Turnover in the technology space might see some employees switch jobs every 18 months to two years, he said. That can lead to a drain of institutional knowledge, he said. The trouble with code is that understanding it is not always institutive and internal documentation may be sparse. "I'm sure you've heard somebody say, 'My code documents itself. Why should I have to write in English what my code clearly already states?'."
Pezaris recommended the use of including and enabling comments in an interactive code editor for the team to ask questions in context.
Stress Testing in Production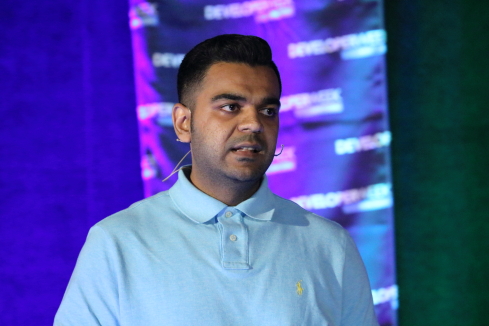 Working under pressure takes on a whole new meaning for a media outlet covering the outcomes of closely watched political elections. Shesh Patel, engineering manager for The New York Times, shared insights at DeveloperWeek New York about how his outlet handled the 2018 midterm election results from a technical perspective. The New York Times needed to be a stable digital resource of information given the volume of readers expected to check on results via the Web and apps. "One of our main challenges was we had changed our infrastructure completely from an in-house data center to the cloud," Patel said.
That led to stress testing to see how well the website for The New York Times would perform as subscribers reach out in waves to check the election results. "We wanted to make sure the processes we put in place were accurate," Patel said.
As important as actually conducting stress testing was, he said the postmortem allowed for lessons to be absorbed by the team based on the results. The effort paid off. "Nothing major happened, everything was good," Patel said. "The months of preparation that we did, the tests we executed, were all successful."
Joao-Pierre S. Ruth has spent his career immersed in business and technology journalism first covering local industries in New Jersey, later as the New York editor for Xconomy delving into the city's tech startup community, and then as a freelancer for such outlets as ... View Full Bio
We welcome your comments on this topic on our social media channels, or
[contact us directly]
with questions about the site.