It is not enough to think about digital transformation when rival organizations are busy executing. Implementing such plans at scale can be a challenge though, and IBM recently shared some examples of the work it does to help enterprises change at the nimble pace of startups.
The IBM Garage pairs the company's personnel with client organizations for design thinking sessions and other collaborations to drive transformation plans. Last month, IBM brought some of its clients to its Astor Place offices in New York, headquarters for the IBM Watson Group, to talk about their experiences.
Delos, ADP, and the Department of Social Services for the City of New York spoke about how working with the IBM Garage initiative benefited their needs to make changes at scale. Mark Foster, senior vice president for IBM Services and Global Services, said when organizations initially experimented with AI, automation, robotics, and blockchain for digital transformation they often worked from the outside-in. "That journey is now being met by an inside-out transformation opportunity that comes from leveraging data of the organization," he said. "That starts to be the way that clients will build the new platforms they want to compete from."
Foster said organizations are starting to reach a tipping point where transformation means mission critical change rather than surface level updates. "AI can reduce cost by 30 percent in certain processes," he said. "We've applied blockchain to simplify networks, meaningfully across global networks at scale."
From IBM's perspective, the hybrid multicloud environment is essential to enabling such technologies and will having a lasting impact on the makeup of organizations. "Our clients are becoming technology companies," Foster said. "It's not a situation where IT is in the background supporting the business. It's becoming the business." That means building capability within organizations' personnel, he said, to understand and apply technology at scale.
Public organizations have looked to IBM Garage for help with transformation. Lauren Aaronson, deputy commissioner for the office of business process innovation and design for the City of New York's Department of Social Services, said the city needed a fresh perspective to improve a Web portal used to apply for social services such as food stamps.
Initially the portal was accessed via desktop computers at city offices, she said, but soon enough the public was using mobile phones to submit applications. Aaronson said changes were necessary because assumptions about how people access the portal from a mobile platform were not accurate. That led to the IBM Garage helping to improve that mobile experience, she said.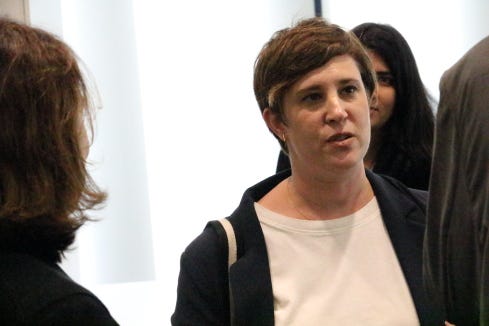 Some of the other pain points addressed included user interface issues with the desktop version. "IBM sent designers to our offices and watched our clients engage with our software," Aaronson said. Those observations led to improvements to make the portal easier to use. She said the collective changes helped cut down foot traffic in the department's offices in favor of online application submissions. The department also saw fewer applications for benefits rejected because necessary documents were not included by the applicants. "We're seeing a way better client experience and a more efficient approach to how we process this large amount of case," Aaronson said.
Management services company ADP worked with IBM Garage on the development and deployment of a chatbot to respond to customers seeking certain information. Tiphanie Combre, senior director of AI and automation for ADP, said that freed up time for company associates to handle complex inquiries. "It was important for us to get that scale so we could get the answers they need," she said.
Tackling the task through the IBM Garage methodology brought together developers, architects, and user experience professionals who shared knowledge with each other. "It's peer development using all disciplines," Combre said. "It's remarkable how quickly my team got up to speed and built that virtual assistant."
IBM Garage has come into play finding answers for issues on the international stage. CTO Jim Hunter said his company, Delos, needed to adapt to meet data privacy legal requirements while setting up a wellness lab in China. "We leaned into IBM to help us solve some of those problems," he said. Delos develops ideas for advancing wellness intelligence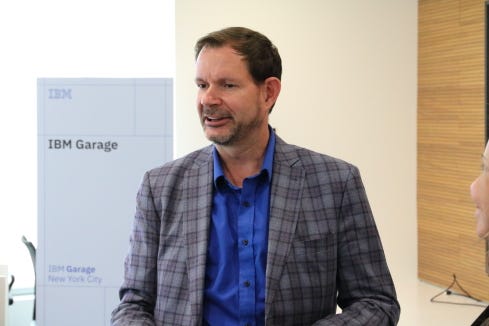 Offering its services in China opened a vast market for the company as it took steps to operate globally. "Scalability was one of our biggest concerns," Hunter said. "We wanted to make sure that whatever we were doing could handle the volume of people we anticipated would be coming onto the platform over the coming years."
The lessons learned through the IBM Garage seem to have brought lasting changes to Delos beyond the initial task. Hunter said his company chose to work with IBM because of its well-documented and well-designed code built on a framework that has staying power. The initiative also sparked in-house motivation and the potential for more growth, he said. "We needed a design thinking workshop because internally we need to solve the problem," Hunter said. "The Garage team stuck around our office helping us ideate new types of products we could build on the backbone of this."