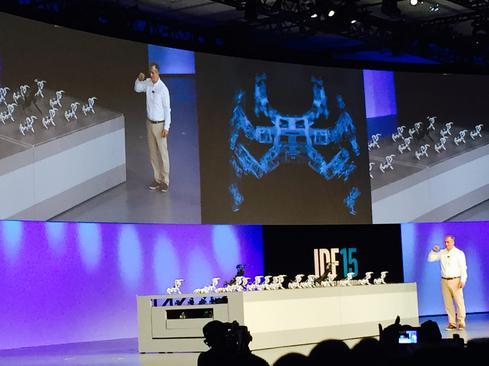 Intel Developer Forum: Spiders, Flying Sharks, And Drones
(Click image for larger view and slideshow.)
Semiconductor manufacturer Intel announced it has acquired cognitive computing platform provider Saffron Technology, which has offices in Cary, North Carolina and Silicon Valley.
The company's technology ingests data from disparate sources and automatically connects dots to help businesses improve decision-making. Saffron Technology boasts a customer base that spans industries including aerospace, insurance, healthcare, and manufacturing.
Saffron's Natural Intelligence Platform was inspired by the way humans learn and reason, combining semantic connections and raw statistical frequencies.
The platform offers a naturally intelligent store of knowledge so that users can learn and adapt as new data arrives, allowing businesses to anticipate what will happen next without having to know what is in the data.
As part of Intel's New Devices Group, Saffron will continue growing its existing standalone business as well as contribute its technology to Intel efforts and platforms spanning new devices, big data, cyber-security, healthcare, and the Internet of Things (IoT).
"Joining Intel's New Technology Group provides Saffron boundless opportunity to grow and expand the adoption of our cognitive computing platform -- from new business and personal applications to using the native intelligence created by the Internet of Things," Gayle Sheppard, CEO of Saffron, said in a statement. "We see so many opportunities to apply cognitive computing to assist businesses and consumers in their everyday activities. Joining Intel is a force multiplier for accomplishing this vision."
Cognitive computing systems make context computable by identifying and extracting such context features as hour, location, task, history, and profile to present an information set that is appropriate for an individual, or for a dependent application engaged in a specific process at a specific time and place.
They also provide machine-aided connections by combing through vast collections of diverse information in order to discover patterns and apply them to respond to certain requirements.
"Saffron offers a fresh look at big data analytics. We see an opportunity to apply cognitive computing not only to high-powered servers crunching enterprise data, but also to new consumer devices that need to see, sense and interpret complex information in real time," Josh Walden, senior vice president and general manager of Intel's New Technology Group, said in a statement. "Big data can happen on small devices, as long as they're smart enough and connected. Saffron's technology, deployed on small devices, can make intelligent local analytics possible in the Internet of Things."
[Where does Arduino fit in IoT? Read 6 Internet Of Things Building Blocks.]
According to a global survey from IT analytics firm IDC, which was released in September, nearly three-quarters of respondents said they have already deployed IoT solutions or plan to deploy them in the next 12 months.
The survey also indicated awareness is gaining traction in the retail and manufacturing industries, with 56% and 53% of respondents showing high awareness of IoT.
In addition, nearly six in ten respondents consider IoT a strategic initiative, with a further 24% viewing it as transformative.
The healthcare industry led the field with around three-quarters (72%) of respondents identifying IoT as strategic, followed by transportation and manufacturing.