The lines demarcating the physical and digital worlds for companies are blurring. Native platform companies are aggressively growing their physical retail presence, with no signs of stopping there: They are evolving their business models to take them far beyond their digital roots. Think about how smart speaker devices are becoming indispensable assistants in consumers' homes. Or, how they are launching driverless taxi services.
Platform companies have large and loyal online user bases. So does the success they've enjoyed in the digital arena guarantee an easy transition to winning in the physical world?
There are three distinct customer experiences that platform companies need to consider:
Digital interaction through devices such as smartphones and PC screens, smart speakers and emerging devices in the augmented reality and virtual reality (AR/VR) space
Physical interaction in real-world environments, like the home with smart appliances and the car with connected services
Human interaction with representatives, either employed by the company or acting through an agency on behalf of the company
Consumer sentiment in North America shows that digital is not the most popular criteria users apply when judging the service of a platform company. If convenience is what consumers want most, digital wins. However, the human interaction with a platform company can be just as impactful – for example, when using a ride-sharing service. A rating for a driver or delivery person after an interaction directly impacts a consumer's overall opinion of the company. That creates a whole new area that platform companies need to master. If they have a workforce out in the real world representing their brand and services to customers, they must make sure that their workforce consistently makes the right impression.
A positive consumer experience with popular and prevalent products, like smart speakers, is also important for future success of these brands. Trust is a key component with these physical experiences, which can impact how much information consumers share, how often they share and for what purpose, and how they use and perceive the technology.
When positive customer experiences and trust align, the outlook for platform companies is bright. We can realize concepts like the doorstep of the future, where a consumer's front door is connected to enable home delivery in their absence. A delivery person would be able to enter the home using a one-time code and would be tracked with a smart camera system and alert the consumer once they had left.
The future marketplace is complex. Therefore, it's vital that platform companies consider and launch new services that have a very clear understanding of the needs and expectations of their target market to provide a carefully curated mix of all three elements: digital, physical and human.
Robin Murdoch is managing director of Accenture's global Software and Platforms practice.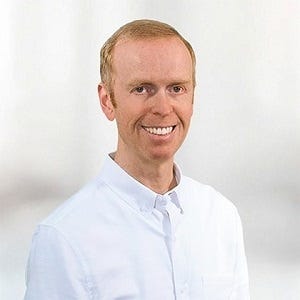 Martin Stoddart is principal director with Accenture's Software and Platforms practice.