Technology has opened a world of possibilities and efficiencies. Although meal delivery kits and virtual assistants have significantly improved our personal lives, we're struggling to reap the benefits of the technology we use at work. According to G2's recent State of Software Happiness Survey, more than 96% of survey respondents stated that they would be more satisfied at work with access to better software.
Yet, to be clear, more software may not be the solution. The number of tools available to marketing teams alone is getting out of hand. Scott Brinker's "Marketing Technology Landscape" graphic has grown from tracking a little more than 1,800 vendors in 2015 to more than 7,000 in 2019. So, considering nearly three out of four workers already say they feel distracted at work, new SaaS tools may not be the productivity silver bullet organizations are looking for.
Workplace tools are supposed to make us more productive -- only, they haven't. The productivity pitfall of too many tools is making employees less efficient, forcing us into a pivotal moment in our technology usage. On average, companies use more than 115 software apps. This siloed approach to technology is overcrowding the workspace.
The future workplace will kill technologies, one point solution at a time, allowing us to do more with less. In fact, hidden behind acquisitions and product updates, our transformation into the future is already unfolding.
Why platforms are the future of work
Employees currently use one tool for handling data, another for managing projects and another for internal collaboration. Oh, and don't forget the tool for third-party communication. Before you know it, we've spent more time managing our workplace tools than we have getting work done -- constantly toggling from one tool to another.
Data from a recent Formstack report dives into how digitization is shaping workplace productivity, finding that tasks with more than three steps consumed a great deal of employees' time. In an analysis of more than 260,000 anonymized Formstack forms over a two-year span, it's no surprise that data collection, storage, sharing, automation and production were the most common productivity pitfalls.
The need for these types of processes are vital to many businesses, and before the rise of the workplace productivity platform, this would have required the integration of nearly half a dozen single-function tools into a Frankenstein-like solution. And, if at any point a single link in the chain goes down, users have lost their entire system.
When I reached out to Holly Muscolino, research vice president at IDC for comment, she agreed that future organizations must be dynamic and agile, and the technology they use must follow suit. "As empowered, distributed teams form and reform, members must have secure access to the corporate resources, data and technology that they need to effectively collaborate and contribute. There must be parity in the capabilities available to all team members. And, perhaps, most importantly, the technology platform must support a broad range of use cases and deliver personalized experiences to workers. This means providing workers with frictionless access to relevant activities, data and content in context as required to complete a task."
Productivity is a competitive edge
In the digital age, business leaders are constantly finding new ways to compete, and workforce effectiveness is the key to a competitive advantage. But, if we're always shifting our focus to check e-mails, Slack messages or Asana notifications, we never have the time to focus on the most important aspects of our work -- the parts that bring true value.
In today's knowledge economy, the next step in workplace software development is consolidation. While compensation is the most important factor among employees, 'meaningful work' is the second most important factor in worker happiness. By unifying tools within one environment, companies remove the productivity barriers that technology overload creates so teams have more time to focus on producing meaningful work.
Among the workplace software leaders pushing for consolidation in workplace technology is Suresh Sambandam, CEO of Kissflow. Kissflow is built upon the 80/20 principle: 80% of processes are automated in the background and the remaining 20% of tasks that require human analysis are routed to the appropriate department using rules-based workflows. Sambandam believes complementary technologies will make the human-computer symbiosis dream a reality.
Companies like G2 are working to help businesses find those value-add tools that will help create a more efficient workforce. Beyond industry-leading software reviews, G2 is now offering G2 Track, a platform to identify expensive and underutilized tools and manage their company-wide SaaS spend. This type of unbiased look into various platforms and tools help IT departments identify high-impact solutions through real user feedback, not because a tool is trendy.
Consolidation spans farther than just workplace tech
The purpose of workplace technology is to free employees from the burden of low-level repetitive work, letting them focus on projects that push the organization closer to its overarching goals. With proficiency technology as a core competency for all knowledge workers, technology has the power to make work a more enjoyable place. But, investing in every shiny new tool won't necessarily make your work space more productive or give your company a competitive edge.
While unification is imperative for organizations to provide solutions for a better employee experience, the consolidation evolution doesn't only apply to workplace tech. SaaS-based technologies in all industries are expanding into all-encompassing offerings. With businesses looking to create end-to-end solutions, we're making a move to kill disparate technology.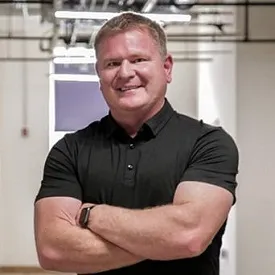 Tim Kopp is an experienced marketer and team builder with a passion for advising high growth marketing SaaS companies. Prior to joining Hyde Park Venture Partners, Kopp was the CMO of ExactTarget for 6+ years and helped grow ExactTarget from $50M to $400M in revenue, through IPO, and ultimately to a $2.7B sale to Salesforce. Prior to ExactTarget, he was the CMO at Webtrends, and before that, he ran interactive marketing for Coca-Cola and Procter & Gamble. Kopp leads HPVP's Indianapolis office and the firm's activities across the southern Midwest.