At a time when collaboration tools focus on text-based communications -- chat, document sharing, status updates, and activity streams, for example -- a new app is betting big on an old-school relic: collaborating via voice.
Lotus Notes founder and former Microsoft chief architect Ray Ozzie and his team spent the last two-and-a-half years developing Talko, a productivity and collaboration app for mobile teams and individuals. Talko makes voice the default for communications, a focus that co-founder Matt Pope said is the missing link in working more collaboratively.
"While text-based communications have helped us to connect so much more, we're saying so much less because of the staccato nature of it," Pope said in an interview. "When we looked at the phone back in 2012, it was evident that while there was so much amazing innovation around apps, there was no innovation around the phone call."
Talko, which uses VoIP, aims to change that. The app blends live and recorded conversations with collaboration staples like text messages, image uploads, and tagging group members with action items. The cloud-based app is available only for iOS right now, though users can access conversations via a Web app, Pope said.
[Take a look at Apple's new device. See Apple iPhone 6 Plus: My First Weekend.]
In developing the app, the Talko team focused on alleviating two common pain points people have with phone calls: the disruption caused by ringing and the disparate nature of voice. "Text, video, and photos are native to the Web. They can be linked and shared and integrated with other workflows and business apps, but voice is behind in that realm," Pope said.
To bring voice up-to-date, Talko lets users communicate both in real-time and asynchronously so mobile workforces can keep in touch even if they're not connected. You can hold live conference calls, which are recorded and stored for people to revisit later, or contribute to a conversation by sending a voice message.
Talko notifies group members when something new is added -- whether it's voice, text, or an image -- so you can view or listen to it at your own convenience. Users can also send images during live calls to ensure everyone is looking at the same thing.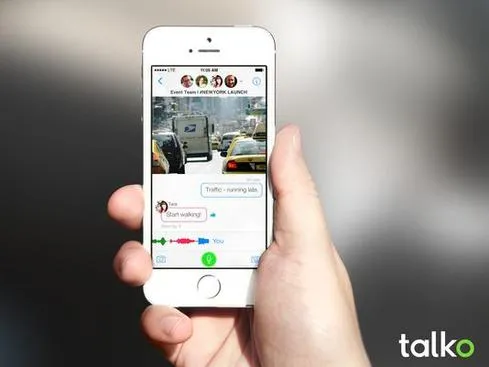 Another unique feature: Talko lets you annotate voice calls with bubbles to call out the important parts in a conversation. If a team member isn't present for a group call, for example, they could play it back, but skip to the parts that co-workers highlighted. Everything in Talko is searchable, too.
Talko targets enterprise mobile workforces, such as sales groups or teams with field workers, Pope said. The app is free, but the company is working on a premium per-user-per-month subscription for businesses that want access to older conversations beyond a certain time period. And while the app is available now only for iOS, Pope said that an Android version is in the works.
"We have mouths and ears; why aren't we using them more? Our smartphones have microphones, speakers, and Bluetooth; why aren't we using them more?" Ozzie said in a blog post. "Universally it's agreed: The phone call just sucks. If the only way of using your voice is to interrupt someone, talk quickly, and then hours later forget some key detail of what was discussed, then the phone call truly deserves to die."
In its ninth year, Interop New York (Sept. 29 to Oct. 3) is the premier event for the Northeast IT market. Strongly represented vertical industries include financial services, government, and education. Join more than 5,000 attendees to learn about IT leadership, cloud, collaboration, infrastructure, mobility, risk management and security, and SDN, as well as explore 125 exhibitors' offerings. Register with Discount Code MPIWK to save $200 off Total Access & Conference Passes.