Adobe's Marketing Cloud is a $1 billion business hiding inside a $4 billion company better known to many as the maker or Photoshop and Acrobat software. With the company's marketing technology now drawing intense interest among big enterprises, the question is: How can Adobe bring its Marketing Cloud to the next level?
This week's Adobe Marketing Summit highlighted the company's success, drawing more than 6,500 customers and partners to Salt Lake City to hear about new features, new technologies, and new alliances. Adobe's cloud suite components include services for web analytics, ad-buy optimization, social network monitoring and participation, cross-channel campaign management, and content and community management.
We'll get to the long list of new features below, but getting to the next level is more closely tied to the new technology and alliances aimed at raising Adobe's profile in the enterprise. That's where Adobe faces (or will face) competition from the likes of IBM, Oracle, SAS, Teradata, and Salesforce.com, companies that have been diving more deeply into marketing.
[Want more on the marketing arms race? Read SAP Buys Hybris, Gains Customer Experience Power.]
The key new technology is predictive analytics, introduced this week as a preview of new Marketing Mix Planning capabilities. Prediction is a sweet spot for SAS and IBM in particular, and it's the difference between rear-view-mirror reporting and, at best, trend analysis, versus forward-looking insight into what will happen. The predictive focus of Marketing Mix Planning is on marketing optimization.
"This technology will be used by VPs of marketing and CMO-level execs trying to optimize advertising spend across both online and offline channels," said Ray Pun, an Adobe senior product marketing manager, in a phone interview with InformationWeek. Offline ad spending includes TV, print, and radio, while online covers search keywords, display, email, and other digital channels.
The idea is to determine the channels driving the best return on investment by customer segment. "Historically we've been more focused on analysis of online ad spend, but bringing it offline is a new area of focus," said Pun.
If VPs and CMOs are the intended users of the Marketing Mix app, the deep math will have to be buried behind the scenes, as these execs can't be confused with deep data wonks. SAS and SPSS tools and applications are more routinely used by statisticians or, at the broadest level, by data-savvy business analysts who are used to working with data. The trend in analytics is moving toward more intuitive and accessible tools with graphical user interfaces and visual data-analysis capabilities, a course followed by SAS with its Visual Analytics product.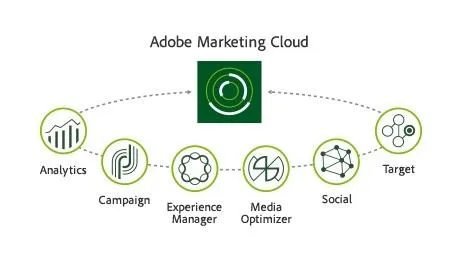 On the alliances front, Adobe announced a reseller agreement with SAP through which the enterprise applications vendor will sell Adobe Marketing Cloud alongside its Hybris e-commerce platform. Acquired last year, Hybris brought SAP into the e-commerce arena where IBM has WebSphere Commerce, Unica, Sterling Commerce, and DemandTec, while Oracle has ATG, Eloqua, recently acquired Responsys, and BlueKai.
Given SAP's own aspirations -- and its recent and comparatively small e-commerce footprint with Hybris -- Adobe's partnership with SAP has its risks, according to Wells Fargo securities analyst Jason Maynard. "More feet on the street selling Adobe Marketing Cloud is likely to be a good thing in the near term; however, longer-term, if SAP believes a marketing cloud is important to their customers, we think it makes much more sense for them to own their future product direction," Maynard wrote in a research note this week.
Adobe's push into prediction and e-commerce are clearly tenuous, but it bolstered its existing strengths with a long list of upgrades to existing products. Adobe Marketing Cloud gained new core services, including a Master Marketing Profile that gives companies a single view of their customers. With this shared profile, users of various Marketing Cloud tools will know when and what campaigns customers received, whether by email, SMS, or a desktop or mobile impression. A new Shared Assets service ensures that creative materials are used cohesively and consistently across campaign channels, according to Adobe.
On the mobile front, Adobe introduced AdobePhoneGap Enterprise, an application development platform for building hybrid HTML5 apps for leading mobile platforms. While deep-pocketed companies are building native apps for iOS, Android, and Windows, many companies are struggling to find the talent and fund mobile app-development teams.
"App development is moving in-house, and if you have an internal team that has Web, HTML, and JavaScript skill sets and you have all sorts of content in your content-management system, why not leverage those skills to build mobile apps?" reasoned Pun.
Adobe also added support for Apple's iBeacon technology for Bluetooth-based measurement and targeting in stadiums and retail settings. In addition, Adobe's Campaign & Mobile Services 2.0 release announced this week supports push notifications for alerts such as news flashes, credit balances, flight updates, and other timely information.
Adobe can keep adding services to its Marketing Cloud and new capabilities for developers, but getting to the next strategic level with enterprise customers will demand a broader play. Marketing Mix Planning and the SAP alliance are just a start.
Interop Las Vegas, March 31 to April 4, brings together thousands of technology professionals to discover the most current and cutting-edge technology innovations and strategies to drive their organizations' success, including BYOD security, the latest cloud and virtualization technologies, SDN, the Internet of Things, and more. Find out more about Interop and register now.