Windows Phone by dropping license fees. Microsoft scored an early victory with Windows Phone 8.1 at Build, giving its phone plans at least some momentum. But it's not clear where and how Nokia's hardware fits in.
5. Are investors ready to embrace Bing?
For years investors treated Bing like their favorite whipping boy, characterizing it as a product that hemorrhaged cash while doing little to challenge Google's search engine supremacy. But things have changed.
In query volume and user adoption Google still drinks Bing's milkshake, but Bing has emerged as much more than a search engine. It's the brain that powers Cortana, Windows Phone 8.1's marquee feature. It's also a platform for developers, and many of those nifty Excel visualizations Microsoft showed off during its recent data presentation used Bing Maps. Bing also supplanted Google as the default search engine for iPhone's Siri, meaning that even if Apple users don't visit the Bing homepage, they've still generated a ton of traffic for Microsoft's engine. This week, Microsoft, in a rather Google-like move, even touted Bing as a potential predictor of future events.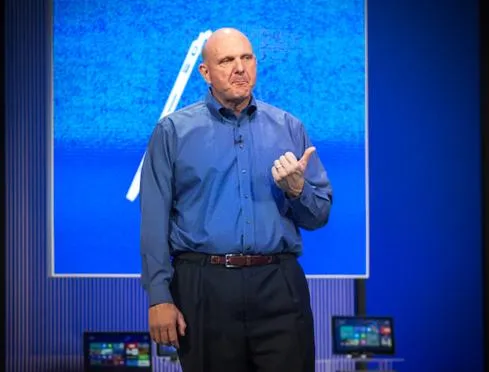 For all the criticism Ballmer got and sometimes deserved, he never capitulated to investor pressure over Bing. That decision could vindicate his legacy -- but are shareholders ready to get onboard?
6. Is Xbox pulling its weight?
Microsoft recently announced it has sold more than 5 million Xbox One consoles to retailers since the system debuted last year. Microsoft said new consoles sales are up over 60% compared to the Xbox 360's early progress. The favorable historical comparison takes the sting off Xbox critics' favorite refrain that Sony's less-expensive PlayStation 4, which has sold more than 7 million units, is more popular. That's an oversimplification: As a recent article on Time.com points out, the PlayStation 4 is available in far more countries, and with the Xbox One-exclusive game Titanfall posting strong numbers in March, Microsoft appears to be enjoying ecosystem benefits. Moreover, even if Sony has an early lead, Xbox One sales have exceeded all reasonable sales projections. It's tough to call the product a failure.
Still, gamers continue to argue whether Microsoft should slash prices to match Sony. Some investors, meanwhile, will remain skeptical even if Xbox produces healthy profits; the console line is costly and distracts from higher-margin enterprise products, or so the argument goes.
But Microsoft has championed the Xbox's role in battle-testing Microsoft's cloud platform, Azure, and as the foundation for a number of Xbox features and services. Microsoft also recently rolled out Universal Apps, which allow developers to target Xboxes, Windows Phones, Windows tablets, and Windows PCs with a single project. The company is also expanding into exclusive entertainment content, à la Netflix.
Microsoft's biggest challenge to living room domination, though, might come from Apple, Google, and Amazon, not Sony. Console gamers are important, but there are more casual or non-gamers than hardcore devotees willing to spend $500 on a new system. For hardcore gamers, Apple TV, Amazon Fire TV, Android TV, and even Chromecast provide cheaper, more appealing ways to bring together television and the Internet. Online rumors periodically claim Microsoft might launch a lower-cost Xbox set-top box that maintains most of the console's interface and entertainment capabilities but omits a Kinect sensor and disc drive. But with enterprise-minded investors still unsure of Microsoft's consumer ambitions, Xbox earnings are sure to draw scrutiny.
Emerging standards for hybrid clouds and converged datacenters promise to break vendors' proprietary hold. Also in the Lose The Lock-In issue of InformationWeek: The future datacenter will come in a neat package (free registration required).