Less than a week after Microsoft kicked off its Build 2016 developer's conference in San Francisco, the company hosted a keynote session to start another event: Microsoft Envision, a new event created for enterprise leaders.
"This conference is all about business transformation and digital transformation, and the role technology can play in making these changes happen," said CEO Satya Nadella in his introductory keynote.
Envision is different from other Microsoft conferences, he explained. The sessions, which include "Leadership's Role in Business Transformation" and "Industry Innovation Disruption and Trends," are for leaders who already think about technology's role in shaping businesses and society.
[A Windows 10 anniversary update is rolling out this summer.]
Over the next couple of days, attendees will learn and discuss how they can use technology to shape organizational growth, improve agility, spark disruption, and adapt to the changing expectations of a new workforce.

Create a culture where technology advances truly empower your business. Attend the Leadership Track at Interop Las Vegas, May 2-6. Register now!
As they approach digital transformation, Nadella urges companies to ask two key questions: How is digital technology changing your business? How is it changing your core business model?
"Each of you has to start thinking and operating like a digital company," he emphasized to the audience, which was made up of leaders across all industries.
Becoming a digital company is more intensive than procuring a single solution, said Nadella. Each business must build "systems of intelligence," or digital feedback loops through which they engage with customers, empower employees, optimize operations, and reinvent products and business models.
To illustrate the future of customer engagement, he discussed the idea of "conversations-as-a-platform." This concept, first introduced at Build, involves teaching computers how to learn and respond to human language to create a means of communication more powerful than mobile apps.
At Envision, Microsoft executives took the opportunity to apply this idea to the enterprise. Customers will be able to chat with businesses using Bots, which will interact with their digital assistants to make transactions easier and more efficient.
Lillian Rincon, principal group program manager for Skype Consumer, demonstrated how Skype users now have access to Cortana. The assistant interacts with business Bots on the user's behalf to facilitate tasks like food delivery and hotel bookings.
The idea, Nadella explained, is to go beyond mobile apps so companies can be actively present for customers' conversations. He urged the audience to build Bots and extensions to digital assistants, noting that opportunities are not limited to Skype, but apply to all places where people communicate.
While customer engagement is important, so too is inspiring employees. "Your organization is only as good as its people," said Nadella, "But it's also true that your organization and its ability to empower its people to do their best work can only happen if you have the systems and technology."
He drew attention to the importance of tools like Wunderlist and Yammer, but zeroed in on the power of analytics to understand and improve on how employees communicate.
Last year Microsoft acquired VoloMetrix, which leveraged data analytics to improve organizational effectiveness. It has since integrated those capabilities into Delve, which can be used to analyze data from Office apps to understand company performance -- for example, how much money gets spent on meetings.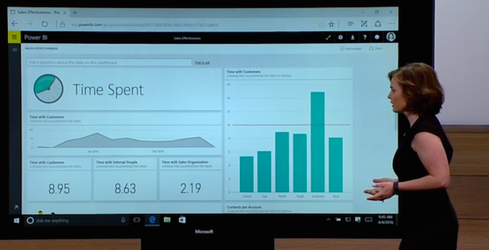 Other Microsoft tools are interconnected to give companies greater insight into their operations and to enable real-time interaction with customers. Cortana generates alerts in Power BI when it notices unusual data, for example, and the new Power BI Embedded lets businesses share information with clients so they can view and interact with data.