Microsoft has announced the general availability of digital storytelling app Sway, which is being released on the Windows Store and Office 365.
Sway was created to help consumers, businesses, and schools build and share Web-based reports, projects, presentations, and other content with text, images, and video. It was created based on the idea that users don't need technical design skills to create visually appealing content. You bring the ideas and raw material; Sway arranges it for you.
Microsoft kick-started the preview period for Sway when it was first introduced as an addition to the Office app portfolio in October 2014. For 10 months, the team evaluated "hundreds of thousands" of Sways and looked at user feedback.
[ Productivity on your smartphone. Read: Office Mobile Apps Arrive On Windows 10. ]
Earlier this year, the First Release of Sway was made available to business and education subscribers. This rollout came with a few updates, including additional language support and the ability to enter Wikipedia information on people and places, structure Sway with a Grid Card layout, and add personal and group images from Flickr.
Starting today, Sway is moving beyond First Release to become generally available online and as an app in the Windows Store. Eligible business and education customers can access the service on Office 365. All consumers can use Sway with a free Microsoft account.
Sway for Windows 10, now ready for download in the Windows Store, has the full capabilities of the Web-based service, with a few additional features for PCs and tablets. The desktop app is a new addition inspired by user feedback.
Microsoft account holders who download the Sway app will still have access to its built-in design engine and integrated design sources, but they will also be able to view their content offline, stay logged in with multiple accounts at once, and snap pictures into Sway with their device camera.
The company notes this Sway release is for tablets and PCs only. A Windows Phone-compatible version will arrive in the coming months.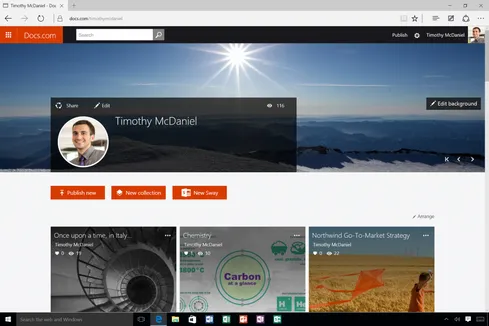 The preview period also generated several user requests for a common location to share Sways with friends, fans, and the general public. This is now possible with the re-launched Docs.com, which Sway users can access by clicking the Share icon.
Docs.com serves as a hub where people can publish MS Office documents for public viewing. You can organize Office content from Word, Excel, Sway, PowerPoint, and Office Mix into collections, add PDFs and Web links, and create a profile page to share more personal information.
Content posted on Docs.com can be found via search engine, social media, or Docs.com browsing. The site lets you receive comments on your content and access data on how many page views you receive.