Microsoft's full Office 2016 productivity suite is now available for Mac users. The rollout is currently limited to Office 365 subscribers and will have a full public rollout in September, Microsoft announced today.
We first got a peek of Office 2016 for Mac in March, when Microsoft launched a beta version for Mac user testing. The preview arrived five years after the release of Office for Mac in 2011.
During what Microsoft describes as the "largest Office for Mac beta ever," testers provided more than 100,000 pieces of feedback to inform the suite's development. Over the four-month preview period, Microsoft rolled out seven updates to bring new features to Office apps while it improved stability and performance.
[ What's up with the smartphone business in Redmond? Read: 5 Ways Microsoft Messed Up Mobile .]
In addition to the familiar ribbon interface and task panes, the newest version of Office for Mac brings additional features and updates to Word, Excel, PowerPoint, Outlook, and OneNote. The suite is cloud-connected to enable document access across all devices and allow team members to collaborate on files.
Here's what you can expect from each app:
Word
A new Microsoft Word brings simple but powerful writing and editing tools, including a new Design tab that lets you try different layouts, fonts, and colors throughout a document. If you're working with a group, a threaded comment section lets you track your progress in real time.
PowerPoint
The audience may only see the current slide, but PowerPoint for Mac gives the presenter full control with a view of the current slide, following slide, timer, and speaker notes. It also comes with new slide transitions and animation pane.
Excel
Excel for Mac includes autocomplete, familiar keyboard shortcuts, and an improved formula builder designed to save time when entering data or building a spreadsheet. The app makes data visualization easier with the ability to recommend and demo charts best suited for your pool of data. Advanced analysis can be conducted with new PivotTable slicers built for filtering large chunks of data.
Outlook
Push mail support in Outlook for Mac keeps your inbox current, and a new conversation view alters your inbox to bundle threaded messages. The app also has a new message preview that displays the first sentence of an email below the subject line, helping you save time in deciding whether you want to read it.
OneNote
The search engine in OneNote, the newest addition to Office for Mac, can track your tags, index typed notes, and find text in both handwritten notes and images. You can manipulate notebook text, organize images as you see fit, collaborate on documents, and share content with others.
It looks like the changes to Office apps will keep on coming, as Microsoft plans to update the Office for Mac suite with new features at least once per quarter.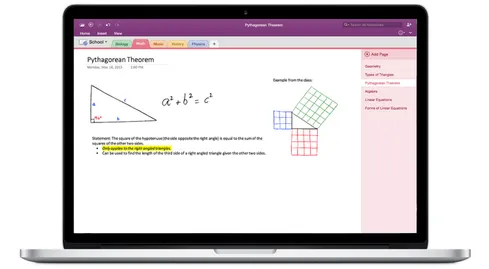 If you have an Office 365 subscription (including Office 365 Personal, Home, Business, Business Premium, ProPlus, or E3), you can download the newest Office for Mac today. Microsoft promises the suite will be available for one-time purchase in September.
If you're not currently on Office 365 and want to download the new Office for Mac before summer's end, you can purchase a subscription. Prices vary according to user demands. Office 365 Home will cost $9.99 per month; a Personal account is $6.99.
This news is the latest in a series of updates from Microsoft intended to accommodate users across a broader range of devices. The Office suite has already been launched in full on Android tablets. Cortana and Outlook have been built for iOS and Android devices.