Microsoft CEO Satya Nadella on Thursday announced Microsoft Office for iPad. But the product, which some argue is two years overdue, was only part of Nadella's appearance, his first since succeeding Steve Ballmer last month. Microsoft also debuted a new Enterprise Mobility Suite to help IT professionals manage the barrage of devices and services employees now use for work. Nadella also promised that Microsoft would embrace cross-platform opportunities while continuing to sell its own devices.
Microsoft Office for iPad includes native versions of Word, Excel, and PowerPoint. They're available for free immediately through Apple's app store, though to do more than review documents, users will need an Office 365 subscription.
The recently-announced Office 365 Personal, a low-cost option that entitles users to the cloud-based software suite on one tablet and one PC, had been widely perceived as a harbinger of Thursday's iPad releases. But a Microsoft representative told InformationWeek that Office 365 Personal will not launch until later this spring.
[Did Microsoft CEO Satya Nadella's first appearance live up to expectations? Read Nadella's Big Moment: 5 Things to Watch.]
In a demonstration of Microsoft Word for iPad, Office GM Julia White revealed more functionality than anticipated, including a ribbon interface that resembles the one in the desktop version, but with larger input areas to accommodate swiping fingers instead of clicking mice.
"It has all the satisfying features you'd expect," said White, adding that Microsoft worked to balance the iPad's touch interface with cues that would be familiar to all Office users.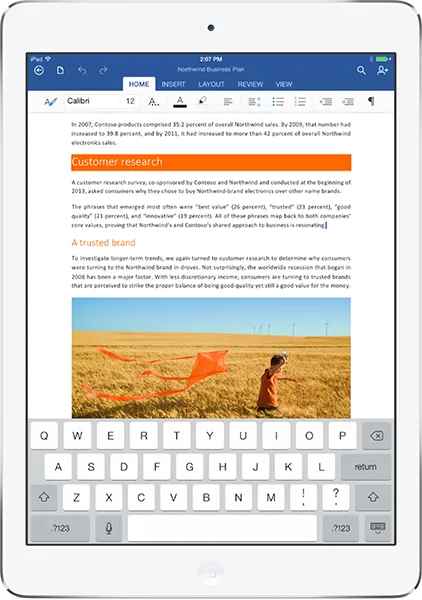 White also demonstrated iPad versions of Excel and PowerPoint. Excel includes a special numeric onscreen keyboard and much of the desktop version's quantitative functionality, and PowerPoint includes a variety of touch-oriented presentation features. When an iPad is linked to a projector, for example, PowerPoint will display a "laser pointer" wherever the user presses the touchscreen. A similar function allows touch-based annotations, enabling the user to underline, circle, and otherwise emphasize onscreen elements during a presentation.
White also showed how Office 365 users can synch their files in One Drive, allowing them to enjoy document fidelity across devices and operating systems. Office 365 also enables real-time co-authoring on the new iPad apps.
Although Nadella did not specifically discuss Office for Android tablets, he promised Microsoft will deliver Office to all major platforms. Each will be uniquely designed for the host OS but also interoperable with other Office versions, he said.
Analysts predict iPad users could generate billions of dollars in additional Office revenue for Microsoft. Nadella took his time getting to the product reveal, though, instead focusing on the company's changing strategies.
"Everything we do going forward is grounded in a worldview of ubiquitous computing and ambient intelligence," he said, adding that future years "won't be defined by form factors we know and love today, but a variety of form factors that will come to be."
Nadella then transitioned to the "mobile-first, cloud-first" tactics he referenced last month on his first day as CEO. Mobility and the cloud both are necessary to upgrading user experiences; therefore, they must be viewed as a single, intertwined experience, he said.
To build that experience, Microsoft needs the support of not only users but also developers and IT managers. Nadella spoke at length about all three groups. He noted that Azure supports apps across numerous platforms and allows developers to build titles that include enterprise-friendly features such as Active Directory integration and single sign-on capabilities.
Nadella said IT will benefit from the new Enterprise Mobility Suite, which combines Intune, Microsoft's cloud-based mobile device management product, with Azure Active Directory and rights management tools. Companies tend to treat device management as one area, rights management as another area, and so on, Nadella said. With the Enterprise Mobility Suite, he promised businesses a major step forward in simplifying the mess, even as device types proliferate.
The suite also includes machine learning-based security features, said Andrew Conway, senior director of product marketing at Microsoft, in an interview following Nadella's presentation. Enterprise Mobility Suite will recognize that something is suspicious if, say, a single user appears to be trying to log on from two different geographies at the same moment.
In sum, Microsoft wants to offer "a cloud for everyone and every device," Nadella stated. He said Microsoft's Office agenda is "straightforward: Make sure users have access to high fidelity experiences on every device they want to use."
Some industry watchers have speculated that the release of Office for iPad will eat into sales of Windows tablets. Until now, Windows tablets had been the only tablets to natively support Office. Nadella did not address the topic explicitly, but he closed his appearance by declaring that Microsoft's cross-platform strategies are not "a tradeoff."
"It's about the realities of our customers," he said, repeating his strategy of delivering high-quality experiences across device types, operating systems, and usage scenarios.
"And what about Windows?" he asked. Noting that Thursday's event was not meant to cover Microsoft's entire strategy, he said to expect more information about Windows and devices next week at Build, the company's conference for developers. "We have a massive agenda. We will innovate," he promised.
InformationWeek Conference is an exclusive two-day event taking place at Interop where you will join fellow technology leaders and CIOs for a packed schedule with learning, information sharing, professional networking, and celebration. Come learn from each other and honor the nation's leading digital businesses at our InformationWeek Elite 100 Awards Ceremony and Gala. You can find out more information and register here. In Las Vegas, March 31 to April 1, 2014.