"Our strategy is very simple," Oracle executive Thomas Kurian repeatedly said throughout an hour-long keynote in New York on Tuesday. "We want to bring Oracle business applications, middleware, and infrastructure to customers anywhere in the world through Internet browsers, so they can use Oracle without having to run Oracle software."
Simplicity certainly appeals to CIOs these days, with SAP being another vendor suggesting companies can "run simple" amid entrenched IT complexity. Adding to that complexity is the daunting choice between eking more service out of legacy investments and counting on getting more innovation than disruption out of fresh cloud deployments. Saving money is also paramount to CIOs, many of whom are charged with driving innovation while also maintaining legacy systems on flat or declining budgets.
[Want more on Oracle? Read Oracle Must Reform, Says Software Licensing Group. ]
Many points made at Tuesday's Oracle CloudWorld event echoed themes at October's Oracle Open World. Executives talked up the depth and breadth of Oracle's ERP, HR, and customer experience (CRM, marketing, and commerce) SaaS portfolios, contrasting the vendor's "complete, integrated suites" with "point solutions" and "standalone apps" offered by cloud rivals. Executives also reminded attendees that Oracle's platform-as-a-service (PaaS) is "standards based," meaning it's built on Oracle database, Oracle middleware, and (Oracle owned) Java -- consistently the same database, middleware, and development environment behind all Oracle cloud and on-premises apps.
In a tweak of the OpenWorld messaging, Kurian -- a Larry Ellison protégé who was recently promoted from executive VP to president of product development -- kept repeating that Oracle's proposition is simple and that it will deliver cost savings. If you study IT cost, he said, data center facilities account for 3% to 4%, servers and storage account for 4% to 5%, and software accounts for 20% to 25% of the total, while people account for whopping 60% to 70% of costs.
"We're taking the manual labor that people have to handle in order to install, configure, secure, patch, back up, tune, upgrade, and otherwise maintain Oracle software, and we're automating in software in order to eliminate a huge amount of cost," Kurian said. "By automating in software, we not only eliminate that cost, we make it much easier to use our software without having to operate it."
Many cloud vendors can point to automation features, but Kurian stressed that Oracle is a one-stop shop that is unmatched in the industry. The breadth of its more than 120 SaaS apps gives customers the modular-yet-integrated option to augment, partially replace, or completely replace everything in an ERP, HR, or customer-experience portfolio with cloud app alternatives.
Oracle has rethought the consumption model for the cloud, reported Shawn Price, Oracle's global cloud senior VP, stressing transparent pricing and fixed-price, fixed-bid cloud-migration consulting.
"Consulting in an enterprise context has historically been about [the vendor focusing on] margin, utilization, getting in, and staying in," said Price, who until last May was SAP's top cloud executive. "But in a cloud context it's about getting in and going live in less than 90 days. We measure efficiency based on how much consulting we can take out."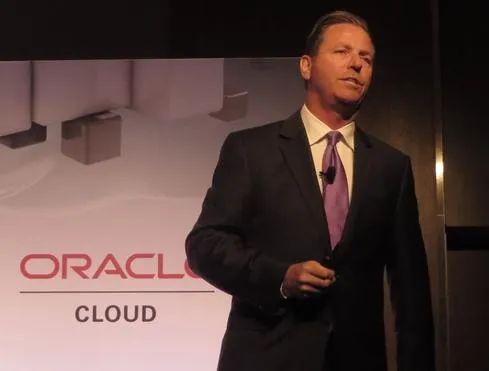 What Oracle's spin glosses over is that its biggest cloud competitors are no longer single-app or edge-app vendors. Salesforce, for one, blankets customer engagement with its Sales, Service, and Marketing clouds, and it has an analytics cloud in the works. SAP has eclipsed Oracle as the number-two SaaS vendor in terms of revenue and seats with its Concur acquisition, and it, too, has a complete HR SaaS suite. SAP's ERP and customer experience portfolios aren't as diverse as Oracle's when it comes to SaaS apps, but they could hardly be described as "edge" or "standalone." And Workday has complete ERP and HR suites in the cloud, and it has proven both at Fortune 500 companies.
Nonetheless, Oracle truly does stand alone in the depth and breadth of its cloud portfolio and the consistency of its stack and strategy. In recent years many Oracle cloud announcements ran well ahead of actual delivery. But now that all hands at the company -- from Ellison, Hurd, and Catz, to Kurian and on down the ranks -- are clearly focused on cloud, there's little doubt that it's going to be a scrappy fight for each and every customer win.
Our latest survey shows growing demand, fixed budgets, and good reason why resellers and vendors must fight to remain relevant. One thing's for sure: The data center is poised for a wild ride, and no one wants to be left behind. Get the Research: 2014 State Of The Data Center report today. (Free registration required.)