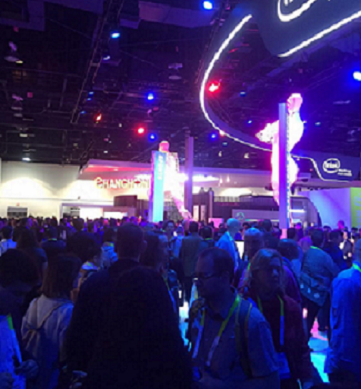 Windows 10 Laptops, Hybrids Grab The Spotlight At CES 2016
(Click image for larger view and slideshow.)
Microsoft has announced a few new Outlook and Skype updates intended to improve mobile calling and calendar management for iOS and Android users. Outlook was last revamped for both mobile platforms in October 2015.
Now Outlook and Skype have been combined to simplify the process of coordinating group meetings. When you create a new event on your calendar, Outlook will now give you the option to add a Skype call.
If you opt into the new feature, Outlook will include a Skype link in the event description. Come meeting time, all attendees can access this link to launch Skype and join a group chat.
[Microsoft kills support for Internet Explorer 8, 9, and 10.]
Microsoft notes that as part of its new Skype for Web service, participants will be able to join these chats from their computer without creating an account or downloading the Skype app. The Web service will still give them access to group IMs and video or voice calls.
On top of the Skype scheduling feature, the calendar management tool in Outlook has been updated to let you view two-week or three-day mini-calendars.
With the two-week view, you can see the details of your events for the current and upcoming weeks. You can swipe backward or forward to see past or future events, and access a full-month view of your schedule.
The three-day view provides a closer look at your schedule. Outlook will also let you decide when you want your week to start, whether it's with the full week on Sunday or the workweek on Monday.
The options to choose your week's start and to use the two-week calendar view are available January 13 for iOS. They will be coming soon to Android, Microsoft reports.
While it may not have the new calendar features yet, the Outlook for Android app has been redesigned for easier use. The app now has a navigation bar, which relocates the Mail, People, Files, and Calendar sections to the bottom of the screen so you can swipe through with your thumb.
Over the past few weeks the team has added a few new capabilities to its Outlook apps for iOS and Android platforms. Most of these have been intended to fulfill requests sourced from user feedback.
Contact Push, one of these features, lets you save contacts to the default contacts app for your iOS or Android phone. When new contacts are added or contact changes made in an email service, those changes will be synced to your phone.
Additional features to the Outlook mobile app include the ability to save files to an Android smartphone, set automatic replies, and access Quick Actions via Force Touch on iOS. With next week's Outlook update, iOS users will have the option to add an Outlook widget to their Notification Center.
In other news, Microsoft has announced Outlook for Mac now supports full-screen view in Mac OS X Yosemite. The app can also be used as a Split View app within Mac OS X El Capitan.
As part of the full-screen support, the email message you're reading or writing will get full focus, while others are stored in a "tray" at the bottom of the screen. You also have the option to open two messages side-by-side or scroll through messages in the tray.
The full-screen update, a frequently requested feature according to Microsoft's user feedback, is intended to simplify email management by cutting down clutter. This capability will roll out in the January update, Microsoft reports.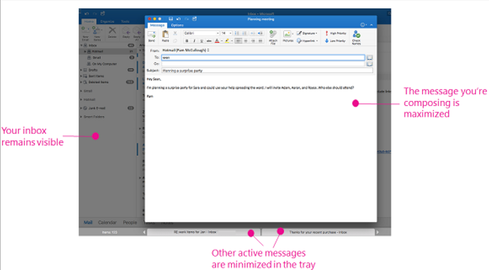 **Elite 100 2016: DEADLINE EXTENDED TO JAN. 15, 2016** There's still time to be a part of the prestigious InformationWeek Elite 100! Submit your company's application by Jan. 15, 2016. You'll find instructions and a submission form here: InformationWeek's Elite 100 2016.