SAP announced SAP Business Suite 4 SAP Hana (S/4Hana) on Tuesday, with CEO Bill McDermott describing it as the company's most important new product launch in 23 years.
In the works for more than two years, it's the first complete rewrite of SAP's ERP platform in decades. The company is betting that a suite boasting dramatic performance gains -- thanks to in-memory simplification behind the scenes -- will draw new customers and entice existing ones to move on from the company's old apps running on conventional databases such as Oracle.
S/4Hana will be sold software-as-service style on public clouds (starting with SAP's cloud), as a managed service on private clouds, or on-premises. The suite's modern "Fiori" user interfaces are designed to make S/4Hana perform well on mobile devices, but SAP says the interfaces will also be compatible with desktops and laptops. Most importantly, SAP is promising that Hana in-memory technology behind the scenes will completely eliminate aggregates, indexes, and other data redundancies that bog down transactional and analytical performance.
[ Want more on cloud ERP options? Read Oracle, NetSuite Report Cloud ERP Progress. ]
SAP has been touting these Hana simplification benefits for years, but S/4Hana apps were created for the in-memory platform from the start. All the dimensions of data from the old apps have been carried forward, but SAP chairman and co-founder Hasso Plattner said it has dramatically simplified the data model, reducing the data-management and data-storage footprint of an ERP system by a factor of 10.
"The total cost of ownership goes down, the response time improves, and flexibility increases," said Plattner, who detailed S/4Hana at a launch event at the New York Stock Exchange.
With S/4Hana, SAP is effectively forking its code and leading customers toward an app suite and platform that runs on Hana, not on third-party databases. By most estimates, at least half of existing SAP deployments run on Oracle.
Expecting companies to migrate away from familiar databases and middleware is a big ask by SAP. SAP is promising a seamless transition for existing customers, with the ability to bring all historical data forward and maintain existing reports and business processes. And if SAP's clunky old interfaces are at least familiar, if not loved, customers can keep those, too, for as long as they require, according to Plattner.
Contrasting conventional Business Suite deployments with the new alternative, Plattner said S/4Hana's "massive simplification" will deliver 3X to 7X transactional performance gains and analytical flexibility to plan, reforecast, and change business models "in seconds," because all data is managed and viewed in memory. He described a multi-screen "boardroom of the future" in which C-level execs could sit together looking at multiple views of real-time operational data. The vision is actually a reality at a major mass-merchandising customer of SAP's, Plattner said, enabling that organization to analyze current conditions and forecast future outcomes in no more than three seconds.
"They can access all the data of the company, do time-series analysis, go through actuals, go to predictions, and even do simulations, which is amazing," he said.
With this capability, driven from tablets or touch screens, Plattner said businesses will be able to tap into predictive analysis, recommendation engines, and what-if simulations. For example, a company might consider business outcomes looking at changes in the cost of energy, wages, or raw materials.
SAP wasn't entirely clear in its presentation what applications it will deliver and when, as part of S/4Hana. In a follow-up interview, Bernd Leukert, executive board member and leader of products and innovation, said the full, simplified suite, including finance, inventory management, sales and distribution, procurement, transportation, and other sub-component apps will be available as a beta S/4Hana Public Cloud offering in February. This will be followed by a managed private-cloud service in May and on-premises software by October. [Author's note: This article was updated with clarified release dates from SAP.]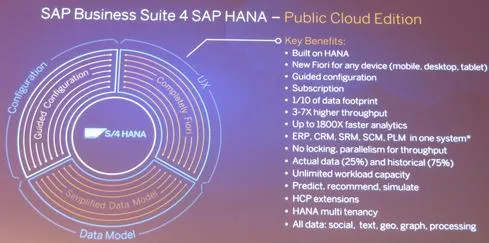 SAP will steadily roll out industry-specialized capabilities with S/4Hana, several executives promised, but they didn't offer details on which industries or when. Plattner mentioned that oil and gas, banking, and healthcare would not be on the list for S/4Hana specialization -- any time soon, anyway -- because those business are often averse to running in the cloud.
The big question for SAP customers will be whether they see enough performance gains and IT simplification benefits to mess with legacy ERP deployments that have been running for decades. If customers want to stand pat, SAP says it will continue to support and update SAP Business Suite through 2025. But the way forward for SAP's core is now S/4Hana. No matter how tantalizing real-time performance and prediction and simulation possibilities might seem, CIOs are likely to be concerned about more practical matters.
"I'd want to know what industries SAP is going to go deep on and how much I'll have to pay," analyst Ray Wang of Constellation Research told InformationWeek. "One of the biggest challenges for SAP customers facing upgrades is figuring out what they'll have to pay, because they don't get itemized bills. That's been holding them back from upgrades."
Customers will undoubtedly want clear visibility into upgrade paths, timing, and cost before committing to a next-generation ERP platform.
More than 500 respondents weighed in on their plans for DevOps, Agile, APIs, automation, and more. While traditional languages slide, newer options are filling the gaps. Meanwhile, everything from project management to automated deployment is happening more in the cloud. It's an exciting time -- but could we be moving too fast? Get the 2015 App Dev Priorities Survey report today. (Free registration required.)