Traditional enterprise applications are the cornerstone of many an IT infrastructure, but when you put them next to the AI on your mobile phone -- Siri or Google Now -- they seem antiquated and not very user friendly.
That's the problem that Sapho set out to solve with its new Micro App Platform software, announced this week, which is designed to provide a front end to traditional enterprise applications, as well as the many other applications that employees use over the course of their work days.
"We are spending lots and lots of money on enterprise software that no one is using," said Fauad ElNaggar, CEO of Sapho, in an interview with InformationWeek. "People have invested billions, even trillions of dollars, if you look over the past few decades, at enterprise infrastructure that a small minority of people in the enterprise uses, while everyone else is trying to figure out how to do their jobs without that information."
Cloud-based systems may offer an alternative to centralized monolithic enterprise applications.
Indeed, Salesforce's revenues are growing at a fast pace, while sales of on-premises enterprise software are hurting. SAP reported a decline in software license sales last quarter, and so did Oracle, even as their cloud revenues accelerate.
But while there may not be a lot of new business for installations of on-premises software licenses, enterprises already have so much invested in them -- years of sunk cost in software licenses and custom development. They run their businesses on them. For the most part, organizations don't want to rip these systems out and replace them. But they may want to make them easier to use, and that's the idea behind Sapho's platform.
The company has introduced this micro app platform -- on-premises software -- that delivers tasks and insights via cards, like Google Now, or in workplace collaboration platforms such as Slack, or in platforms such as Facebook for Work. These tasks and insights can be delivered on the user's smartphone or desktop. The software provides an interface to many different enterprise application systems, as well as to certain cloud-based systems such as Salesforce, databases, and data warehouses.
ElNaggar describes it as a move from a "pull"-based workflow to a "push"-based workflow.
In a pull-based workflow, employees need to think about what they want, remember where it is, log into the system somewhere, and then navigate through the software to get to the place where the task is accomplished, ElNaggar said. Push-based workflow is more like Google Now or Facebook, he said. When an event happens, the system alerts you and kicks off the workflow.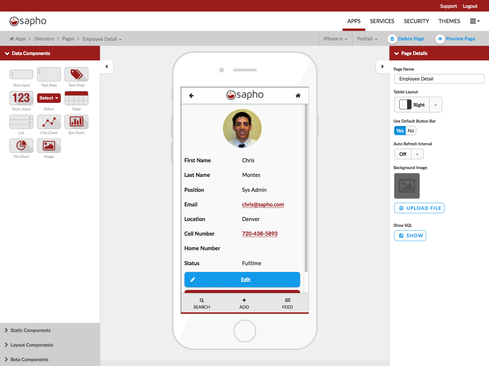 "Let's bring that concept of push to the enterprise," ElNaggar said. "Let's do it in a way that works for Fortune 100, Fortune 500, Global 2000 companies. This is on-premises software that sits in the customer's data center and leverages the infrastructure they've already invested in, but brings these new, modern, push-based workflows to the enterprise."
For instance, rather than going into the Oracle application and remembering login credentials every time a paid-time-off (PTO) request is submitted, the person approving them can get an alert through the Sapho platform and approve the request directly from that interface.
But the power really is in the fact that the micro app platform can be connected to every application in the enterprise, giving the user an easier path to complete tasks that require working with multiple different applications.
ElNaggar, who worked together with his Sapho cofounder Peter Yared at CBS Interactive, said that when they worked there they had to approve expense reports in one of three different systems, depending on the geographic location of the employee. It takes time and effort to log into each of those systems and complete the task, and no one wants to spend their time logging in and out of multiple different systems.
Another potential use for the platform is thwarting the new hire email flood.
"I send out an email welcoming a new hire and then there are 50 reply-all emails in my inbox. In the future, I think for events like a new employee joining, people are just going to 'like' it. They can give their love and not flood people's inboxes," ElNaggar said.
[Some enterprise customers don't want to move to the cloud. Read Oracle Users Not Rushing to the Cloud.]
Yet another use-case that Sapho is seeing among its customers is in managing the increasing number of business intelligence and data reports and dashboards. ElNaggar said that these are usually "too heavy" and not specific enough.
So organizations may be sending a report to "80 different people with 800 data points on it," leaving everyone searching for the small subset of data points that matters to them. Instead, the micro app platform lets users customize what information they receive and the ways they receive it so that they can get the tasks and insights that are relevant to them and not be overwhelmed by other noise.
Sapho currently connects to over 70 different enterprise applications and other systems, and the company is adding new connections every week. Customers include CBS Interactive, Kubernetes, RPX Corp., and Turner Broadcasting Company Super Deluxe.
"I see this as the future of work. For 30 years we have been doing things the same way. Workflows haven't changed in decades," ElNaggar said. "But this migration from pull to push is a fundamental shift."