Each year, InformationWeek releases our list of the Elite 100, a select group of companies that are business-IT innovators. In the process, we survey these top-of-the-class companies on how they address important IT issues such as tech spending, organizational priorities, and strategy.
Our 2015 Elite 100 list of business-IT innovators gets its big reveal at this year's InformationWeek Conference, April 27 - 28, in Las Vegas. But we can disclose now some of the data we've collected from these 100 business-IT leaders about the ways they're approaching hot tech topics such as data analytics, cloud, IT budgets, and digital business.
Here, we share four predictions about IT strategy drawn from the Elite 100. You'll also find information on some of the top-notch speakers who will address these topics at the InformationWeek Conference.
IT will get out of the way of data analytics
Almost half (49%) of these 100 tech leaders let end-users do "what-if" analysis today without IT involvement. Looking ahead, another 39% of companies are piloting or planning to roll out these kind of hands-off analytical tools within a year. That leaves just 12% who don't see this in their future.
That growth for what-if analysis is in contrast to the use of dashboards, which might be leveling off. Usage is high -- half of Elite 100 companies provide dashboards to 50% or more of their employees. But a big minority (29%) have no plans for that widespread level of use inside their company, or consider it not applicable to them.
[ Read about last year's No. 1 InformationWeek Elite 100 company: Pfizer Connects Dots To Deliver Better Treatments. ]
Analytics in general dominates the innovation -- 77% of Elite 100 companies consider using analytics to make better decisions to be among their top three innovation priorities.
At the InformationWeek Conference, ConocoPhillips CIO Mike Pfister and Rich Barclay, Manager of Analytics Innovation, will talk about the company's effort to build a platform for data analytics so that more employees can get involved in analysis. We'll also have data experts from UPS and Kaggle discussing how to get real value out of today's business-world rock star, the data scientist.
Cloud sophistication is rising
"Cloudbursting" is a simple concept that's hard to pull off. The idea is that a company can shift work off its own data centers to a public cloud like Amazon's or Microsoft's if the company gets a spike in computing demand. In the real world, that kind of dynamic shifting has been hard for companies to do.
But we see striking advancement among Elite 100 companies this year. Last year, just 15% of companies could dynamically shift from an in-house data center to public cloud based on demand. This year, 26% said they can do so. Last year, 43% said they had no plans for such dynamic shifting, this year just 31% took it off the table.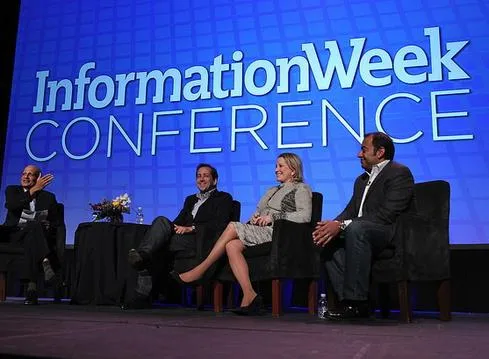 At the InformationWeek Conference, data center executives from Boeing, eBay, and VMware will discuss the future of the data center. Data center performance isn't a behind-the-scenes engine anymore; it determines how quickly companies can launch new products, and their employees can react to changing customer demands.
IT budgets will stay healthy
Two thirds of Elite 100 companies plan to increase IT spending this year, compared with 2014, and 40% expect to increase spending by 5% or more. Only 13% expect to decrease IT spending, and only 5% expect a cut of 5% or more.
One third of companies spend less than 2% of revenue on IT, while 70% spend less than 5%. Eleven percent spend 10% or more.
Some IT organizations will miss the digital wave
The data isn't glaring on this point since, after all, the Elite 100 are companies leading in digital innovation. However, a couple of data points offer a warning sign for IT departments that aren't close enough to their customers and their products.
We asked IT leaders if their groups are integrated or siloed from other business functions, from finance to product development. For every function, the "siloed" answers came in the single digits.
But for sales and product development, slightly more than one fourth checked the "not applicable" box. Granted, a handful of government agencies are on the list, so perhaps they don't see a function as sales. And maybe there are businesses that don't have formal "product development" groups -- perhaps in healthcare? But every IT organization needs to see its job as creating new products, and driving new revenue. Those that stay solely in the IT comfort zone of cutting operating costs and improving processes will become less relevant.
There is promising data on this front, too. Nearly half (46%) of Elite 100 companies say that introducing a new IT-led product or service is among their top three innovation priorities. Engaging customers in new ways gets cited by 43%, while creating a new business model or revenue stream is at 24%. Just 25% says lowering IT or business costs is in their top three priorities.
At the InformationWeek Conference, Walmart CIO Karenann Terrell will discuss how the IT team is undergoing a major modernization and transformation that puts the customer -- the one probably holding a mobile device -- squarely at the center.
One last data point: 52% of companies say their CIO has official responsibility in the area of innovation. If IT-powered innovation is in your job description -- or just on your mind -- we hope you'll join us at the InformationWeek Conference.
Want to discuss technology strategy with your executive peers? Want to explore digital innovation with the CIOs of Walmart, the NBA, Royal Caribbean, Boeing, eBay, and more? Register now for the InformationWeek Conference, April 27 and 29 at the Mandalay Bay in Las Vegas.