Back in March as COVID-19 forced governments to issue stay-at-home orders, plenty of companies were scrambling to equip workers with laptops and desktops so that they could work from home. They needed to set up VPNs and other security. They needed to configure desktops and laptops.
But Chris Foster, CIO and VP of Information Services at TC Energy Corp was ready.
That's because his company, the Calgary, Alberta, Canada-based developer of energy infrastructure, including pipelines and storage, in Canada, the US, and Mexico, had already made a strategic digital transformation move from onsite servers and data centers to a public cloud provider. Foster said that 90% of the company's corporate and commercial applications are now in the cloud, so it's been relatively easy to deploy virtual desktops to employees who needed to work from home.
That doesn't mean it was an easy task to get the whole company onboard for this gigantic change as the project unfolded. For instance, there were plenty of IT workers who cut their teeth on hardware and servers, so there was some resistance to the move there. TC Energy also moved its SAP implementation to the cloud, something another VP said would never happen. In spite of the resistance, Foster has achieved the migration of most everything to a single public cloud provider, AWS, a move that has paid off in many ways, including the company's readiness for COVID-19 stay-at-home orders.
TC Energy knew nothing about the COVID-19 threat when it kicked off this program in 2017. What was the impetus for this energy company to make such a move? "To reduce costs around server maintenance," Foster told InformationWeek. "Is that a business we need to be in anymore? It was less about costs and more about what do we want to focus on as an IS organization. We wanted to get out of the IS infrastructure business."
Related Links:
How Atlassian IT Strategy Eased Crisis Management
CIO Profile: T-Mobile's Cody Sanford
A Radical Plan for Enterprise Transformation
Plus, by moving its business to a public cloud, TC Energy could get access to a host of public cloud services and tools to make it easier to implement advanced technologies such as machine learning and other artificial intelligence, Foster said. Foster compares it to a home renovation project.
"Imagine yourself doing a home renovation project, except you've got a Home Depot attached to your house, and you can go in and you can borrow any tool you want any time you want," he said. "That's better than having to get in your car and drive down to Home Depot and hope this tool was in stock and then buy it for $200, use it for 15 minutes, and never use it again. That, to me, is the really exciting part."
Before the move to the public cloud, TC Energy was dabbling in an uncoordinated way in AI and machine learning, but not doing anything of significance, according to Foster. But now the company has all the data in one place. It has freed up resources and emancipated the data, he said. Using algorithms available from third-party AWS partners has provided TC Energy with a head start. One of the early use cases is to locate old records for compliance purposes. For instance, when TC Energy needed to find a handwritten testing record from 1982, the AI tools available through the public cloud enabled the company to locate it in 15 minutes. Foster said that not having to manually search, locate, and pull that record saved the company an estimated $800,000.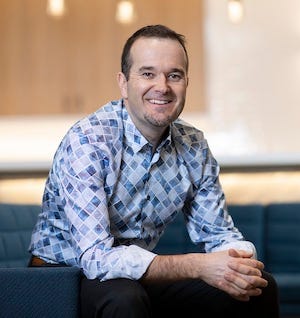 One of the bigger challenges of moving from on-premises data centers to a public cloud was persuading the business people that services would not be disrupted. For instance, Foster had one discussion with another VP at the company about moving the SAP ECC6 implementation to the public cloud. That VP told Foster, "You are never going to move things like SAP there." He told his colleague that the move had already been completed. "No one could tell me the week that I did it," Foster said, so he knew it was seamless and successful.
In truth, the SAP migration took 5 weeks. TC Energy initially got some quotes from outside vendors on the move, but the price tag was too high and the timeline was too long, so the company relied on internal staff, with help from AWS, to perform the move.
As a side note, for those keeping track of S/4 HANA upgrades, Foster said that TC Energy is looking at SAP's S/4 HANA, but has not yet made a commitment about upgrading to the newest version of SAP's flagship product yet. Much of the company's current implementation of SAP has moved from a plain vanilla version to a relatively complex customized implementation, so it will be costly and complicated to upgrade. Foster said the company will probably eventually make the move. But not yet.
Is the current SAP implementation cheaper or more expensive to operate in AWS rather than the company's own data centers? Foster said that the company has seen a 30% reduction in costs of workloads in the public cloud vs. on-premises. Those cost savings have come in the form of elasticity.
"You get a clearer picture of what you are using and what you are not using," he said. "There are non-production environments that you are not using. In our case it was about 30%."
Another benefit was serverless coding. Foster said the company wanted to develop an emergency notification app, in the wake of COVID-19, to serve as an emergency phone tree for senior leaders. When TC Energy looked at getting a partner to develop it, the cost came in at $200,000, not including all the patching and maintenance. Doing it internally cost $40,000 instead, and because it is serverless, TC Energy pays less than $5 a month for hosting the app.
One place where TC Energy did not cut costs was in personnel, but that was never the goal, Foster said. The IT organization at the company is approximately 700 people including staff and contractors.
"Our number of people stayed stable," Foster said. "I like to joke and say I need a server petting zoo in my office because it's hard for folks. People grew up in a world where it was all about the hardware. People got very good at knowing how to design, configure, rack and stack it. If you tell them one morning that's going away, and they are going to be doing everything in the cloud, it's not surprising when you get resistance to that."
But the resistance hasn't lasted. Over the course of just a few weeks, the skeptics became advocates.
"We are not trying to cut people, we are trying to repurpose and move people into more valuable work," Foster said. "I like to remind IT people that we got into a business that changes, and this is a fabulous opportunity to learn new skills."