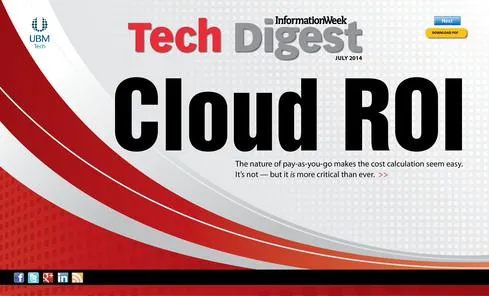 Read the rest of this story in the new issue of InformationWeek TechDigest
, distributed in an all-digital format (registration required).
There are two fairly diametrically opposed schools of thought about public cloud computing versus internal IT. The likes of former Netflix cloud architect Adrian Cockcroft argue that it's less expensive, more efficient, and at least equally secure to treat compute power as a utility, little different from electricity generation. Companies have no business building any substantial IT infrastructure. The magic of cloud will spell the end of privately owned data centers in five, maybe 10 years. Those in the camp of General Motors CIO Randy Mott, who is engaged in moving IT to a 90% in-house model, counter that span-of-control matters and that you can't drive competitive advantage using undifferentiated cloud resources, or outsourced IT in general.
I say IT control is an illusion. What's very real is the bottom line. Making a business case for either vision means coming up with hard numbers, and that's far from easy. There's no magical return-on-investment model that takes into account the intricacies of software-as-a-service licensing, or the complexities of shifting workloads between public and private clouds based on demand. Still, shops using public cloud now like what they're getting. InformationWeek's Next-Gen IT Survey shows users of these services plan to buy more, not less, SaaS, IaaS, and PaaS. For IaaS, those citing extensive use is at 16% now but projected to jump 22 points, to 38%, within 24 months. SaaS posts a 25-point jump, PaaS 18 points.
Companies face a simpler ROI calculation if they have a greenfield initiative or a substantial IT reengineering imperative (which was true for Netflix). They can follow Mr. Miyagi's advice that it's safest to walk on one side of the street or the other, but you'll get squished if you stay in the middle. Most of us poor slobs must walk in the middle, at least for a time, and risk getting squashed. We're talking about maintaining an installed base while building next-generation capability. For most CIOs, getting ROI right takes a combination of investment and experimentation.
Let's look at four areas to consider, then talk about the one step you absolutely must take.

1. Know when savings aren't savings
First, if you're going to cite man-hours saved in any ROI model, you'd better bring a list of people you're laying off. Second, don't make assumptions that the future resembles the past. Here's the status quo creed, in a nutshell, that I've heard from dozens of infrastructure folks who feel threatened by public cloud:
"IT should continue to run internal infrastructure because it's less expensive for static loads -- servers that need to run 24/7, or even eight hours a day 365 days a year. It's depreciation, dummy. We outsource demand spikes when we get them, but because enterprise IT chiefly serves a static, internal customer pool, cloudbursting is minimal.
"We believe our workloads are more secure internally, and we are proud of that. When big-name entities get owned, we think 'that will never happen here' -- but don't ask us to swear in court that we've never had a data breach, of course.
"For the majority of our workloads, we can buy what we need from the soothing-but-expensive brand-name providers we've used for 20 years. No one ever got fired for not buying into that newfangled software-is-more-important-than-redundant-hardware paradigm, amiright? We will wait until one of those providers sells us an easy button that will allow us to sidestep the heinous complexity of building a private cloud. Or even better, we will tell the business that virtualization is cloud computing."
Upton Sinclair famously said, "It is difficult to get a man to understand something, when his salary depends upon his not understanding it." The rise of cheaper-all-the-time and robust public infrastructure has been threatening the salaries of enterprise infrastructure architects and engineers for some time now. Some big companies do IT at high enough scale that keeping some level of internal infrastructure is an obvious choice, but a fair observer at even those sites will admit the internal infrastructure team is not on a growth path. GM is something of a reverse unicorn -- because of its enormous, global scope, there are very few companies like it when it comes to IT needs. Enterprise infrastructure workers are the equivalent of internal print shop managers when desktop publishing and Vistaprint went mainstream.
They are not unbiased observers.
So the first key question in the cloud ROI equation is this: Will CIOs, who are arguably insulated from the salary implications of public cloud, have more loyalty to internal architecture and those who build and maintain it -- or to the business' bottom line? In many lines of business, where just a point or two in profit margin is the difference between the corporate overlords closing the division or allowing it to live, I'd suggest that CIOs have their own self-preservation equation to calculate.
Look, more technology spending is shifting away from IT's span of control. InformationWeek's 2014 IT Budget Survey shows a 15-point rise in the percentage of respondents saying business units are spending more on technology without IT's involvement. Why is that? Well, advocating for your staff and internal practice is fine. But blind loyalty just destroys your credibility.
Read the rest of this story in the new issue of
InformationWeek Tech Digest (registration required).