purposes, but look for a wave of such usage to come -- 14% are testing it, and another 20% plan a rollout this year. Only 9% of Elite 100 companies have no plans to use predictive tools for staffing or production.
The big opportunity for IT organizations is to get out of the report-building business and put drill-down, what-if kinds of tools into the hands of marketers, operations managers, product developers, data scientists, and whoever else needs them to do their jobs better. Today, barely half (52%) of Elite 100 companies let employees do what-if data analysis without IT's involvement. But a whopping 22% are testing doing that, and another 18% plan a rollout this year. That means less than 10% have no plans for this kind of distributed analysis.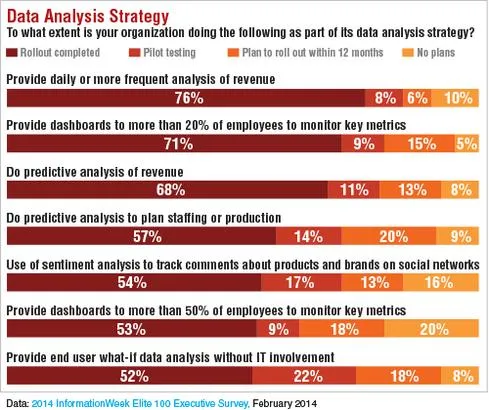 So is the attitude "the more data analytics, the better"? Not quite. About half (53%) of companies give dashboards with key metrics to more than 50% of their employees. But 20% have no plans to expand analytics access that far. Likewise, while 54% of Elite 100 companies are analyzing their brands on social networks, 16% have no plans to do so. Companies know they need smart analytical tools to beat their competitors, but they need to pick their spots.
"Mobile first"? It's more like "mobile sometimes."
BYOD is officially no big deal -- 86% of Elite 100 companies let employees use company email on personal devices, and a mere 1% have no plans to allow it. The bigger question is what companies will allow beyond email on personal devices; only half allow access to other company data and apps.
Just under half of Elite 100 companies cite widespread use of corporate mobile apps by employees, and another 21% cite limited use. But business technology pros also must ask the question: If we cut you loose from your desktop, how would you do your job differently?
One intriguing finding about mobile: One-third of Elite 100 companies are evaluating or testing location-based services tied to mobile apps. Only 34% of companies cite widespread use of such services today. Now that most phones are location-aware, customers are starting to share their location with companies they trust. Likewise, companies don't need to be a UPS or FedEx to track employees' whereabouts. Look for companies to both delight and anger customers and employees with either clever or ham-fisted use of location data.
Digital business won't change the fact that restaurants prepare and serve food, automakers design and make cars, and banks make loans. But it might change which companies customers choose for those products. We can all see after the fact that Netflix "disrupted" Blockbuster, but such takedowns are rarely clear when they're happening. InformationWeek Elite 100 companies are smart enough to embrace digital business tactics, but they're also smart enough to ask: Are we taking bold enough steps to be the disrupter and not just the follower?
Interop Las Vegas, March 31 to April 4, brings together thousands of technology professionals to discover the most current and cutting–edge technology innovations and strategies to drive their organizations' success, including BYOD security, the latest cloud and virtualization technologies, SDN, the Internet of things, and more. Find out more about Interop and register now.