ATLANTA -- "I think we are at the dawn of a new generation of business systems," said Microsoft CEO Satya Nadella during his keynote at this year's Convergence 2015 conference here. The show officially kicked off on Monday with Nadella detailing his vision for how business will change, and what Microsoft is doing to facilitate that change.
Nadella described a range of changes to the way that Microsoft approaches business technology, which is evolving as rapidly as technology itself. "[The Microsoft identity] is very focused on one single thing: It is about empowering you, as individuals and as organizations, to be able to drive your agenda and achieve more," he said.
Microsoft hopes to achieve this goal through three strong ambitions, the first of which is creating a new era of more personal computing. Windows 10 is a milestone on the journey towards more personal computing, said Nadella, as one system that functions similarly across all devices and platforms running it.
Currently 3 million people are testing Windows 10, Nadella noted.
Its second ambition is reinventing productivity and business processes, "where the most interesting things happen inside our organizations," he continued. The third is building an intelligent cloud. A key focus is developing a rich cloud infrastructure that lends itself to the complexity and adversity present throughout different industries.
The focus is less on specific systems, he noted, and more on building "systems of intelligence" through empowered individuals, businesses, and organizations. Such broadness is reflective to the new approach Microsoft has taken to Convergence this year, going beyond Dynamics and CRM to focus on the analytics, cloud, and data sources -- a turning point for the conference.
Nadella emphasized that ultimately, empowering organizations through new technology starts with people. Businesses cannot move forward with technology adoption until their employees are comfortable with using new products on an individual level. Those products, like Microsoft Band, collect data that eventually can be used to inform decisions.
"Devices will come and go," Nadella noted. "The most interesting thing is the data that's being collected." He alluded to his personal use of the Microsoft Band, which is used to track his activity levels and caloric intake. You can compare data with other individuals, Nadella said, drawing attention to another Band user who exercised for three hours and nine minutes each day.
That Band user, the Seattle Seahawks' quarterback Russell Wilson, made a brief cameo to chat about his use of Skype, OneNote, and Microsoft's Surface tablet.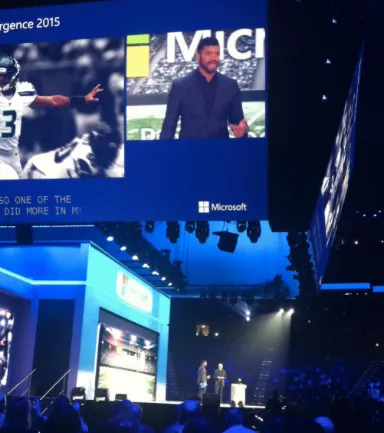 Microsoft is not in the device business, Nadella emphasized in his speech following Wilson's appearance. "We are in the empowerment business."
In an effort to better empower businesses, Microsoft rolled out a series of announcements intended to enhance productivity across industries. These include new updates for, and expanded rollout of, the Office Delve social interface for businesses in addition to an Azure IoT Suite to connect Microsoft's cloud computing platform to networks of devices.
Microsoft also announced that Office 2016 will expand beyond its existing private customer preview for testing by IT professionals and developers. The current version of Office doesn't contain the full range of features that will be available in the final product, but customers will receive updates throughout testing. Technical improvements include broadened data loss protection to Word, Excel, and PowerPoint and "click-to-run" deployment features for managing Office distribution throughout a network.
In addition, a new technical preview of Skype for Business will be released in the coming weeks, as will a new version of Microsoft Dynamics CRM.
The goal of empowering industries will largely be driven by the Internet of Things, said Nadella. There will be 26 billion Internet-connected devices by 2019, Microsoft predicts, all generating a combined total of 44 zettabytes of data.
At it looks towards the future, Microsoft plans to work to "make sure everyone has the tools, the capabilities to gain these insights and then empower them to act on these insights," Nadella said in his concluding words.
Attend Interop Las Vegas, the leading independent technology conference and expo series designed to inspire, inform, and connect the world's IT community. In 2015, look for all new programs, networking opportunities, and classes that will help you set your organization's IT action plan. It happens April 27 to May 1. Register with Discount Code MPOIWK for $200 off Total Access & Conference Passes.