1. "Your most unhappy customers are your greatest source of learning."
Bill Gates, in his 1999 book, Business @ the Speed of Thought: Succeeding in the Digital Economy (Grand Central Publishing, 1999).
2. "Our industry does not respect tradition -- it only respects innovation."
Satya Nadella, on his first day as Microsoft CEO.
3. "Linux is a cancer that attaches itself in an intellectual property sense to everything it touches. That's the way that the license works."
Steve Ballmer, in June 2001.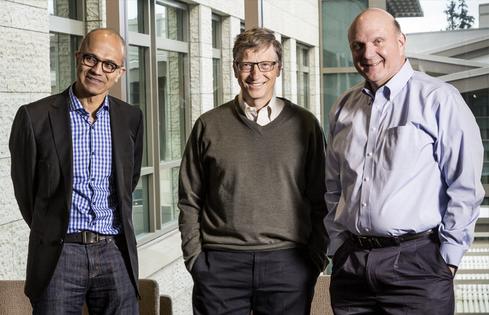 4. "You might hear me say 'That's the dumbest idea I have ever heard' many times during a meeting."
Bill Gates, in a 1994 interview with Playboy.
5. "I'm going to f**king bury that guy. I have done it before, and I will do it again."
Steve Ballmer, in 2004. Ballmer was evidently so incensed when standout programmer Mark Lucovsky left for Google, he threw a chair before launching into a tirade lambasting Google's then-CEO, Eric Schmidt. The quote surfaced in court papers filed after Microsoft sued Google over the latter's hiring of Kai-Fu Lee, who had signed a non-compete contract while working for Microsoft. Lucovsky and Lee have both since left Google, and Ballmer has said accounts of the incident were exaggerated.
6. "About three million computers get sold every year in China, but people don't pay for the software. Someday they will, though. As long as they are going to steal it, we want them to steal ours. They'll get sort of addicted, and then we'll somehow figure out how to collect sometime in the next decade."
Bill Gates, in July 1998.
7. "Legacy is a stupid thing! I don't want a legacy."
Bill Gates, in a June 2011 interview with the UK's Daily Mail.
8. "They yell at you, they'll scream at you, they'll sort of say you're crazy and you're destroying this place. And all the melodrama aside, you come back at it with the data, with the -- with your own conviction, because a lot of that stuff is all to test whether you know what you're talking about."
Satya Nadella, in an interview last fall with ZDnet, describing his experiences working with Gates and Ballmer.
9. "What is it about sarcasm in a meeting? Or just going, 'This is completely screwed up'?"
Bill Gates, in June 2008.
10. "There's no chance that the iPhone is going to get any significant market share. No chance. It's a $500 subsidized item."
Steve Ballmer, in April 2007. In 2011, he also said "You don't need to be a computer scientist to use a Windows Phone. I think you do to use an Android phone... It is hard for me to be excited about the Android phones."
11. "All in, baby... We are winning, winning, winning, winning, winning."
Steve Ballmer, talking in 2011 about Microsoft's cloud apps. At the time, Google, Salesforce, and Amazon were all unambiguously bigger cloud players than Microsoft. To Ballmer's credit, however, Microsoft has since become a formidable presence in the industry.
12. "Now people are saying, 'Hey, where did you come from? You guys were getting your ass kicked by VMware.' "
Satya Nadella, in an interview last fall with Fortune, discussing Microsoft's missteps in virtualization.
We hope you enjoyed the quiz. Don't forget to write in your vote for wackiest tech CEO quote of all time using the comments section.
InformationWeek Conference is an exclusive two-day event taking place at Interop where you will join fellow technology leaders and CIOs for a packed schedule with learning, information sharing, professional networking, and celebration. Come learn from each other and honor the nation's leading digital businesses at our InformationWeek Elite 100 Awards Ceremony and Gala. You can find out more information and register here. In Las Vegas, March 31 to April 1, 2014.