Whether you plan to join the InformationWeek and Informa teams at Interop in Las Vegas next week, or you will be minding the store back home, we want to share with you the insights from some of the keynote and session speakers who will be presenting at the Mirage.
InformationWeek writers interviewed more than a dozen speakers in advance of the conference, which opens Monday, not just about their planned session topic but also about some of the trends, challenges, and opportunities of interest to enterprise IT professionals.
Check out some of the articles:
Detroit's IT Makeover, a Year Later
Detroit CIO Beth Niblock and her IT team have been helping the city advance through the tech world that we call the 21st century. The team dealt with legacy apps and processes as the city emerged from bankruptcy. Legacy? How about a human resources and payroll application that was built in 1973. Returning as a participant in a CIO panel discussion, Niblock provided an update on Detroit's progress in the past year.

How to Gain Business-Changing IoT Insights
Implementing industrial IoT means adding new types of data and gaining a host of new and unexpected insights. Toromont Industries CIO Mike Cuddy says that selling an IoT initiative to upper management goes beyond just telling them what the benefits will be. Just do it.
Q&A: DevOps Institute's Jayne Groll on the Future of DevOps
Jayne Groll, co-founder and CEO of the DevOps Institute, which promotes continuous learning among DevOps professionals, says proactive organizations making the most of DevOps assess their internal culture as much as their technology. She also is the Interop DevOps track chair.
5 Can't-Miss Interop Sessions for Networking Pros
Preparing for his trip to Interop in Las Vegas, an InterOptic exec shares his recommendations for sessions to attend.
Q&A: Rosalind Radcliffe, Chief Architect for DevOps at IBM
The distinguished engineer at the company will be discussing DevOps at Interop, but also is highlighting why it's easier to develop software on IBM Z mainframes.
An IT Pro's View: Why Interop is a Unique IT Conference
A returning visitor to Interop in Las Vegas, West Gate Networks' Andy Froehlich outlines what sets the conference apart from so many other technology events.
St. Jude Cloud: Sharing Data to Cure Cancer
In its effort to cure pediatric cancer, the research hospital faced challenges associated with sharing terabytes of data with researchers in other organizations. Here's what they did.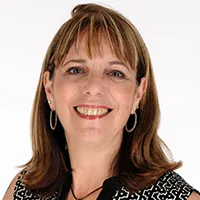 Can Autonomous and Intelligent Systems Be Trusted?
Organizations need to understand the risks AI can introduce and the steps necessary to safeguard people and property, according to EY data protection leader Deborah Adleman.
Keep Your IT Competitive with Distributed Teams
Distributed teams can offer your organization an advantage over your peers. John O'Duinn, senior strategist at CivicActions explains how IT leaders can make remote work a success story for their teams.
Are You Ready to Manage AI Risks?
Most companies have IT-related risk management programs, but they need to be updated to include the nuances of AI. Steve Mills of Boston Consulting Group says it's time to focus on the potential risks surrounding AI initiatives.
IT Education is Confusing, but It's Critical for Success
Katy Tynan of Liteskip Consulting is track chair of the IT Strategy program and presenting a session on how to upgrade your career. She discusses why continuing education is critical for IT professionals, and where should they go to get it? There are so many choices and so little time.
Q&A: Red Hat's Robert Kratky Discusses Essentials of Docs
The development of documentation increasingly goes hand-in-hand with software creation methodology. The Red Hat technical writer outlines the importance of documentation as code.
{image 1}