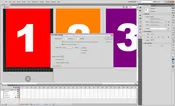 Slideshow: Adobe CS 5.5: Evaluating Bundle, Feature Upgrades
(click image for larger view and for slideshow)
Adobe has spent the last two years as the tech industry's punching bag, with Apple's former CEO, the late Steve Jobs, as its chief antagonist. Jobs did not like Adobe's Flash platform, and said so in
a public letter
.
Despite the obvious inconsistencies in Jobs's argument--Apple's proprietary technology is okay, but Adobe's is not--his dismissal of Flash shined a light on the technology's troubling performance problems and even Google's public support of the technology couldn't keep it afloat.
Flash isn't quite dead. It's alive and well and living on the desktop. But the desktop market has been flat or declining for everyone but Apple. The mobile market is where the action is.
That message was hammered home when Adobe in November said that it would cease further investment in Flash for mobile devices--a decision that coincided with the layoff of some 750 people and a $97 million restructuring charge.
[ Do tablets belong in the boardroom? Read Tablets In Business: Hard Lessons From Early Adopters. ]
To reinvent itself, Adobe has reoriented its tools business to focus on HTML5, the emerging Web development standard. It also has turned to digital marketing, providing companies with data about their online publications, projects, and ads. And evidently, its effort to change horses in midstream has been going well. During its 2011 fourth quarter, Adobe reported record revenue and 11% annual growth.
"Our strategy centers on our unique capability to help customers make, manage, measure, and monetize their digital experiences," said CEO Shantanu Narayen in a December conference call for investors. "Customers are asking for our help in accelerating their digital businesses, and we're doubling down in areas where digital content is mission critical: digital media and digital marketing."
For Adobe, doubling down means buying its way into the digital marketing business. In January, Adobe completed its acquisition of online advertising company Efficient Frontier, the latest in a series of corporate deals designed to build a new revenue stream by providing digital marketing services.
In an interview at Adobe's San Francisco office, Brad Rencher, senior vice president and general manager of Adobe's Omniture business unit, said digital marketing "is the billion-dollar business no one knows about."
That might be a slight exaggeration. It has not gone unnoticed that Adobe has spent some $2.4 billion over the last two years to become a player in the digital marketing arena.
Adobe began its strategic transition in September 2009, with the purchase of Web analytics company Omniture for $1.8 billion, about half what it paid in 2005 to acquire Flash creator Macromedia, its bridge from print to the Web.
"Adobe's acquisition of Omniture actually puts it in a great place to support back-end analytics for its digital marketing platform," said Al Hilwa, IDC program director for applications software development, in an email. "It is true that Adobe has great strengths on the client-side, but Omniture has been an important and successful acquisition for Adobe and has allowed it to develop an end-to-end product. In fact, Adobe's plan for this segment of the market is well-differentiated precisely because it is able to handle the back-end component."
The subsequent acquisitions of Day Software, Demdex, EchoSign, and Nitobi, along with Efficient Frontier, have further facilitated Adobe's transformation.
As Rencher describes it, Adobe's goal is to serve both art and science, by helping people create digital media and then measure the marketing value of that creation. "In marketing today, you can't just think about pretty pictures and throwing out a television ad or newspaper ad or magazine ad, and not understanding what impact that's driving," he said.
Rencher argues that the time to consider analytics is when content is being created, rather than after the fact.
"It's a huge synergy and this is the thing that people just missed two years ago when Adobe acquired Omniture," he said. "We can start to natively integrate analytics into the content creation process."
Adobe aspires to be where .jpg meets ROI--where digital content creation meets marketing data. Rencher says the company wants to bring order to the confusing world of digital marketing. "Adobe can help marketers execute search, display, mobile, and social campaigns, and then help them understand how their campaigns are working," he said.
Realizing that aspiration, however, might take more than an acquisition strategy. Consultant Daniel Brown, a former Adobe evangelist, recounts how he spent years at the company urging Adobe to acquire Macromedia. Adobe 10 years ago was focused on print and fonts and didn't get the Web, he said. He left the company after seven years in 2005, just before the Macromedia acquisition, but recalls hearing from colleagues about the culture clashes between the two organizations.
"I'm worried that the same thing will happen again," he said. "Just because you acquire a company, you don't necessarily get the religion."
What's more, acquisitions that make sense at the time, like the Macromedia deal, might not look as wise a few years later. (A 2003 purchase of Apple, when Adobe's market capitalization was half again Apple's, might have been a better move.)
Still, Brown acknowledges that Adobe had to do something to remain relevant. "The creative market is only so big," he said. "It's not going to keep ramping up."
As an example of the challenge Adobe has been facing, Brown pointed to growing markets such as China. Adobe has had a hard time gaining traction there because of piracy, he said.
That's hardly unexpected given that Adobe's flagship Creative Suite sells for around $500 to $1,800 in its various versions and that Adobe did not follow Apple's lead by moving to an app store model and reducing the price of its pro-level software by a factor of three.
Adobe has made efforts to adapt to the lower-priced app store model. But it also needs to grow its revenue. That's where digital marketing comes in. Brown notes that Adobe's creative tools are used in virtually every ad agency. From there, it's relatively easy to pitch additional services and software. Such relationships can be a lot more lucrative than selling apps at a consumer price of $0.99.
Of course, Adobe's new road isn't without obstacles. The company might no longer be worried about access to Apple's platform, but it has moved into a neighborhood where Facebook, Google, and Microsoft, among others, are currently contending. Data is the new platform.
Listening to Brad Rencher, the message one hears sounds very similar to what's said by executives at leading online advertising or social media companies.
"Data should sit on the balance sheet as a corporate asset because it's truly gold," he declared.
That's a message many companies have already heard and taken to heart.
Bill Bernahl, vice president of e-commerce for Hyatt, says that Hyatt already had a strong analytics culture before it began its relationship with Adobe. Hyatt was already a user of Omniture before Adobe bought it. The hotel chain invested in Day Software's content management system back in May 2010, a month before Adobe acquired the software firm. It had been relying on a Java content repository, but its system wasn't scaling well because the software required too many manual content updates.
Bernahl held what he described as "a bake-off with three companies," and ended up with Day Software. It was critical, he said, for the new system to be open and flexible, and to support Java content repository standards. It was also critical that the system have good language support, for the content editors at Hyatt hotels around the world. The software also had to be easy to use.
"If we make it easier to keep content up-to-date, it encourages people to [update the site], and that makes the site more effective," Bernahl said.
With what's now called Adobe Digital Marketing Suite for Web Experience Management, Hyatt has seen traffic to its mobile websites increase by more than 400% over the past year and reduced the time it takes to update customer-facing websites from three weeks to five minutes.
Adobe clients such as HP Snapfish, NBC Universal, and Sprint have similar tales. Maybe Adobe is on to something.
Jobs concluded his letter by suggesting that "Adobe should focus more on creating great HTML5 tools for the future." Adobe has done that and more. Every business should be so lucky to get that kind of wake-up call.

IT's jumping into cloud services with too much custom code and too little planning, our annual State of Cloud Computing Survey finds. The new Leap Of Cloud Faith issue of InformationWeek shows you what to be aware of when using the cloud. Also in this issue: Cloud success stories from Six Flags and Yelp, and how to write a SAN RFI. (Free registration required.)