Federal Agencies Lack E-Discovery Savvy
Just 38% of federal legal pros think their agencies could show their electronically stored information is accurate, accessible, complete, and trustworthy, according to Deloitte survey.
Federal legal professionals appear to be losing confidence in the ability of their agencies to deal effectively with the rising challenges of electronic discovery, according to Deloitte's latest benchmarking study of electronic discovery practices in the government.
Only 59% of respondents in this year's study -- Deloitte's 7th annual survey of the state of e-discovery in government -- believed their agencies were effective in deploying e-discovery capabilities, compared to 73% in last year's study, a "marked decline," noted Deloitte researchers.
In addition, only 38% of respondents believed that, if challenged by a court or opposing counsel, their agencies could demonstrate that their electronically stored information (ESI) is accurate, accessible, complete, and trustworthy, compared to 68% in 2012. Moreover, the percentage of "not at all confident" responses to this question nearly doubled, from 23% to 42%.
[ Read more on e-discovery: When Big Data Meets Legal Discovery. ]
At the same time, however, legal professionals' confidence in their own ability to manage e-discovery in their cases remained about the same: 73% in this year's survey, compared to 74% in 2012.
Researchers explained the discrepancy in confidence levels by noting that although government attorneys are worried about the escalating volumes of electronically stored information (ESI) that their agencies have to contend with in the discovery process, the attorneys themselves recognize the value of e-discovery technology to help manage massive amounts of electronic data.
"It's really this circumstance where individual [legal professionals are] starting to feel as if they have [e-discovery] under control and understand what it's about, but their agency needs to understand it now," said Chris May, head of Deloitte Financial Advisory Services' government-sector discovery practice.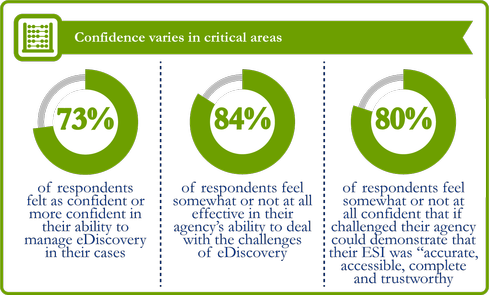 Reflecting the declining confidence in enterprise-level e-discovery proficiency, respondents ranked buy-in from senior management high on the list of key challenges in e-discovery and handling ESI. Indeed, senior management buy-in as a major concern jumped to second, after "internal systems and processes," in this year's survey.
"They're saying, 'Management, I need help.' Management needs to realize that it's not just IT's problem [in collecting and producing the electronic data needed for the discovery process]," May said. "It's about focusing your budget on the right area," including acquiring more advanced ESI and e-discovery tools and technologies.
Jason R. Baron, an attorney in the Information Governance and eDiscovery Group at the Washington law firm Drinker Biddle & Reath, said that "if buy-in from senior management is recognized as an issue, that is all to the good. I think you need that to push agencies forward." Baron was director of litigation at the National Archives and Records Administration for 13 years before joining his current firm.
He added that to improve the confidence of government legal professionals in the ability of their agencies to handle ESI and e-discovery, agencies need to place the ownership of enterprise ESI in "someone who is a champion of information governance."
"He or she could be the CIO or it could be a new position or an advisory body, but somebody needs to own this and to recognize it as an enterprise-wide problem. Otherwise, I have less confidence that all parts of a large agency or department will be doing everything correctly in terms of recordkeeping and e-discovery," Baron said.
Overall, Baron saw the survey results as encouraging, despite a decline in confidence on the enterprise level.
"I see the study as showing a movement forward, that the government gets it, and that attorneys and staffs are focused on doing the best they can within a limited budget to process electronically stored information," he said. "I'm going to interpret this survey as the glass is half full."
In conducting the survey, Deloitte Financial Advisory Services polled more than 120 professionals across multiple government agencies. Eighty percent were attorneys, followed by information technology officials and paralegals, nearly all of whom said their jobs involved handling electronically stored information.
Richard W. Walker lives in Washington, D.C., and has covered issues and trends in government technology for more than 15 years.
The NSA leak showed that one rogue insider can do massive damage. Use these three steps to keep your information safe from internal threats. Also in the Stop Data Leaks issue of Dark Reading: Technology is critical, but corporate culture also plays a central role in stopping a big breach. (Free registration required.)
We welcome your comments on this topic on our social media channels, or
[contact us directly]
with questions about the site.